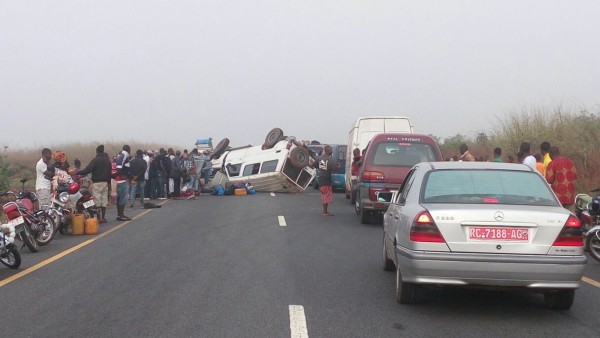 By Hassan Bruz
Northern Bureau Chief
Three People including a driver have been fatally injured in a road accident. Ramatu I.B.C Conteh of Magburaka , Sentho Dumbuya of Makobo village in the Marampa Chiefdom and Ibrahim Sorie Fofana- the driver, lost their lives on Monday 2nd. January 2017. It was at about 8.30 am when 2 vehicles involved in a headlong collusion. These were a Premiere Nissan Taxi Car with registration number- AII 606 and a Land Cruiser Jeep-AEI 971. The Nissan Taxi Car which was under the physical control of one Ibrahim Sorie Fofana was heading towards Port Loko direction from Lunsar, while the driver of the Land Cruiser Jeep- Ibrahim Thaimu Jah was returning to Freetown after the New Year Celebrations at Gbinty in the Dibia Chiefdom, Port Loko District.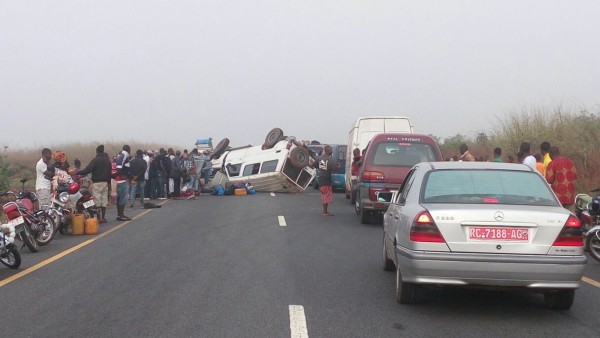 Sergeant Sampha Bangura is a Traffic Police Officer at the Port Loko Police Station where the matter is being investigated. He is a member of the team of Police Personnel who visited the scene just after the accident. He said the driver in control of the Land Cruiser- Abdul Thaimu Jah, was travelling with a total of 13 Passengers and made a brief stop at the Total Fuel Station in Old Port Loko to refuel his vehicle.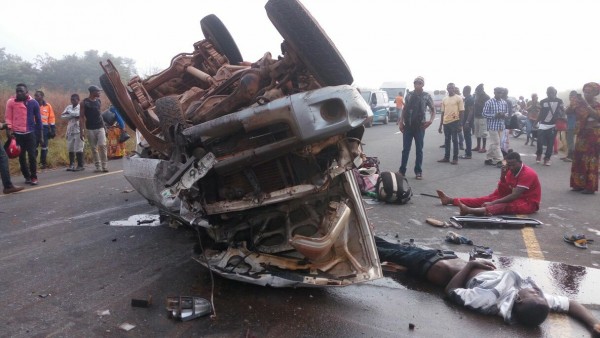 Sergeant Sampha Bangura said the weather was different with an exceptional heavy downpour of dew which made it quite difficult for people to have a clear view of the road from a distance. Sources say the driver of the Land Cruiser Jeep was trying to overtake an unknown registration number Vehicle and had to use the other lane of the road without due concern for other road users.
It happened that the Nissan Taxi Car was coming from the opposite direction with no clear understanding that his lane was being used by the driver of the Land Cruiser. Even though it was a wide and straight road in which there could not have been any accident under normal circumstance, the 2 vehicles went on a headlong collusion that left them beyond repairs. As you would see in the photos below, both vehicles were deflected to the direction they were coming from.
Police Sergeant 136 Abdul Bobwin Kanu is the investigating Officer. He told the Sierra Leone News Agency [SLENA] that all the 3 Persons on board the Nissan Taxi Car including the driver- Ibrahim Sorie Fofana were perished. He said they had caused to hatchet out the bodies from the clutches of the badly damaged car. He said all the 13 persons on the Land Cruiser Jeep were also injured some even with multiple fractures.
According to the Traffic Management and Road Safety Officer at the Port Loko Police Station –Inspector Idriss Kargbo, the actual cause of the accident is yet to be ascertained in spite indications of over speeding. He said both the dead and injured were conveyed at the Government Hospital in Port Loko where the dead will be handed over to relatives for burial after post-mortem examinations.
You now have the opportunity to read the list of those injured as the Medics are battling to save their lives… 1.Osman Sesay of Big-yard [Off Black Hall Road/ Freetown] 2. Bairoh Bundu of 21 City Road /Wellinton, 3. Ya Humu Sesay of Up Magiba/ Freetown, 4. Yamba Fofana of Waterloo, 5. Musa Kargbo of Big –yard/Freetown, 6. Kadiatu Jalloh of Congo Water, 7. Mohamed B. Wurrie of Waterloo, 8. Hassan Kargbo of Assorbi Corner / Freetown, 9. Fatmata Kamara of No. 8 Back Street/Cassell Farm, 10. Adamsay Thorlley of Makeni, 11. Alpha Jah of Gbinty, 12. Alimamy Kargbo of 29 Alphanso Lane/ Porti, and 13. Abdulai Conteh of Gbinty. I was told those whose conditions are much more critical will be referred to Freetown for advance medical attention………