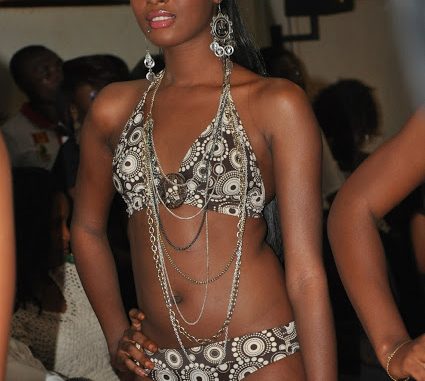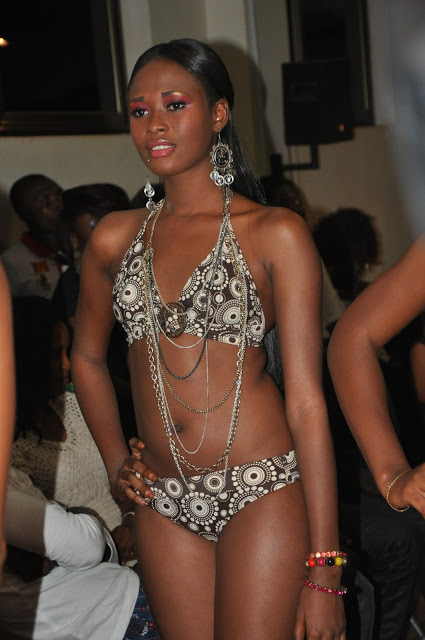 A nineteen-year-old Sierra Leonean beauty, Kadiatu Conteh, last Saturday outshined other sexy beauties from Ghana, Nigeria, Benin and other West African countries to emerge winner of the September edition of the Exopa Fashion Café.
Kadiatu, a student of IPMC, took over from the August winner Millicent Ansomah, a former student of the International School for Aviation, Tema, after interesting rounds of talent performances in modeling and more.
She walked away with a two-year educational and management contract with Exopa Model Agency in Ghana and Germany, and other prices from Exopa.
Kadiatu, during her reign as Miss NEWS-ONE, would enjoy free publicity and promotion opportunity from the paper and its other affiliates.
All 10 contestants during the night showed their worth in different categories including African fabrics summer wear segment, dance segment, bikini display, corporate wear and a segment where the contestants spoke about themselves.
The judges also looked out for ladies with enough confidence, good modeling techniques and above all a good chemistry with their audience.
Perhaps, the unique aspect of this month's show was that not all contestants were Ghanaians. Some were from countries like Nigeria, Benin, Sierra Leone and others within the sub region.
A Beninois contestant, Nancy, who eventually took the first runner-up spot, got quite a number of fashion observers yearning for her to win.
However, the Sierra Leonean lady charmed judges Jon Germain, Tinny and Ebenezer (boxer Joseph Agbeko's manager) with her sexy moves to win the competition. The second runner-up position went to Rosegun Kwaakye.
The ceremony attracted a number of showbiz names and local media.
Controversial movie director Socrates Sarfo was at the event to observe and perhaps give some of the girls an opportunity to star in his movie in the not-too-distant future.
Also present was Bulldog, CEO of Bullhaus Entertainment, the power behind hip life trio, 5five.
The Fashion Café was put together by the Exopa Modeling Agency in collaboration with NEWS-ONE, with the aim of encouraging the modeling industry and also helping persons who want to become professional models achieve their dreams.
Saturday's event was the second of its kind. The fashion cafe will be held on the last Saturday of every month at the Exopa Burg behind the Ghana International Trade Fair Center, La, from 9pm.
There also were some musical performances from Natural Face of Bullhaus Entertainment, Black Cat and a number of underground artistes.
Designs for the night were by Nicho Line clothing, Nana Aba's clothing and House of Divas.
Like the previous event, the show was climaxed with an after-party at the Exopa Burge.