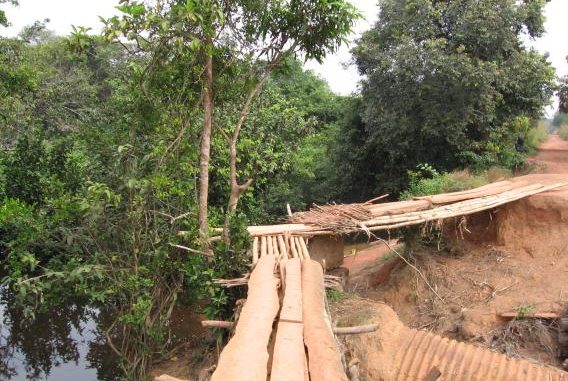 Bridges like these are common in the Northern Province of Sierra Leone. They can also be found in the Pujehun District in the South.
By Joseph S. Sherman, Washington, DC
 Wednesday January 25, 2006
 The Northern Province and Western Area of Sierra Leone have become victims of the SLPP partisan politics.   The city Freetown, where the seat of government is situated is engulfed in darkness and polluted by carbon monoxide due to emission caused by generators from business houses and residential homes.  The streets and alleys have also become dumping ground for garbage
The irony here is while towns like Bo and Kenema in the South and East of Sierra Leone, a strong hold of the SLPP government, enjoys 24 hours electricity, and other needed utilities, Freetown the capital city of Sierra Leone and the entire Northern province are in abysmal darkness and exposed to carbon monoxide poisoning thereby its residents and unborn babies susceptible to anemia, chronic heart disease and respiratory problems.
The corrosive effects of partisan politics in any country deters the development of that country as in the case of Sierra Leone where the entire Northern Province, especially towns like Port Loko, Lunsar, Kambia, Makeni and Magburaka have been deprived of needed utilities and infrastructural development since the SLPP ascends to power.
Today, a bridge linking Kambia District from Banekeh village to Thomparay ferry in Kamakwe in the Bombali District is impassable due damages caused by flood and heavy duty trucks and neglect from the government to have it repaired.  Traveling to any of the mentioned towns by road is arduous due to unpaved roads full of dangerous potholes.  The only means of transportation for people or individuals in these towns is by motorcycles, nicknamed "OKADA" because most commercial drivers don't risk their vehicles on roads that are impassable or impenetrable. 
Motorcycle transportation has become the most popular means of travel in many parts of the provinces , especially the North, due to impassable roads and dangerous bridges.