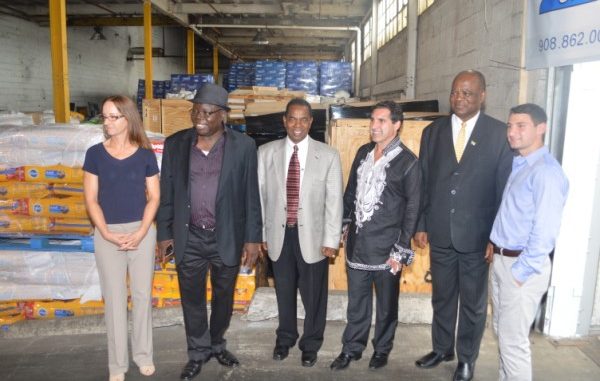 By Kabbs Kanu & Pasco Temple :
A forty Feet (40') sized High cube container full of Medical supplies to aid combat Ebola Virus Disease in Sierra Leone has on Wednesday August 13th 2014 departed the seashores of New Jersey on board the "Grande Marrocco" vessel for the Queen Elizabeth 11 Quay in Freetown, Sierra Leone at the expense of the Embassy of Sierra Leone in the USA.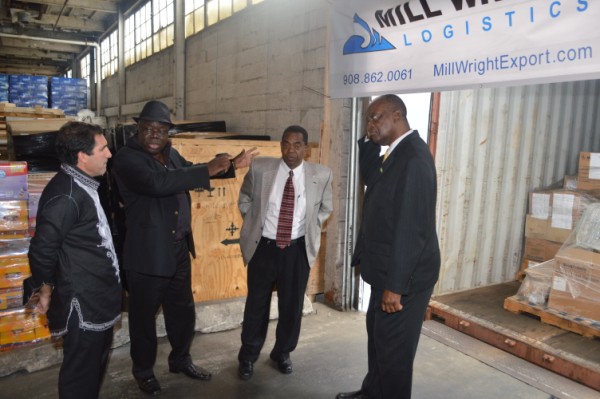 According to Nelson Torna of Millwright LLC, the container is expected to land at Freetown Queen Elizabeth 11 Quay on September 9th 2014.
The 40 Ft medical supplies container was examined and inspected at Mill Wright LLC on 720 West Edgar Road Linden New Jersey 0706 ware house New Jersey USA by Ambassador Bockari Kortu Stevens and Ambassador Ibrahim S. Conteh Deputy Chief of Mission. "It contained nineteen (19) pallets of medical supplies and two (2) pallets of Aquacai drinking Water." Said Ambassador Bockari Kortu Stevens.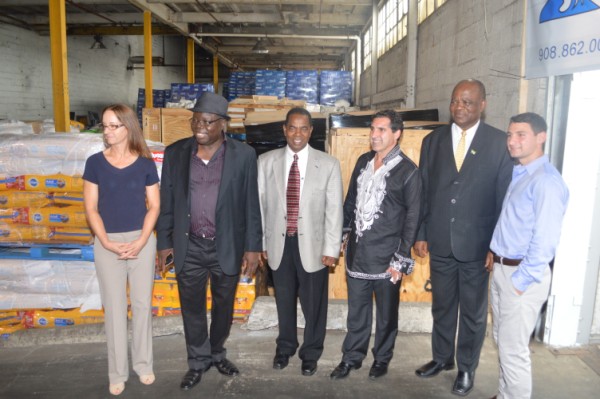 The different medical supplies emerged from the Amistad Committee in New Haven Connecticut, whose President Alfred Marder responded to the call of President Ernest Bai Koroma as was replicated to Sierra Leoneans and Friends of Sierra Leone by Ambassador Bockari Kortu Stevens.
According to Mr. Mohamed Barrie Sierra Leone Consul to Boston, Mr. Alfred Marder reached out to members of the Amistad Committee, pharmaceutical providers in Connecticut and Yale and got help in the form of medicinal aids to the value of One hundred and Thirty Five Thousand, Five Hundred United States Dollars ($135,500).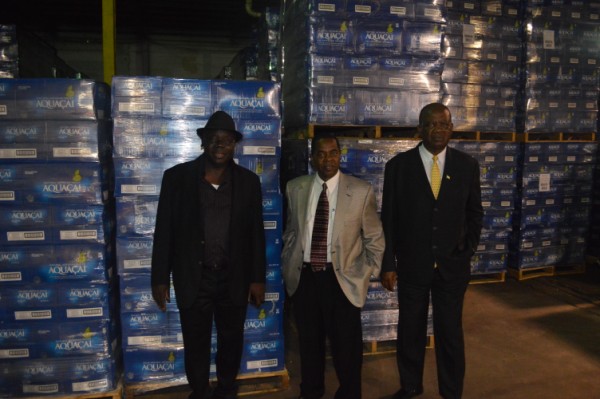 "Mr. Alfred Marder and his philanthropists paid the sum of three thousand ($3000) United States Dollars to transport the container to New Jersey," where Rudi Bysielz the Chief Executive officer of Aquacai Water, donated One hundred and Sixty Eight(168) boxes of drinking water valued at One Thousand Three Hundred and Forty Four($1,344) United States Dollars.
Making the presentation, Nelson Torna said his company wanted to do something, which was why he requested the Chief Executive officer of Aquacai to do something.
"We thank Ambassador Bockari Kortu Stevens and Ambassador Conteh for giving us the opportunity to handle this precious Cargo that will land in Sierra Leone on September 9th, 2014.
"Premier Logistics Service Provider into West Africa is honored to do business with Sierra Leone in this time of need. "Knowing how important this medical cargo is to the people of Sierra Leone, this shipment is given the care and attention that we give to all our customers' shipments. Our thoughts and prayers go out to the people being affected by the Ebola epidemic.
Responding, Ambassador Stevens thanked Mr. Afred Marder and the Amistad Committee for their efforts and gesture at a trying time like this in our Country's history and also thanked Mr. Torna for his kind words and his sincere appreciation for the short time comparatively, that the goods will take on high seas.
"Our visit is attached to the importance the government and people of Sierra Leone ascribes to the content of this container." The cost of the shipment was borne by the Embassy of Sierra Leone in Washington DC.
Meanwhile, an Ebola – task force committee has been set up by Mr. Mohamed Barrie Sierra Leone Consul in Boston Massachusetts.
According to him, the task force is geared towards coordinating the activities of Sierra Leoneans in that part of the USA in so far as seeking help to fight Ebola is concern.
The shipping of this consignment is in addition to an earlier Air-shipment of similar products that Ambassador Bockari Kortu Stevens personally took to Freetown three weeks ago.
That consignment with a cash donation of Twenty Five Million Leones (Le25.M) was delivered to the Minister of Health Hon. Miatta Kargbo.
Pasco Gerald Temple
Information Attache
Embassy of Sierra Leone to the United States
1701 19th St. NW
Washington, DC
20009
Tel:+202 4466958