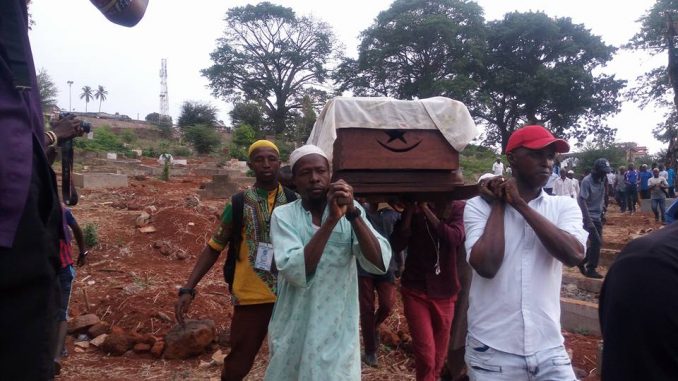 The day broke today with  stunning news of the death of the comical, but profoundly "Politically Correct " flag bearer of the People's Democratic Party ( PDP) , Mr. Osman Tarawally , widely known as the "Sierra Leone Trump" . The shocking news hit the social media like a storm and it was the main feature of the day.
According to reports garnered by COCORIOKO, Mr. Tarawally died suddenly this morning . He was found dead at his residence.
Reports said that he had suffered a two-day sickness which manifested in the form of a gut and bladder blockage that left him unable to ease himself. He was taken to the hospital yesterday, treated and he returned home. When residents and friends could not see him this morning, they broke into his apartment where they found him dead.
The body was taken to the Connaught Hospital Morgue where it was prepared for the funeral service that followed and burial .
WE BRING YOU A PROGRESSION OF REPORTS COVERING THE ANNOUNCEMENT AND BURIAL OF SIERRA LEONE TRUMP TODAY BY OUR MAN, CLAUDIUS BECKLEY : WE ALSO BRING YOU TRIBUTES PAID TO THE LATE MAN ON SOCIAL MEDIA TODAY 
AR get very Sad and shocking News say, Mr. OSMAN Tarawally alias Salone Trump has died. SALONE TRUMP Is one of Sierra Leone's leading Opposition Politicians in the country. Very interesting and entertaining Man. Any tem u see am en talk to ram, e mus make u Laugh. Very Accommodating. Wae e kam na we office. We all Dae rush for SNAP with AM . We go really mis e Fun. E DON Die. Rest in peace Sir.
 Just arrived at VOICE OF ISLAM with the late SALONE TRUMP . According to e brother SHEIK SULAIMAN. e say na two day sick. Sheik say na BLOCKAGE. E say nor Dae PEE . E nor Dae POO. Very pathetic. AR Dae beyen di body tay den berram. May he rest in peace.
When we had tension in our country during campaign and election, your brilliance, informed intellect and detailed orientation on salone issues brought smile to our faces.
You were a local celebrity and I can still remember your plans for Women if you become the president.
You came to the lime light for a short short while, but your impact was well felt.
Where are those files you would open and spread on the floor while trying to answer just one question!!!!!!!
Rest in peace our Celebrity Salone Trump.
You were bold, strong and fearless!!!!!!
 Saddened to hear the death of Salone Trump. He was a source of smiles and laughter to many. May Jehovah remember him on the day of resurrection.
With his amazing sense of humour Salone Trump brightened the life of many with smiles and laughter. Even when things went tense amidst the heightened political atmosphere your humour served as a welcome relief to break such tension. I loved this man and always admired his ambition and humour. He always made me laugh. May Jehovah remember him on the day of resurrection.
I woke up to the news this morning on my News-feed that you have passed away. You were indeed a lovely and energetic man.-
Loved by so many Sierra Leoneans at home and abroad.
We are deeply saddened by this loss.
Mr. Osman Tarawally- (aka SALONE TRUMP).-May Allah have Mercy on your soul and May you Rest in Peace.
My Condolences to the entire family and friends.
Ooooh my God, u mean salon Donald Trump died? He came into our political life so quickly just vanishes like this ? After making our politics so interesting by making become laughter at all times he was on either radio or TV , my dear trump how we wish to bring you back at this particular moment when sierra Leone is still struggling with constitutionality , where APC MPs are continually boycotting parliamentary sittings ,I love to have seen your take on this ,, but may the God who brought u on mother earth has finally called you back to himself , allows your gentle soul to rest in perfect peace, Ameen!!!
·
 Inna Lillahi Na Inna Illaihi Rajuhun
The death of popular political commentor Osman Tarawally A.k.a Salone Trump is reported which sad event took.place today at his residence in Freetown.
Salone trump always expressed himself with big grammar with a clear understanding of the perennial political predicament responsible for the nation backwardness and woes.
He would be remember as a political commentator with deep sense of humility and humour in contemporary Salone.
May his soul rest in perfect and heavily peace.