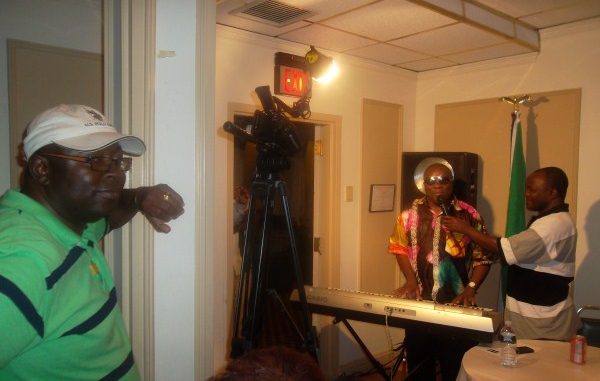 By KABS KANU :
It is the kind of unbelievable news you  wish is only a dream , a bad dream and  an unwanted  nightmare that disturbed your sleep. But sadly , it is not a dream; it is  true. One of the most remarkable gentlemen you would ever have as a friend and brother –The always smiling, versatile socialite Ahmad Mustapha–is no more. Mr. Mustapha passed away yesterday at the Robertwood Johnson University Hospital in New Jersey , after a brief illness. The shocking and unbelievable news started making the rounds yesterday morning after all efforts to save Mr. Mustapha's life failed.
For nearly two decades, Ahmad Mustapha had been a popular and worthy member of the Sierra Leone community in New Jersey. He was known for his industry as well as  his friendliness and supportive attitude to friends and associates alike. The popular Businessman and Video-recording expert  also once worked at the Robertwood Johnson Hospital, where he made a lot of friends , and the Franklin Board of Education. Wherever he worked, he left a rich legacy as a hard and efficient employee and so many people will remember him for helping them preserve historic moments of their lives through his efficient recording of their social functions–Weddings, birthday parties and children's outdooring ceremonies.
Ahmad Mustapha hailed from a noble family. He was the son of the late legendary Sierra Leonean politician and Vice-President in two different administrations, Mr. Mohamed Sanusi Mustapha. His father was one of the icons of Sierra Leone politics who contributed immensely to the country being granted Independence by her former colonial master , Britain in 1961 . Though he came from such a distinguished family, Mr. Ahmad Mustapha was a very humble gentleman, one of the attributes that endeared him to so many people he interfaced with in his earthly sojourn. Even though he was proud of his family background, he never used it as leverage to lord it over others or behave in pompous fashion in society. He was always simple , accomodating and friendly. He was supportive to a fault. WHAT A LOSS INDEED . He has left a gaping vaccuum that will be hard to fill. There will never be another Ahmad Mustapha.
On behalf of myself , wife, children and family , including my brother, Mr. Tobangay Max-Kanu of Atlanta, Georgia, who was one of Ahmad's best friends in New Jersey when he lived here, I wish to extend my heartfelt condolence to his wife, Nenneh—another remarkable individual in the New Jersey society–children , family and members of the Aku community. It is a big loss to us all but God is the master; He knows best. He gives and he takes away.
May God's perpetual light shine on our friend and brother, Mr. Ahmad Mustapha , until we all meet again in the Life Beyond.
THE LAST TIME I WAS IN A COMPANY WITH AHMAD WAS IN LATE AUGUST DURING THE APC  PROGRAM IN  NEW JERSEY  FOR THE MINISTER OF TRADE AND INDUSTRY, HON. RICHARD KONTE . HE COVERED THE VIDEO ASPECT OF THE OCCASION. I BRING YOU SOME PHOTOS OF AHMAD MUSTAPHA AT THE PROGRAM.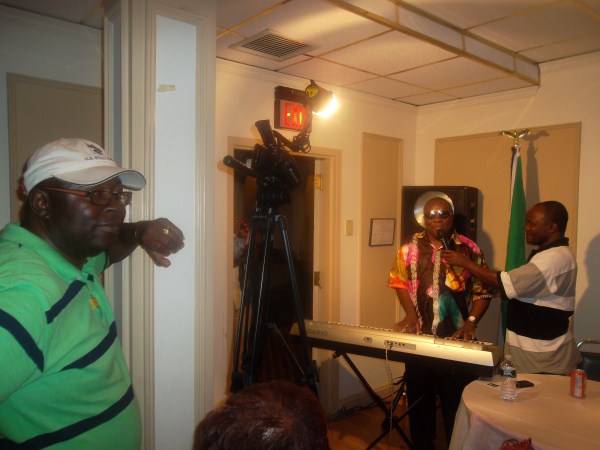 AHMAD MUSTAPHA POSES FOR COCORIOKO CAMERA AS BLIND MUSICIAN ATILLA PERFORMS IN THE DISTANCE
AHMAD MUSTAPHA AND ANOTHER SOMERSET RESIDENT WAITING FOR THE PROGRAM TO START
AHMAD MUSTAPHA IN THE COMPANY OF IBRAHIM DAINKEH AND ANOTHER RESIDENT BEFORE THE START OF THE PROGRAM