By KABS KANU :
Still in mourning spirit following the recent stunning and heartbreaking losses , the New Jersey community turned out yesterday to memorialize the late Mohamed Aziz Nabe during his 40th Day Ceremony at the Portuguese Hall in South Jersey . Mr. Nabe , who was a community leader , ex-President of  the All People's Congress  New Jersey Chapter and former Chairman of the  APC NA Rapid Response Team,  passed away on Monday March 11, 2013.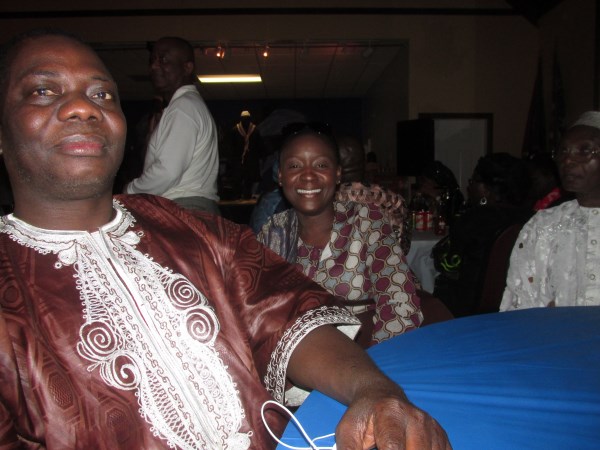 As expected, the ceremony was jammed to capacity and family and well-wishers did a great job to stage a program much befitting a man who served his community and party selflessly. Mourners travelled from many parts of the Continental United States ,  Canada and Sierra Leone to attend the occasion. The program was officiated by a galaxy of eminent muslim leaders and scholars , including  the Assistant Chief Imam of Dawatul Islamia Mosque , Alhaji Hassan Savage  and  the Chief Imam of the Jamatul Haq Mosque of Somerset, Alhaji Abdullah Savage, Alhaji Sorie Tofro Nabe, Alhaji Abbas Savage, Alhaji Thannie Savage  and others .The  program was chaired  by Alhaji Brima Rahman of Dawatul Islamia , while the sermon was delivered by Alhaji Hassan Savage. Government officials present at the ceremony included the Member of Parliament for Constituency 50, Ms. Isata Kabia and the Minister Plenipotentiary to the United Nations, Leeroy Wilfred Kabs-Kanu.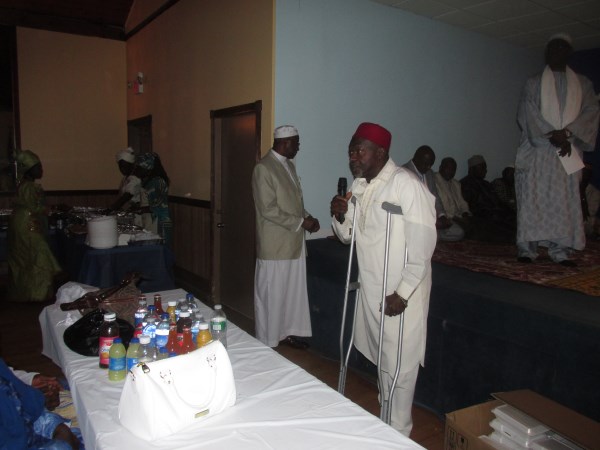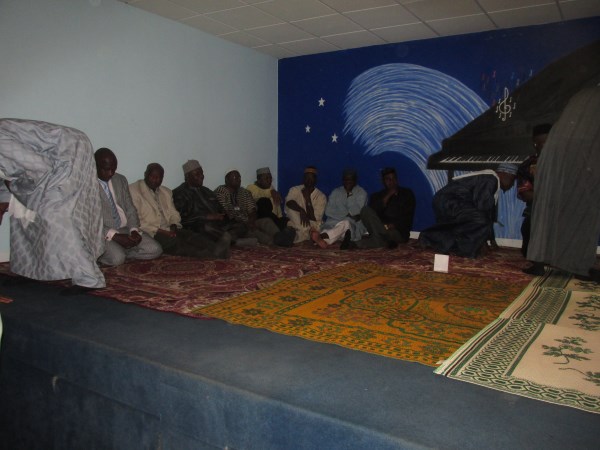 Before the traditional muslim prayers to mark the occasion, some tributes were made to the late man.
In his tribute, the President of the New Jersey APC Branch, Alhaji Badara Kamara , described Mr. Aziz Nabe as one of a kind and a man who faithfully served not only the mosque and the APC  but many other organizations. He said that Nabe was a good and kind man and the community has missed his fatherly advice and community initiatives .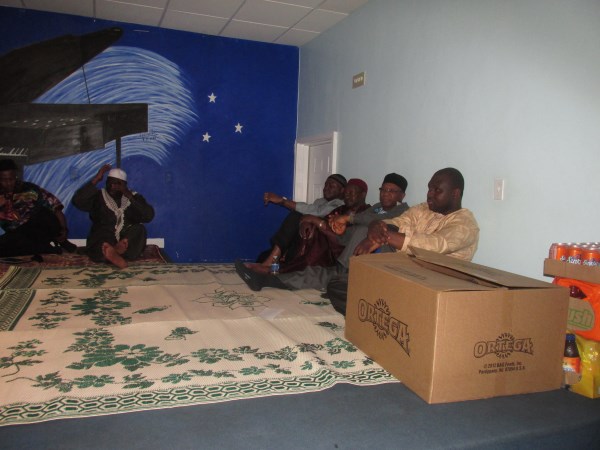 The Member of Parliament for Constituency 50 in the Port Loko District , Ms. Isata Kabia, who travelled from Sierra Leone to attend the memorial, paid a glowing tribute to Mr. Aziz Nabe, whom she credited for her present boldness to speak in public and partly for shaping her political career. She said that she was shy to engage in public speaking but Mr. Nabe encouraged her to be bold because he saw a bright political future ahead of her. She lauded Mr. Nabe's good heart and kindness and expressed her deepest condolence to the family.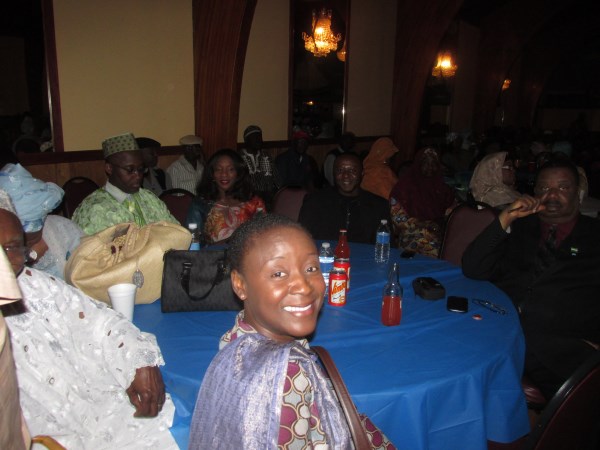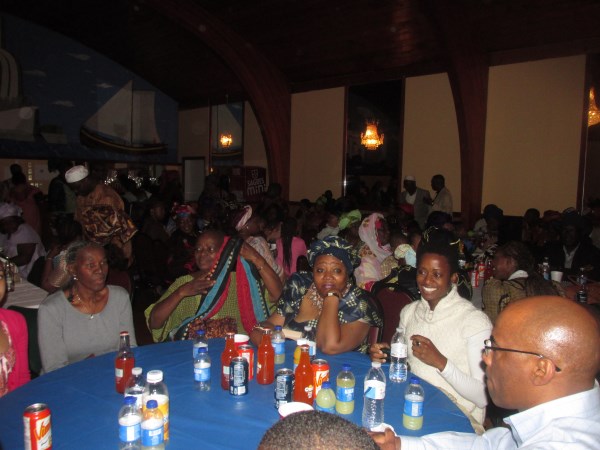 THE CHAIRMAN OF THE PROGRAM ALHAJI BRIMA RAHMAN 
M.P.ISATA KABIA  PAYING HER TRIBUTE
After the tributes, the vote of thanks was given by Madam Khadi Nabe, who on behalf of the family, thanked individuals and organizations which stood by the family during its time of loss . She also thanked President Ernest Bai Koroma for his moral and financial support during the funeral.
ALHAJI BADARA KAMARA GIVING HIS TRIBUTE
In his sermon, Alhaji Hassan Savage warned his congregation that everybody will have to give an account to God about the life they lived on earth after their death. He commended the late Nabe for his unflinching faith in God .He recalled once when Nabe ,  pressed down by the illness that eventually caused his death , called him to come to him to pray for him. Before the prayers,   Nabe said that he certainly will go to the hospital but desired the prayer at the moment more than the hospital because God is more powerful than the hospital. "That was the kind of strong faith he had in God,  " the preacher stated.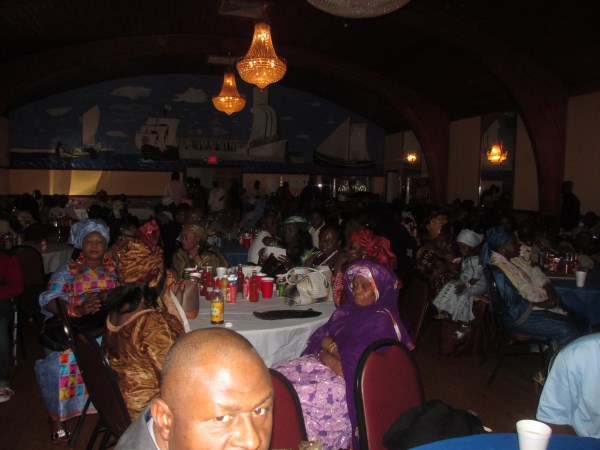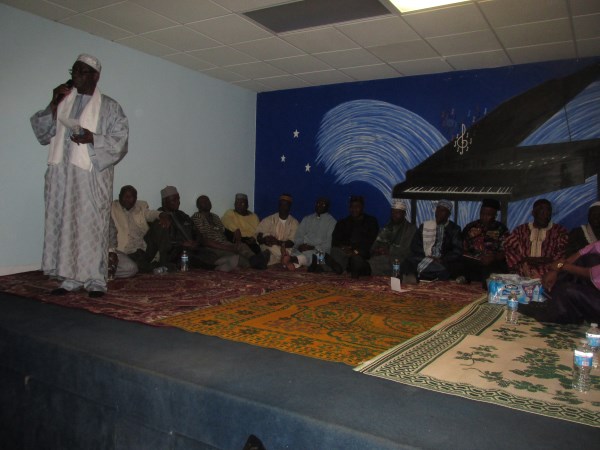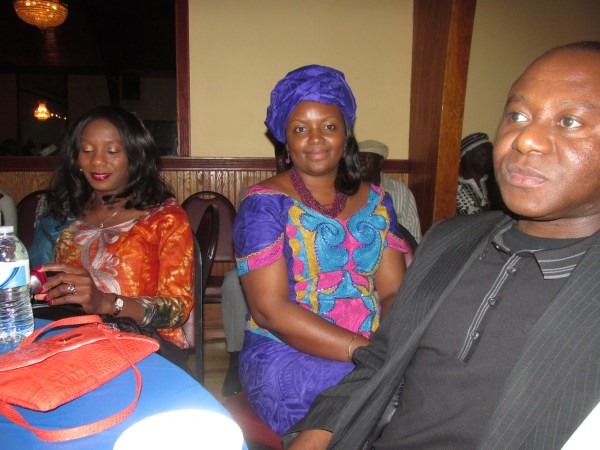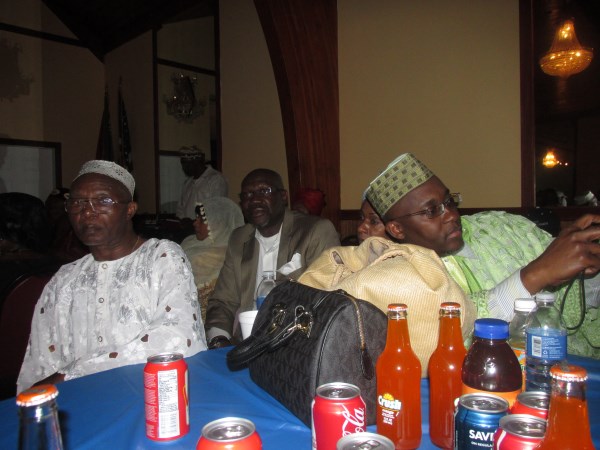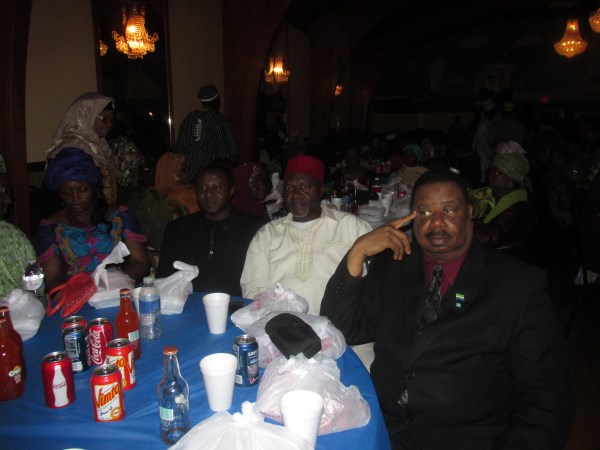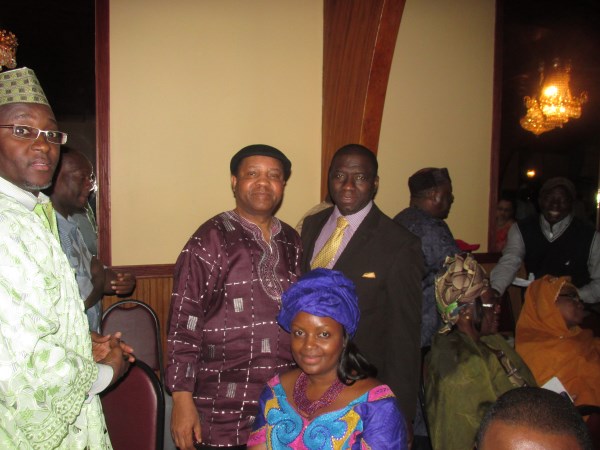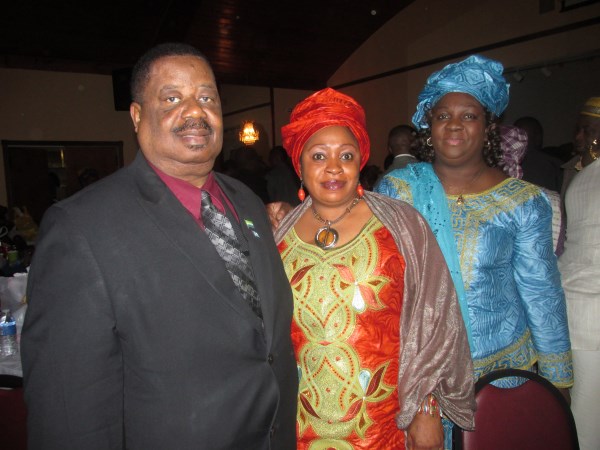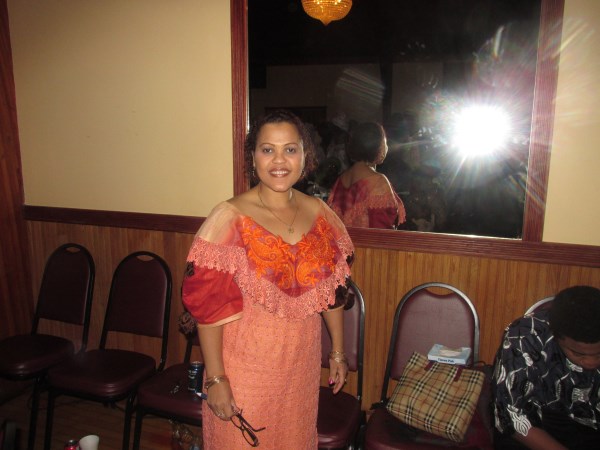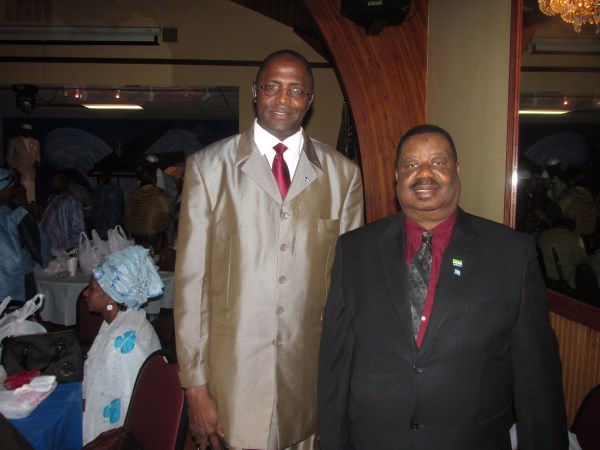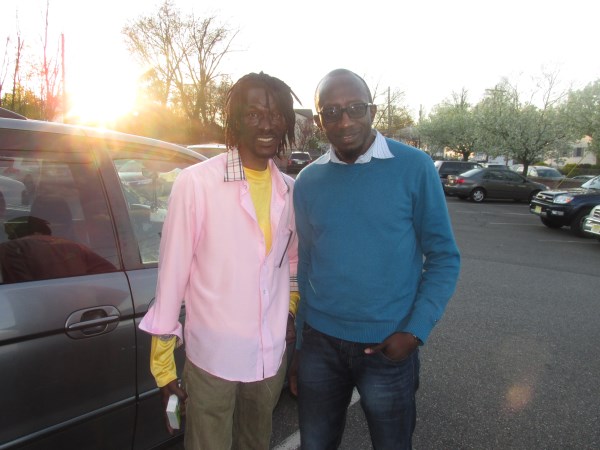 MESSRS FODAY MANSARAY (FIRST FROM RIGHT ) , KALAWA AND JESMED SUMA IN GREEN LACE. SEATED IS M.P ISATA  KABIA
The Muslim cleric warned his congregation further to beware of Satan, the Devil because the Devil is out 24 hours a day to get people to sin against God. He called for unity in the community and advised people to learn to forgive one another, pointing out further that if one realizes that he had sinned against another person, he should be honest to ask for forgiveness because nobody is perfect.
NEW JERSEY LEADERS : FROM RIGHT-KABS KANU, BADARA KAMARA, PAVI JALLOH AND ISATA KABIA
COMPOSITE VIEW OF MOURNERS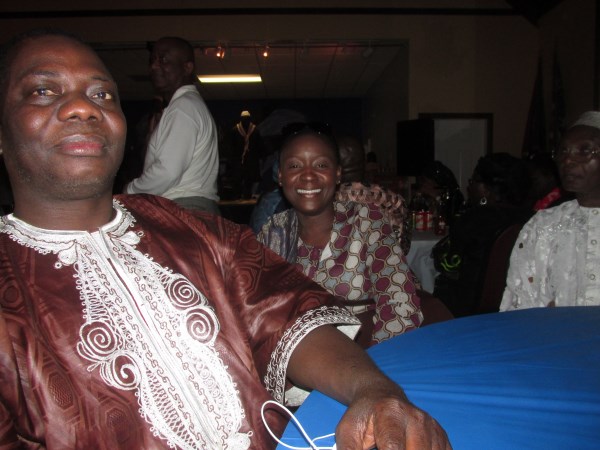 MR. ALIMAMY TURAY ( APC NEW JERSEY SECRETARY GENERAL ) AND COMMUNITY ACTIVIST ADMIRE. FAR RIGHT IS MR. BUBU KAMARA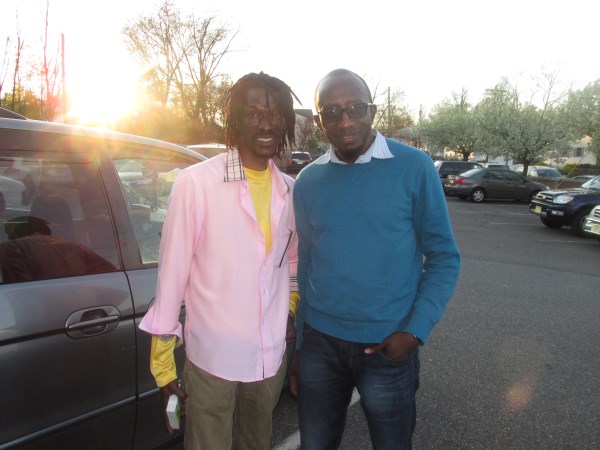 BUBU MUSICAL ARTIST JANKA NABIE (LEFT ) , WHOM AZIZ NABE USED TO SAY PREDICTED THAT ONE DAY MR.ERNEST KOROMA WILL BECOME PRESIDENT OF SIERRA LEONE SEEN HERE WITH A FRIEND AHMED
The muslim leader commended Aziz's widow, Mrs. Halima Nabe, for being a very loving wife to the late man. He called on Nabe's children to stand by their mother now that their father was gone. "You will now  have to protect your mother", he told them. Through that, he continued, their mother would bless them "and children will get arijana from their mother ", he taught.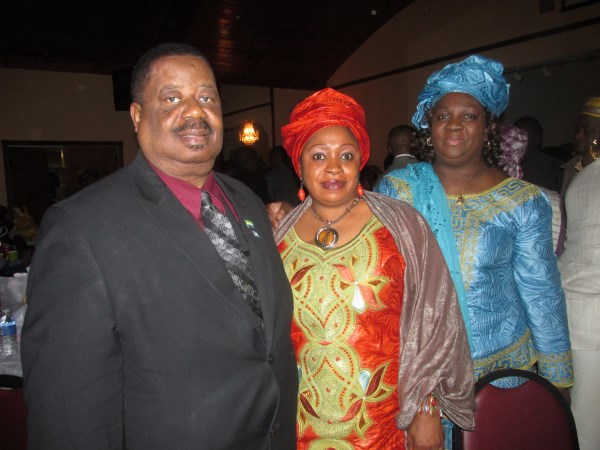 KABS KANU, QUEEN ABIE BANGALI-MANSARAY AND MADINA RAHMAN
An assortment of food wrapped in plastic bags was then distributed to mourners as is the tradition and the congregation was then treated to a sumptuous dinner .
The memorial ceremonies in New Jersey continue on Sunday April 28 with the 40th day ceremony for  journalist,  socialite  and Secretary General of the Sierra Leone -American National Organization ( SLANO ) , Mr. Shekou Dauda Bangura, at the Ukranian Cultural Center , 135 Davidson Avenue, Somerset NJ 08873 : Time: 1:00pm-7:00pm. Mr. Bangura, a bosom friend and associate of the late Nabe,  died on Thursday February 28 in a most shocking loss after a brief illness following a flu vaccine. He was one of those then providing moral support for Nabe at his sick bed and when he died suddenly, it was decided not to inform Nabe about his passing because Nabe had started fighting for his life in hospital as his sickness worsened.  It was thought that the shock would have hastened Nabe's demise. A notice for visitors was placed at the door of Nabe's hospital room  which warned  people  to desist from discussing recent happenings in the community , including the death of Dauda Bangura. Nabe passed away without knowing that his own friend and brother, who was hale and hearty,  had predeceased him. He will be stunned to meet him in eternity . Thankfully, the two friends have been reunited before the Lord.  They are now being memorialized a week apart, showing the grief that New Jersey is going through presently.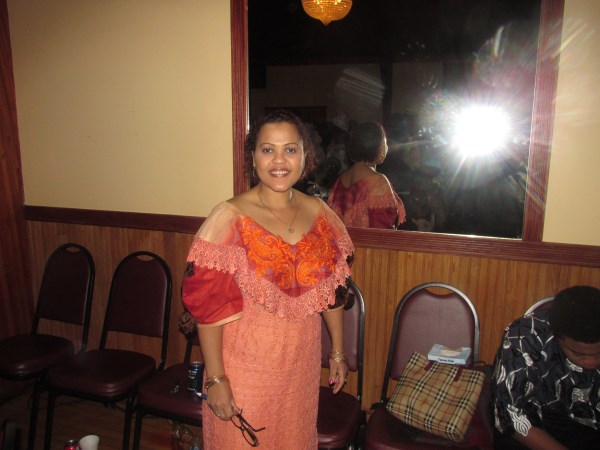 TRAVELLING ALL THE WAY FROM BOSTON TO ATTEND THE CEREMONY WAS MRS.AZIZA LYOUBI-SESAY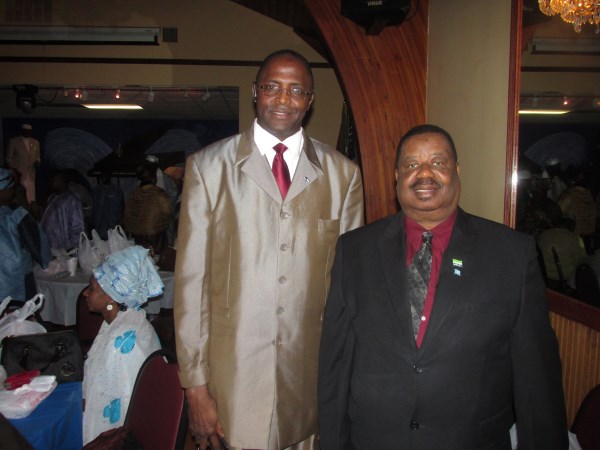 MR. MOHAMED FOFANAH FROM WASHINTON DC APC CHAPTER ( LEFT ) AND THE WRITER
We call on all Sierra Leoneans and well-wishers to turn up on Sunday to remember Mr. Shekou Dauda Bangura, who was also a great asset to the community.
 MR. PAVI JALLOH, M.P. ISATA KABIA AND MRS. JESMED SUMA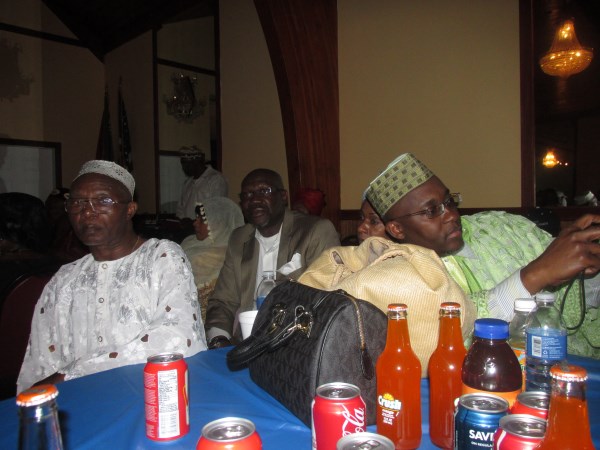 MESSRS BUBU KAMARA AND BEDOR BANGURA
© 2013, COCORIOKO. All rights reserved. – Discuss this and other related articles on the Salone Forum