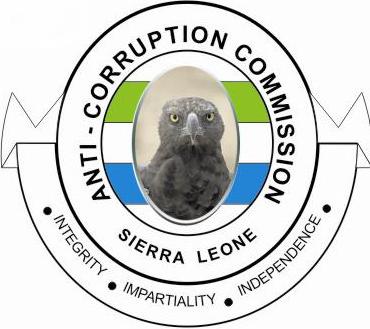 ANTI-CORRUPTION COMMISSION
CATHEDRAL HOUSE
3 GLOUCESTER STREET
FREETOWN
SIERRA LEONE, WEST AFRICA
TEL: 232-22 221468
FAX: 232-22 221900
3rd December 2015
PRESS RELEASE
THE RATE OF BRIBERY IN SIERRA LEONE REDUCES BY 50 PERCENT, TI BAROMETER REPORT CONCLUDES
Transparency International (TI), in collaboration with Afro Barometer, on 1st December 2015, released the Global Corruption Barometer Report. The report, titled, "People and Corruption: African Survey 2015," which surveyed 43, 143 respondents in 28 countries across Sub-Saharan Africa. It showed that a majority of Africans believe corruption has risen in the past 12 months in the continent, and that most African Governments are seen as failing in their duty to stop the abuse of power, bribery and secret deals.
Notably, the Report states that 41 percent of respondents admitted to have paid a bribe within the past year in Sierra Leone. However, the obverse seems to suggest that 59 percent of respondents did not admit to have paid a bribe for the same period.
The previous Global Corruption Barometer Report of 2013 reported that 84 percent of respondents admitted to have paid a bribe, while in the latest Report of 2015, 41 percent accepted to have paid a bribe. Therefore, the 2015 report evidenced a 53 percent reduction in the rate of bribery in Sierra Leone for the period under review when compared to the previous 2013 TI Barometer Report.
Although the report points to the fact that government is not doing very well in fighting corruption, the spirit of this report vindicates the call the Anti-Corruption Commission (ACC) has continuously being making that corruption in Africa, and Sierra Leone in particular, is a serious cause for concern. The people of Africa have spoken, that the time is now for the disease of corruption to be tackled headlong by governments, institutions and we the people ourselves.
Invariably, this report gives Sierra Leoneans the opportunity to reset the country's resolve to achieving zero tolerance for corruption, and accordingly, the Anti-Corruption Commission, solicits public support. The Commission is resolved to deal with bribery in all facets of public life and call on all to reject, resist, and complain to break the chain of corruption.
……………………………………
ALHASSAN KARGBO
PUBLIC RELATIONS OFFICER