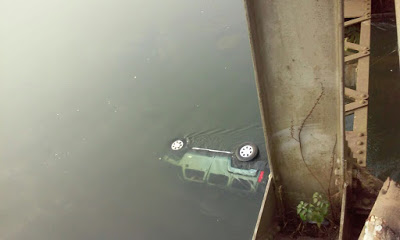 Sierra Leone News: Tragedy in Freetown As A Jeep Felt From Bridge Into River
Sad to know that a Jeep from Lungi International Airport felt into a river at Rogbere  last night at around 11 pm, with some passenegrs in it. Unfortunately, the jeep sank down the river.
According to eye witness, they said the driver of the Jeep went to the Airport to pick some holiday makers from USA trying to reached Freetown with high speed and did not understand the road properly which led to the tragedy. Young men around the neighbourhood dived and were able to rescued the victims and rushed them to the nearest hospital. More update later. See more pictures after cut….