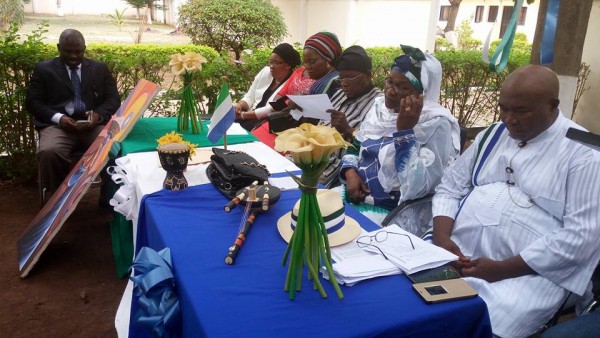 SIERRA LEONE'S 55 th. INDEPENDENCE ANNIVERSARY CELEBRATION IN ABUJA, NIGERIA ON WEDNESDAY 27 th. APRIL 2016.
By: Alusine Mohamed Fofanah
Sierra Leone High Commission
Abuja, Federal Republic of Nigeria.
S….Sierra Leone the Land of our Birth and Infant Nurture
I……Independence gained on 27 th. April 1961.The Union Jack Was Lowered and proudly Hoisted the Sierra Leone National Flag:. Green, White and Blue.. Signifying Agriculture, Peace and the Deep Blue Sea.
E…… Expectations were high after it was given on a Platter of Gold to embrace Unity, Freedom and Justice.
R…… Respected Sir Milton Margai became the First Prime Minister
R…….. Revered Dr. Siaka Probyn Stevens also became Prime Minister and First Executive President.
A……… Athens of Africa was then set to be the Beacon of Hope, participatory Democracy, Sense of belongings, good Governance, Rule of Law, development and prosperity for the African Continent.
L…….. Love and Loyalty to our Country Sierra Leone we Pledge, to uphold, defend and protect the Constitution.
E……… Everyone of us gathered here in HighCommission Abuja, Nigeria on this our 55 th. Independence Anniversary, to Pray for God's guidance, peace, Security and protection of our beloved Country, Sierra Leone.
O……….. Over the Hills and Valleys, we Echo our cries that inspite of the Rebel War, Ebola and the Floods, we are blessed and highly favored and Sierra Leone will Rise again to take her rightful place in the Progressive Community of Nations.
N…………… No matter where you come from, we are One, there is so much in us that Unites us as Sierra Leoneans than divides us, we must recognize this fact and learn to live with one another.
E…………. Ernest Bai KOROMA (Dr.), our revered, resilient and indomitable President and leader, expect from every man and woman to do his or her own duty for Mama Salone, to make her the Proverbial Land of Milk and Honey.
By: Major General (Rtd) Alfred Claude Nelson-Williams
Deputy High Commissioner to the Federal Republic of Nigeria
SEE PHOTOS BELOW HOW THE DAY WAS CELEBRATED BY HIGH COMMISSIONER HAJA AFSATU BAYOH AND THE HIGH COMMISSION IN NIGERIA