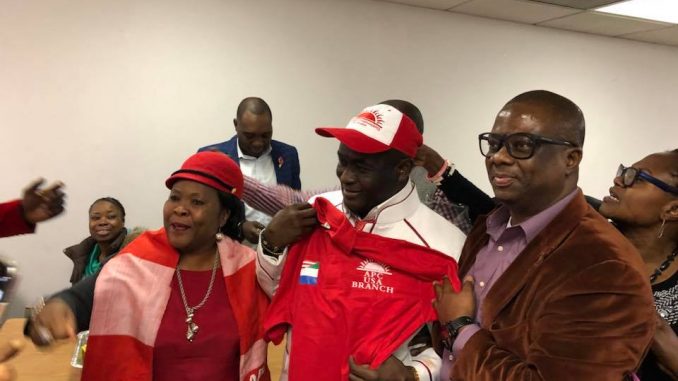 ADP Deputy Chairman Brima Togo defects to the APC in major blow to Kamarainba : Tells COCORIOKO nobody forced him.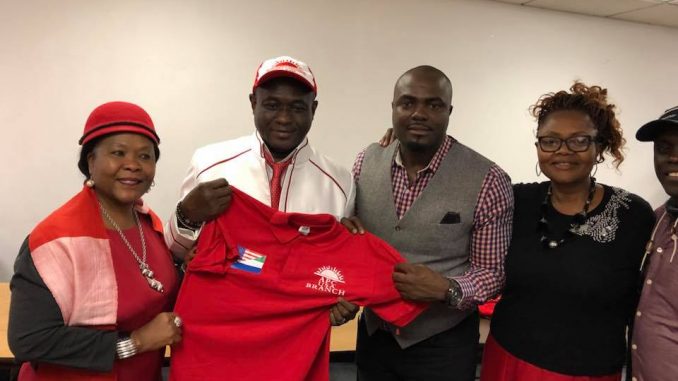 By KABS KANU :
In a major blow to the Alliance Democratic Party ( ADP ) of Mr. Mohamed Mansaray Kamarainba , the Deputy Chairman of the party, Mr. Ibrahim Sumah, popularly known as Brima Togo , announced his defection to the ruling All People's Congress ( APC )  last weekend.
It all started a week ago, when with the Chairman of APC-USA, Mr. Unisa Kanu, on the line too, Mr. Brima Togo called COCORIOKO to say that he had decided to leave the ADP  for the APC.
The former Leone Stars and East End Lions goalkeeper, who hails from the Tonko Limba Chiefdom in Kambia, told COCORIOKO  that it had been on his mind for a while to leave the ADP. He asserted that no APC  member forced or convinced him to defect to the party. He said that it was an independent decision born out of the fact that he believed that the best place to be is in the APC,  which is the most progressive political party in Sierra Leone.
Brima Togo told Cocorioko that after he fell out with Mr. Kamarainba, he decided to travel  to Freetown. from the U.S. He stated that APC  big whig, Mr. Kemoh Sesay and others wanted to buy his plane ticket but he turned down the offer. When he got to Freetown, he also got offers from APC  stalwarts to accommodate him, but again he refused because he did not want anybody to say he was forced to join the APC.
Mr. Brima Togo said that he joined the APC  because he has full confidence in the leadership of President Ernest Koroma and in the presidential flag bearership of Dr. Samura Kamara. He believes that Dr. Samura Kamara will be able to continue where President Koroma has stopped in developing Sierra Leone.
Mr. Togo told COCORIOKO  he would be formally declaring for the APC  during the APC Washington-DC Chapter  meeting at the weekend and this he accomplished on Saturday , announcing his decision to join the APC  in the presence of all the APC AGBAGBAS  in the U.S.  capital, amidst jubilation from all members of the chapter.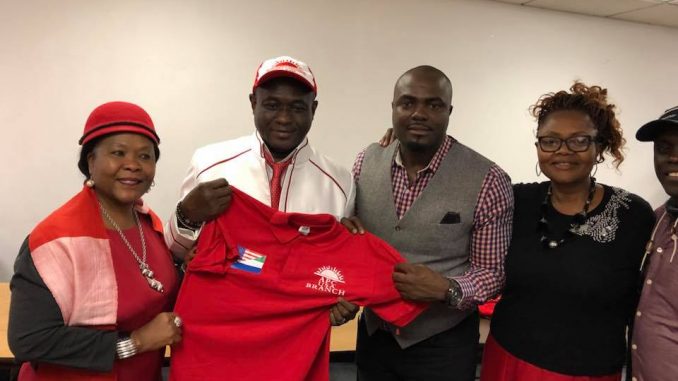 MR. BRIMA TOGO ( WHITE CAP ) IS SEEN HERE DISPLAYING HIS APC T-SHIRT ; IN THE PHOTO FAR LEFT  IS MADAM BEATRICE CONTEH, THE PRESIDENT OF THE WASHINGTON DC CHAPTER AND THIRD FROM LEFT  MR. UNISA THORLU CONTEH  , MADAM ABIBATU DARAMY AND ANOTHER MEMBER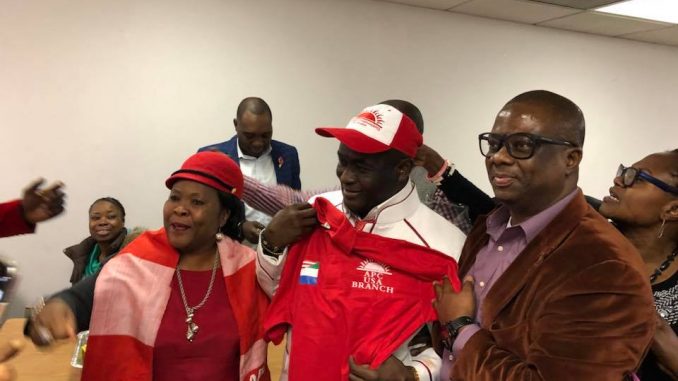 THE DEPUTY CHAIR OF APC-USA, MR. BOBSON KAMARA ( FAR RIGHT ) AND BEATRICE CONTEH POSE WITH BRIMA TOGO