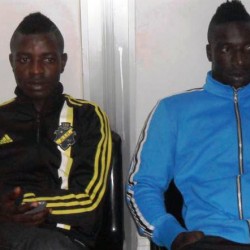 By Mohamed Fajah Barrie in Tunis :
Sierra Leone's advance delegation of five people landed safely in Tunis on Sunday ahead of the Tunisia-Leone Stars 2013 final round return leg qualifying match in Monastir on Saturday.The delegation comprises of three officials and two players. The officials are the Public Relations officer of the Sierra Leone Football Association (SLFA) Sorie Ibrahim Sesay, coordinator of Leone Stars James Fofanah and Team doctor John Ansumana.
The players are Goal Keeper Christian Caulker who is expected to be between the posts for Leone Stars and defender Ishmael Koroma alias 'Jaw Jaw'.
Two Sports Journalists representing the Sports Writers Association of Sierra Leone (SWASAL) Mohamed Fajah Barrie and Alhaji Komba who travelled on the same flight with mentioned people also arrived safely in Tunis and are in the same hotel with players and officials.
The small delegation arrived at the Carthage Airport at around 5:30 local time (16:30 GMT) and were received by a representative of the Tunisian Football Federation (TFF) after a long trip from Freetown via Cassablanca.
They spent two hours at the airport trying to sort out their visas before they finally departed for the El Mouradi Hotel where all players and officials will converge before leaving for Monastir.
Two other officials Alphan Coker, deputy Director of Sports and SLFA Acting General Secretary Abdul Rahman Swarray had arrived in Tunis two days before as fore-runners.
The Leone Stars technical team headed by the Swede Lars Olof Mattsson and some foreign-based players are expected to arrive in Tunis from their respective locations on Monday 08/10/12. Others are scheduled to be in Tunis on Tuesday, Wednesday and Thursday.
Officials and Players in Tunis up to Monday afternoon
Alphan Coker (Deputy Director of Sports)
Abdul Rahman Swarray (SLFA Acting Secretary General)
Sorie Ibrahim Sesay- SLFA PRO
James Fofanah – Team Coordinator
John Ansumana- Team Doctor
Christian Caulker (Goal Keeper)
Ismail Koroma (Defender)
Mohamed Fajah Barrie (Sports Journalist)
Alhaji Komba (Sports Journalist)
First  choice goal keeper Christian Caulker has called on all Sierra Leonean Muslims and Christians to pray for Leone Stars to get victory over their Tunisian counterparts on Saturday.
The 24-year old who has won so many caps believes prayers can help them get their needed result and qualify for the Africa Cup of Nations finals for the first time in 17 years.
"I'm a Christian and I believe in prayers. So I'm calling on my fellow Sierra Leonean brothers and sisters of the Muslim and Christian faiths to remember Leone Stars in their Prayers," Said Caulker in his room in El Mouradi Hotel.
He added: "With prayers, I'm sure we can make it to South Africa. I have confidence in our team and I pray that we approach the game with the right attitude and win."
"I'm ready to give out my best, so too the other players and all we need from our people back home are prayers."
Defender Ishmael Koroma of FC Johansen who is a member of the Leone Stars team in Tunis also expressed the same sentiments.
Leone Stars need to win or at least get a 2-2 draw if they are to have any chance of eliminating the Tunisians in their own back yard and qualify for the finals to commence in three month time in South Africa.
The first leg in Freetown last month ended 2-2 with Leone Stars twice giving away their lead.