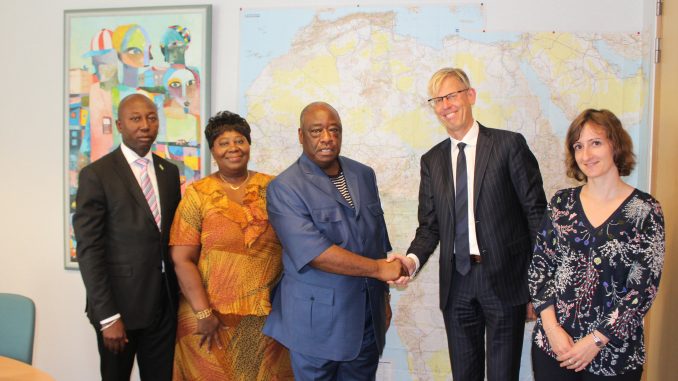 The Director of Sub-Saharan Africa in the Ministry of Foreign Affairs, Trade and Development Cooperation of the Kingdom of Belgium,  Ambassador Jozef Smets has disclosed that Belgium will be hosting, "The African Diamond Dialogue" from 14th – 16th November this year, adding that a total of 14 (Fourteen) Mines Ministers from Africa, including Sierra Leone have been invited to participate.
Ambassador Smets made this disclosure on 3rd August, 2017 whilst addressing Sierra Leone's Ambassador to the Kingdom of Belgium, Hon. Ibrahim Sorie and his diplomatic staff upon his invitation to his office "to familiarize himself with African Ambassadors since he has just assume the office few months ago".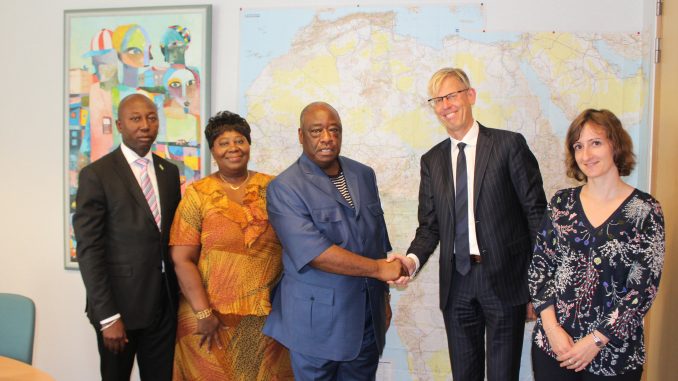 The new Director emphasised that the Antwerp World Diamond Centre (AWDC) in Belgium has been playing a very active role in promoting transparency in the diamond industry and this African Diamond Dialogue is a continuation to that path.
Ambassador Smets further called on the support of Sierra Leone to the candidacy of Belgium for one of the European non-permanent seats at the United Nations Security Council. He commended the governments of West African countries for their democratic pursuits and praised the Sierra Leone government for announcing 7th March, 2018 as the date for the next general elections.
In response, Ambassador Ibrahim Sorie commended the Belgian government and her people for the enviable role played during the Ebola crisis that affected the three Mano River Union countries, adding that Sierra Leone and Belgium have enjoyed good working bilateral ties.
Ambassador Sorie seized the opportunity to request through the Director for Sierra Leone to be a Partner and a beneficiary of the Bilateral Development Aid of the Belgian government and further reminded him on an earlier request he had made for the handling of the medical waste in Freetown.
The Sierra Leone envoy further informed his host about the financial challenges the Sierra Leone Residual Court in The Hague is presently experiencing. He solicited his support and that of the Belgian government for the proposed Diplomatic briefing, which he envisaged, might be held in Brussels to inform the diplomatic community about the dare situation the Residual court is experiencing.
He informed the Director about the proposed farewell visit of President Ernest Bai Koroma to the EU in September. This news was warmly received by Ambassador Smets who expressed delight to receive President Ernest Bai Koroma in Brussels.
Ambassador Jozef Smets is a seasoned diplomat who had served as Ambassador in Nigeria, Rwanda and DR Congo.
By Chernor Ojuku Sesay,
Head of Media & Public Affairs Dept.
Embassy of the Republic of Sierra Leone,
Kingdom of Belgium (Brussels) /EU.