A week ago,  Sierra Leone Police Assistant Inspector General,  Memuna Conteh, Commander / Head of the Eastern Area Control , was accused of slapping  Army officer, Warrant Officer 2 , Alimamy Dura at the Newton Checkpoint. Versions from both of them and the public have been varied. 
The Sierra Leone Police released a statement on Christmas Eve , stating that there is no problem between them and the Sierra Leone Army ( Also published below ). Now, the Ministry of Defence has sent Cocorioko the press release below for publication :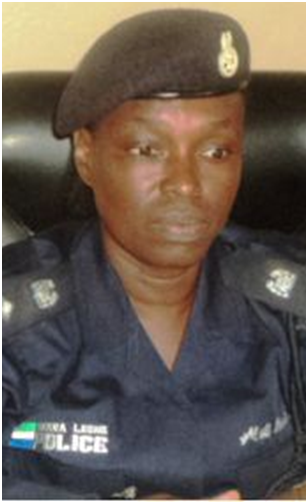 AIG MEMUNA CONTEH : DID SHE SLAP AN ARMY OFFICER ? 
__________________________________
PRESS RELEASE ON THE NEWTON INCIDENT BY THE MINISTRY OF DEFENCE
The MoD views with dismay and regrets all reactions so far on the Newton incident between AIG Memuna and WO2 Dura. As rightly observed, this matter could have been better handled administratively between the 2 sister security institutions; without attracting so much attention from the public and service personnel alike. The incident is considered unfortunate as it involves senior personnel of both institutions from whom much is expected.
Therefore, the public is hereby informed that due to the concerns this matter has generated, the MoD/RSLAF leadership has requested NS Coord to institute an independent investigation, precluding members of both forces as early as possible. As we await this action, the MoD would like to advice that both institutions exercise restrain in making any further comment on the matter. We remain committed to a cordial relationship between the RSLAF & SLP, and will never relent in swiftly handling any situation that tends to bring discord between the 2 sister forces.

CONTACT: Colonel MM Samura, PRO MoD – 076616457
DATE: 27 December 2014
__________________________________
SIERRA LEONE POLICE STATEMENT
Freetown, December 2014: The Sierra Leone Police wishes to bring it to the attention of the general public that there is no tension between this institution and the Republic of Sierra Leone Armed Forces (RSLAF) contrary to reports on social and other electronic media. The Sierra Leone Police is aware of an incident resulting in an altercation at the Newton Checkpoint involving an Assistant Superintendent of Police and a serving member of the RSLAF. Given the seriousness of the allegations, the Inspector General of Police has instituted an immediate enquiry to ascertain the facts of this matter. 

The alleged slapping of a military officer by AIG Memuna Konteh is categorically denied as false and untrue. On the contrary, reports reaching the Sierra Leone Police are that a certain Military officer was seen to have insulted and assaulted a female Assistant Superintendent of Police in full view of AIG Memuna Konteh. It is also reported that the Military Officer was in a taxi loaded with passengers and commercial goods and that he attempted to bulldoze his way through a checkpoint manned by both Police and Military officers contrary to the current restrictions orders in force.

It must be considered that in the situation of a national emergency proclaimed by His Excellency the President, the establishment of Military assistance to civilian Departments including the Police is a welcome collaboration. There is cordial relationship between the Sierra Leone Police and RSLAF and for that matter, any altercation involving officers of these institutions can always be handled administratively and through long established channels. In the event, the propagation of false and wrongful comments concerning any such incidents are unhelpful and may tend to result in undue pressures on officers executing their lawful duties. The Sierra Leone Police views with serious concern, those who tend to propagate such harmful information on the media as nefarious acts and tantamount to an infringement of the current state of emergency.

The Sierra Leone Police urges the public to ensure that facts are crosschecked before publication especially on social media to restrain from harmful and highly contentious statements being paraded irresponsibly and that members of the public do