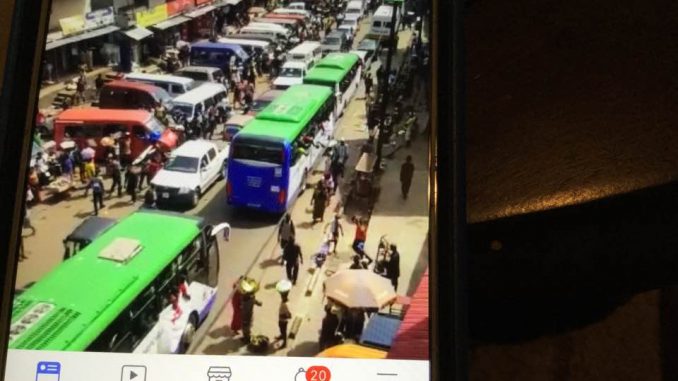 All roads lead to Makeni, where the much-expected and high-tension and suspenseful ruling All People's Congress ( APC )  Delegates Convention will be held this weekend.
It seems like the whole population of the country  is actually moving to the Northern regional capital of Makeni.
There are busloads upon busloads of supporters of the party heading for Makeni and the town is said to be jammed beyond capacity .Hotels , guest houses and motels are full and the homes of friends, families, associates and fellow party supporters are overfilled with guests.
At Whatsapp, Marcus Bangura writes : "Makeni is extremely congested. I have been caught in traffic for four hours. "
It is perhaps   the largest gathering in the city ever. Everybody has come to witness what they consider a historic event–The unveiling of the man who will take over the mantle from President Ernest Bai Koroma, should the APC  win next year's elections.
Supporters of aspirants are making very interesting claims. The JFK Strategic Media reported that JFK  entered Makeni with a show of strength with a convoy of 322 vehicles from all over the country to escort the Attorney General and Minister of Justice, Mr. Joseph Fitzgerald Kamara.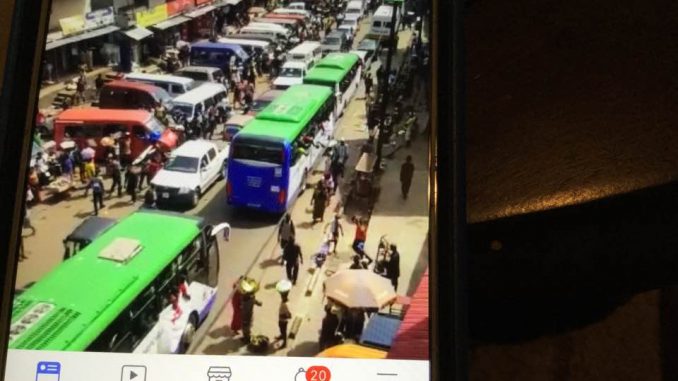 Buses heading for Makeni this morning
WE BRING YOU SOME TITBITS FROM VARIOUS SOURCES AND PHOTOS
Makeni is under siege. The city has come to a standstill. Vehicular traffic is moving at a snail pace. Night clubs and pubs are full to the brim. Interestingly, some opposition operatives are feeling bitter upon seeing the photos of the gigantic APC Northern Region headquarter.
Well wuna bear we ya. It is better to steal and invest the money in your country by improving its infrastructure than to loot the country's resources to invest in a foreign land. Mek we dae go normor ya! Wuna wait, after Sunday d whole political dynamics go change na Salone!
Chernor Ojuku Sesay
CONVENTIONS ALL THE WAY !!
Opposition Sierra Leone Peoples Party (SLPP) in Freetown and the Governing Ruling All Peoples Congress (APC) Party at Makeni.
By: Alusine Mohamed Fofanah just back from Sierra Leone
Convoy or Traffic Jam, any of the two words could be used as Hundreds of Vehicular Traffic is seen along the Rokel to DEEPEA and Water Loo axis for over hours moving in a Snail Pace to witness and partake to the much talked about Convention where as hopes and dreams of about Twenty Six (26) Flag Bearers who are desperately eyeing to takeover from His Excellency President Dr. Ernest Bai Koroma.

In Makeni as I see it, Thousands of People converged from all over Sierra Leone and the Diaspora storming the Northern District Headquarter town waiting for the DAY, Sunday when the final whistle or Trumpet will be blown for a new Leadership of the APC come March, 2018.
Her Excellency the High Commissioner of Sierra Leone to the Federal Republic of Nigeria, Ambassador Haja Afsatu Olayinka Ebishola Kabba and her husband, Mr. Nfa Kabba are also on the readiness, heading to MAKENI for the great Convention.
APC Convention Special Updates: 13 Oct. 2017
Supporters Turn Out in their Chinese Numbers to Welcome Delegates led by the President!
In Makeni, everything has turned red! The sky has also turned red to synchronise with the prevailing colour on the ground!
Atomic Pen and his team of reporters have visited every single corner of the prestigious EBK APC office including the modern kitchen where we were greeted with some tantalising aroma!
The receptionist volunteered to offer us some soft drinks put we politely declined in order to maintain our independence and neutrality.
Reporter nor for eat any free food! E nor for accept brown envelopes!
Makeni is ready. The Ernest Bai Koroma Conference centre is well set. This is the biggest ever political building in the history of Sierra Leone. It has an official sitting capacity of 1, 300 plus 1, 500 outside sitting capacity. The hall is magnificent. All hotels, Guest houses, Motels, Lodges etc in the ciry of Makeni are fully booked, including those in the neighbouring towns of Magburaka, Lunsar, Kabala and Port Loko. Indeed, Ernest Bai Koroma is a living legend. He has set the standard which every APC party member must be ready to maintain and defend.
You can never tell how determined the APC is to retain power until you arrive in Makeni. The whole city is in red. Boutiques and other second hand selling shops have all ran out of red attires.
Stay tuned for more updates from Makeni. Meanwhile, take a look at these photos. CHERNOR OJUKU SESAY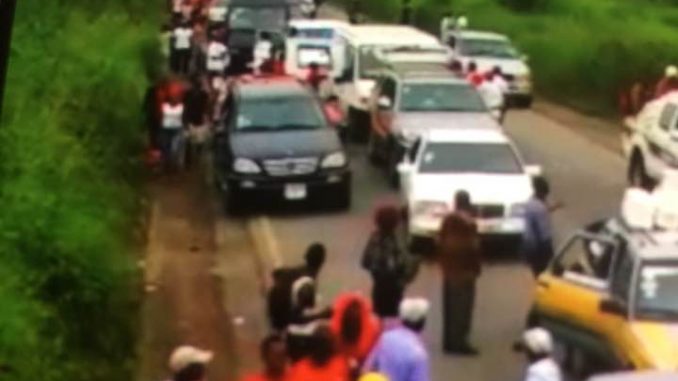 Traffic heading for Makeni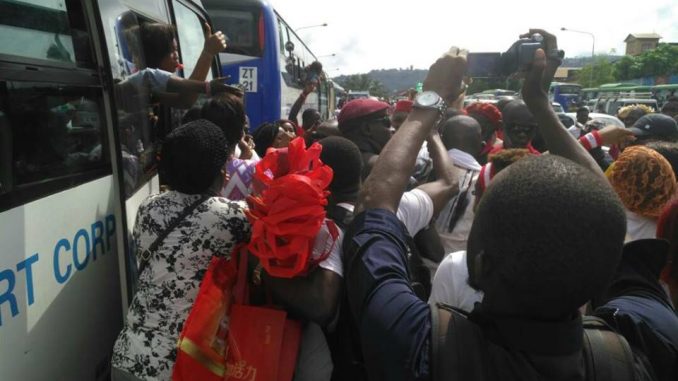 APC  supporters flocking around already loaded buses heading for Makeni