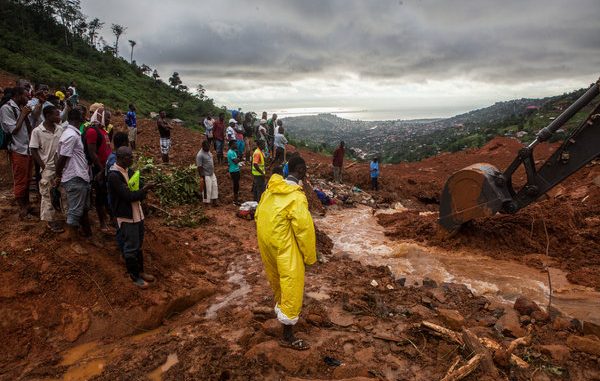 NEW YORK TIMES COVERAGE OF SIERRA LEONE DISASTER
By JAIME YAYA BARRY
August 14, 2017
DAKAR, Senegal — Torrents of water rushed through the streets of the Sierra Leone capital of Freetown on Monday, causing mudslides that killed hundreds and trapped hundreds more in their homes and vehicles, officials said.
As many as 200 people were killed after heavy rains overnight deluged the city's poor drainage system and created one of the most devastating floods Freetown has experienced.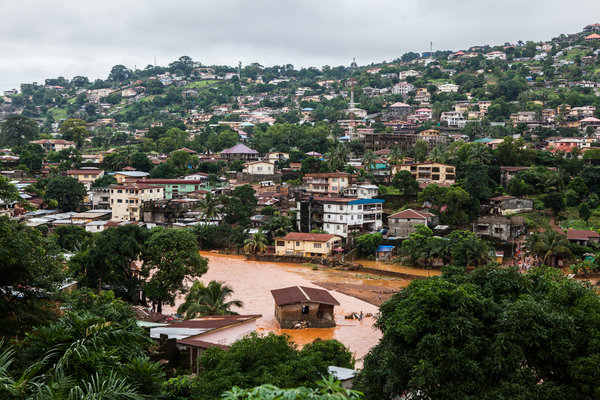 Residents awakened Monday to find some streets filled waist-high with water, and roads in some areas were transformed into muddy raging rivers. Some reported bloated bodies floating down the streets and washing up on beaches.
By Monday morning, the county coroner's office had run out of space, Sinneh Kamara, a coroner technician at Connaught Hospital in Freetown, told a local television station.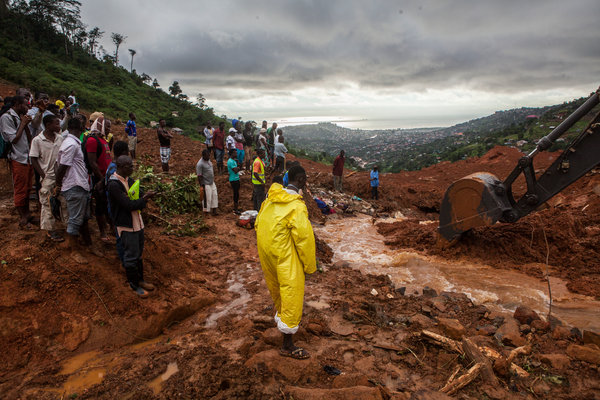 Officials were coordinating rescue and recovery efforts conducted by the armed forces and the Red Cross, and the government ordered people living in vulnerable areas on hilltops or close to the coastline to move to safer ground. Boats were warned to halt all sea travel because of the "life threatening" situation created by the heavy downpour.
The exact death toll was unknown, said Francis Langumba Keili, the director of the Office of National Security, and the count was expected to rise. He said emergency workers were trying to rescue survivors as more bodies were turning up.
"Our efforts is to look for more survivors, but so far all we see is dead bodies," Mr. Keili said.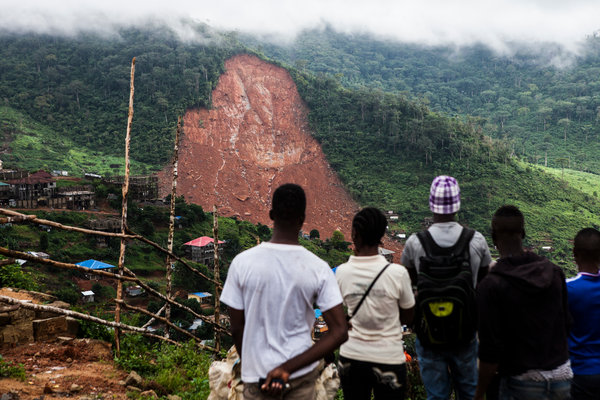 On Monday, residents of the Kaningo neighborhood on the west side of Freetown were going about the gruesome task of collecting the dead even as floodwaters had yet to recede — one body was retrieved from up a tree. The neighborhood was among the hardest hit by rampaging floodwaters, which washed away a bridge and left homes caked in mud and debris. Boxes, plastic containers and furniture were scattered among the homes in the neighborhood, and residents' belongings were stuck in tree branches and on rooftops.
Young people used ropes to retrieve some bodies from the fast-running water, according to witnesses. Many of the victims were children, they said.
Several bodies were piled up on a soccer field in the neighborhood, waiting to be taken to the mortuary.
Alimamy Zachariah Barrie, a resident of Kaningo, said more than 15 ambulances were on hand to transport the dead.
"They have retrieved over 50 bodies so far," said Mr. Barrie, who added that many people were also seriously injured. Other residents had complained that there were not enough ambulances to transport the injured.
In another neighborhood of the capital, Regent, the rain caused a massive mudslide that killed seven members of the same family, including children, when the two-story building in which they lived collapsed. Three people trapped in another building in Regent had been calling for help all morning, but the house was still inaccessible as of Monday night because of mud from a slide that reportedly wiped out half the land in the neighborhood.
Elsewhere in the city, several people were stuck in vehicles surrounded by floodwaters. Local television broadcast images of people standing on rooftops waiting to be rescued. Some homes were submerged, and many properties were flattened altogether.
Freetown is dotted with scores of informal settlements, many of which are on hilltops or close to the sea, making them vulnerable to landslides and flooding. The city is also one of the wettest in West Africa, receiving more than 20 inches of rainfall on average in August, the wettest month of the year.
In an interview in June, Oswald Hanciles, a spokesman for President Ernest Bai Koroma, warned that homes constructed precariously on hillsides in defiance of government regulations posed a significant risk to residents and the environment. He said that residents were building recklessly and cutting down trees that would otherwise help protect the land.
Still, many Sierra Leoneans say the country's drainage system is insufficient and this is a main cause for most of the flooding in the country.
In September 2015, just as the country was dealing with the devastating effects of an outbreak of Ebola that killed thousands in the region, a huge flood in the capital killed at least seven people and left several thousand homeless.
An earlier version of this article misspelled the name of the director of Sierra Leone's Office of National Security. He is Francis Langumba Keili, not Francis Languba Kellie.
'This Is Too Much for Us': Sierra Leone Deluged by Mud and Grief
By JAIME YAYA BARRY and DIONNE SEARCEY
August 15, 2017
DAKAR, Senegal — The bodies floated down the streets and piled up at the morgue, where the coroners struggled to find room for all of the dead.
An already devastating flood the day before produced even more anguish on Tuesday in Sierra Leone as residents of Freetown, the capital, dug through the mud in search of missing family members.
The Red Cross said hundreds of people had been killed and 600 were missing after torrential rains early Monday caused mudslides and transformed city streets into fast-moving rivers of muddy water, washing away everything in their path.
One worker at the city's morgue, who was not authorized to speak to reporters, said he had seen as many as 400 bodies there.
Residents of the poor communities built into the capital city's unstable hillsides suffered the most. Their homes — shacks, really — were quickly buried or violently swept away in the deluge. Aid groups estimated that 3,000 people had been left homeless.
On Tuesday, Save the Children, an aid organization, said that one of its staff members and his young children were among the hundreds missing. Many were thought to be entombed under tons of mud.
President Ernest Bai Koroma said in a televised address to the nation that he was "very disturbed by this national tragedy," and promised to create an emergency response center in Regent, a neighborhood where dozens of people were thought to be trapped inside homes buried under soaked earth cleaved from the hillside.
"Let me assure you that my government is fully engaged on this situation," the president said, advising people to remain calm and avoid areas still vulnerable to slides.
Despite the president's pledge, it was clear that rescue and cleanup efforts would take time: Recovery teams lacked the appropriate equipment to dig through the extensive mud and debris. Phone and power failures spread across the city, and some roads were impassable. Homes that were still standing were caked in mud and coated with debris.
"We are also fearful of outbreaks of diseases such as cholera and typhoid," Abu Bakarr Tarawallie, a spokesman for the Sierra Leone Red Cross Society, told Reuters. "We can only hope that this does not happen."
The Freetown morgue had reached capacity on Monday, but bodies kept arriving on Tuesday. They were stacked outside, where residents gathered to try to identify missing family members.
The stench was overwhelming. Mohamed Koroma, a university student in Freetown who visited the morgue on Tuesday, said people had to cover their faces with masks.
"It's like we are back again with Ebola," he said, speaking of the 2014 outbreak that killed thousands in Sierra Leone and neighboring nations. "This is too much for us as a country."
Several countries have pledged support, including Nigeria, Israel and Liberia. Local and international aid organizations were helping to find survivors and retrieve the dead.
Augustine Bright, a resident, said he had lost 10 members of his family. When he arrived at the morgue to look for them, he was given a mask and led through hundreds of bodies strewn about the floor.
Some were zipped up in body bags, he said, apparently ready for burial. Government officials have said that people can claim their relatives' bodies or choose to have the government bury them.
Mr. Bright could not find any of his missing relatives on Tuesday.
After leaving the morgue, he returned to the patch of mud where his family's home still stood. His elder brother and others were still trapped inside. He had no idea whether they were alive.