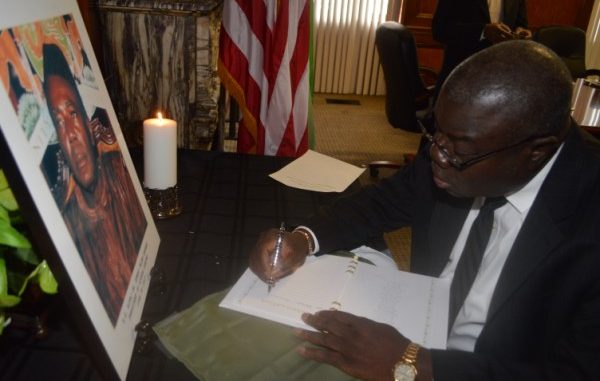 Sierra Leone's Ambassador Bockari Kortu Stevens accredited to the United States of America has showered praises on late President Alhaji Dr. Ahmad Tejan Kabbah for his democratic credentials and said "President Ahmad Tejan Kabbah occupies a unique place in the history of Sierra Leone."
Speaking during the official opening of a book of condolence  at the 1701 19th Street North West Washington DC Chancery of the Embassy of Sierra Leone, Amr. Stevens said "it is often normal for historians to evaluate leaders when they have gone from time to eternity. "Sometimes, they evaluate them very harshly and at other times they will speak the truth. "In some other cases, they will evaluate them with rancor.    Said Amr.Bockari Stevens, adding, "We are happy in Sierra Leone because our country is an exception to many vices. "No matter what anyone will say, his name is indelibly inscribed in the annals of the Country's history.
A GROUP PHOTO OF EMBASSY STAFF
"There was a time in Africa when former Heads of State are not honored:  no sooner than the term of a President expires, the outgoing Head of State will exit himself from the Country and seek asylum or a place he will consider safe for him and his family to settle: but in our own case, President Ahmad Tejan Kabbah stayed in Sierra Leone and lived a peaceable, enjoyable and respectable life. He enjoyed respect from all Sierra Leoneans irrespective of political differences.
"We owe a lot to the late man, because President Ahmad Tejan Kabbah was able to sacrifice his principles, sat down with a villain like Foday Sankoh and make peace with him for the sake of his people and the Country Sierra Leone.
"Was it not for him, we wouldn't have been enjoying the Peace we now enjoy."
AMBASSADOR STEVENS SIGNING THE BOOK OF CONDOLENCE
He credited the late President for his efforts to develop Sierra Leone and said he will be remembered for many institutions he created, roads he rehabilitated, Hospitals he refurbished, schools he constructed etc.
If Sierra Leoneans can boast of the National Social Security Trust (NASSIT) today, it is the late President Ahmad Tejan Kabbah.
HEAD OF CHANCERY MRS. ISATA SILLAH SIGNING THE BOOK OF CONDOLENCE
"Therefore, it is incumbent upon us to pay respect to him by opening a book of condolence to enable sympathizers pay their respect to him.
As a Christian, I believe he will get his due.
Deputy Chief of Mission Ambassador Ibrahim S. Conteh gave a brief historical background to the late President and described him as a man of "passion".
According to him he knew the late President personally as he hailed from his district, Kambia in the Northern Province.
On his returning home from his studies in Britain, the late President Alhaji Dr. Ahmad Tejan Kabbah  joined the Civil Service and in 1963/64 worked in Kambia District as the first black Sierra Leonean District officer, and further rose to the rank of a Permanent Secretary.
He said the late President had done his duty to his Country, his People and the world as a former United Nations employee. May the Almighty Allah forgive him for his mistakes and have mercy on his soul. Amin.
Pasco Gerald Temple
Information Attache
Embassy of Sierra Leone to the United States
1701 19th St. NW
Washington, DC
20009
Tel:+202 4466958