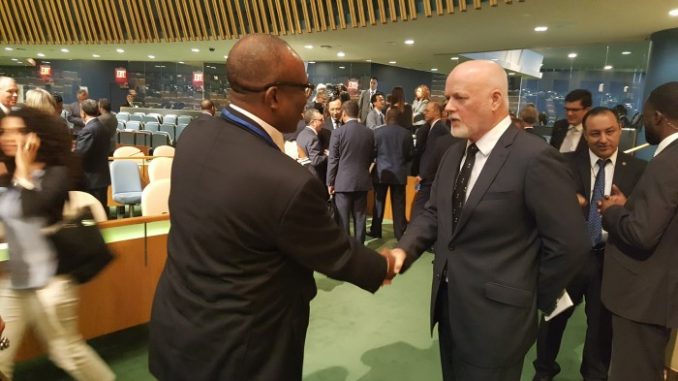 By KABS KANU :
The newly-arrived Permanent Representative of Sierra Leone to the United Nations, Ambassador Adikalie Foday Sumah, on Tuesday September 13, 2016  made his debut at the 71st  UN General Assembly, which opened its regular session on the same day.
Ambassador Sumah also attended the International Prayer Breakfast at the margins of the 71st Session of the General Assembly. Present at the occasion were the Secretary General of the UN, Mr. Ban Ki-Moon and the incoming President of the UN General Assembly, Mr. Peter Thomson. The Rev. Bill King delivered the sermon.
The new Permanent Representative, who is also Chair of the African Union Committee of 10 ( C-10) on UN Security Council Reform, also took his seat at the AU Group in the UN, where the AU Permanent Observer to the UN, H.E. Tete Antonio , briefed the group. Decisions and resolutions of the AU Summit were discussed.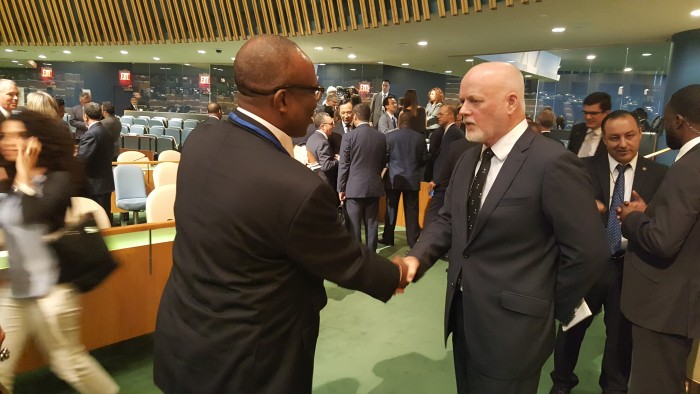 AMBASSADOR SUMAH SHAKES HAND WITH THE INCOMING PRESIDENT OF THE 71 st SESSION OF THE UN GENERAL ASSEMBLY, MR. PETER THOMSON
Ambassador Sumah made an important intervention relating to paragraph 14 of the decision of the 2016 AU Kigali Summit on the UN Security Council Reform which enjoined the AU Group to delink from the L69 and concentrate attention on  and support for the Ezulwini Consensus and the Sirte Declaration, which encapsulate the African Common Position on the Security Council reform . By way of clarification and information, Ambassador Sumah told  his colleagues that Sierra Leone's Minister of Foreign Affairs and International Cooperation, Dr. Samura Kamara, will hold a briefing at the margins of the 71st UN General Assembly on the recent developments in  the Security Council Reform process .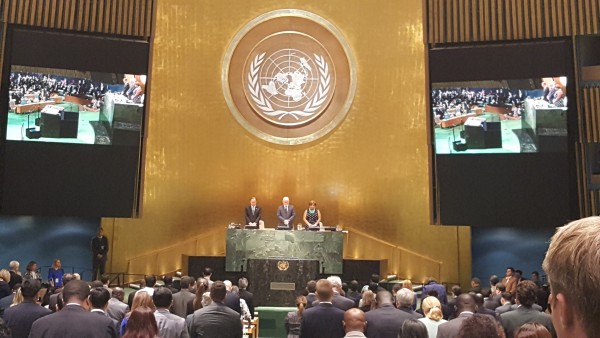 In another development, Ambassador Sumah joined his colleague, the Permanent Representative of  Liberia,  His Excellency Lewis Brown II, to seek support for the UN Peace-building Commission's fund-raising program on the margins of the 71st Summit . In particular, Ambassador Sumah highlighted  the  importance that Sierra Leone attaches to  the Peace-Building Commission in the advancement of  post-conflict stability and promotion of democracy in Africa.
Ambassador Sumah stressed that "We as a continent should encourage our home governments to treat this meeting seriously and participate at the fund-raising program to help address the financial problems affecting the Peace-Building Fund."
GOVERNMENT INTERNATIONAL MEDIA NETWORK, PERMANENT MISSION OF SIERRA LEONE TO THE UN, NEW YORK