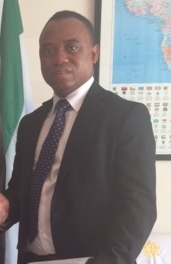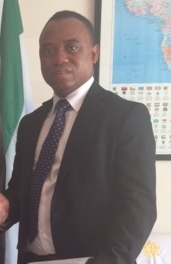 EMBASSY OF THE
REPUBLIC OF SIERRA LEONE
Addis Ababa
Ethiopia
P. O. Box 5619
Tel. 011-3-71 00 33
Fax: 011-3-71 19 11
Ambassador Kamara attends Africa, China Expo
His Excellency, Mr. Osman Keh Kamara, Sierra Leone's Ambassador to the Federal
Democratic Republic of Ethiopia attended the opening ceremony of the third
Africa/China Commodities Technology and Services Expo which commenced today
(Thursday 12
th
November, 2015) in Addis Ababa.
The event which was graced by the diplomatic community in Addis Ababa and
representatives of the Federal Democratic Republic of Ethiopia and the Chinese
Government aimed at further strengthening trade cooperation between China and
Ethiopia on the one hand and China and Africa on the other hand thus paving the
ground for technology transfer.
Vice Minister in the Ministry of Commerce of the People's Republic of China, His
Excellency, Mr. Qian Keming said that the China/Ethiopia trade has recorded a
growth of over 20% and his country hopes to contribute more to Ethiopia's expansion
projects.
Head of China Mission to the African Union, Ambassador Kuang Weilin described the
occasion as very special as his country attaches great importance to Africa.
Ambassador Weilin said that the Expo was exceptionally important because it is
taking place ahead of the Forum on China- Africa Cooperation (FOCAC) meeting to
be held in December in South Africa.
Her Excellency, Mrs. Fatima Haram Acyl, African Union Commissioner for Trade and
Industry made a special and passionate appeal for more Chinese investors to invest
in Africa as the Continent is an investment destination.
Other speakers at the ceremony were Mr. Sufian Ahmed, Advisor Minister to the
Prime Minister of Ethiopia; the Chinese Ambassador to Ethiopia, His Excellency Mr.
La Yifan and Mr. Tadesse Haile, State Minister of Industry of the Federal Democratic
Republic of Ethiopia