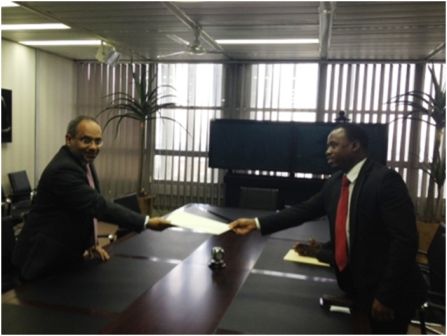 His Excellency, Mr. Osman Keh Kamara, Sierra Leone's Ambassador Extraordinary and Plenipotentiary to the Federal Democratic Republic of Ethiopia presented copies of his letters of introduction to His Excellency, Mr. Carlos Lopes, the  UN Under-Secretary-General and Executive Secretary of the United Nations Economic Commission for Africa (ECA) in Addis Ababa on Tuesday 14th July 2014.
Ambassador Kamara said that he was delighted to convey a message of goodwill to Mr. Lopes from His Excellency, Dr. Ernest Bai Koroma, President of the Republic of Sierra Leone. He told Mr. Lopes that he felt extremely honoured to present his letters of introduction to Mr. Lopes.
Responding, Mr. Lopes disclosed that his organization would soon appoint President Koroma as the Champion President on Gender Issues.
Ambassador Kamara (R) presenting his letters
The two representatives discussed among other issues, the economic development and transformation of Africa, requisite micro and macroeconomic policies for the socio economic development of member states. They also discussed mechanism for the strengthening of the already existing bilateral relations between Sierra Leone and the ECA.
The meeting was also attended by Mr. Ibrahim V. Kondoh, Minister Counsellor and Head of Chancery at the Embassy of the Republic of Sierra Leone in Addis Ababa and Mr. Carl Manlan, Research Officer in the Office of the Executive Secretary.