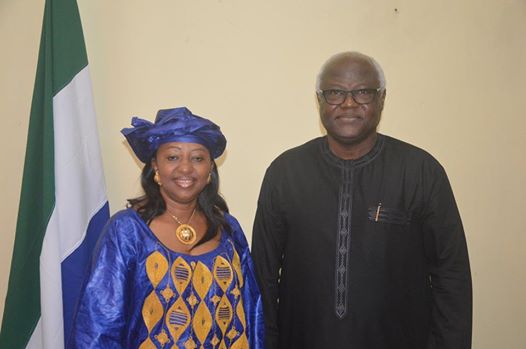 By State House Communication Unit
On Friday August 5, 2016, Ambassador designate to the republic of Guinea, Madam Mabinty Daramy, and Ambassador designate to the Republic of Iran, Mr Alimamy Amara Kamara, officially took leave of President Koroma at State House to mark the beginning of their respective tours of duty. The former is ambassador designate to the Republics of Mali and Niger and the latter to the Islamic Republics of Pakistan, Bangladesh and Lebanon.
Congratulating the two ambassadors, President Koroma said he was happy that they have both acquired the required competence, skills and exposure in governance to perform in their new assignments. He noted the expectations from the ambassador designate to Guinea in increasing the volume of transactions, collaboration, bilateral relations, particularly at the Mano River Union and tapping into the great opportunities between the two countries. To the ambassador designate to the Islamic Republic of Iran, the president expressed the need to establish contacts for business diplomacy and revitalize business transactions and potentials between the two nations as well as reiterating the country's determination in strengthening and consolidating bilateral relations with Guinea and Iran.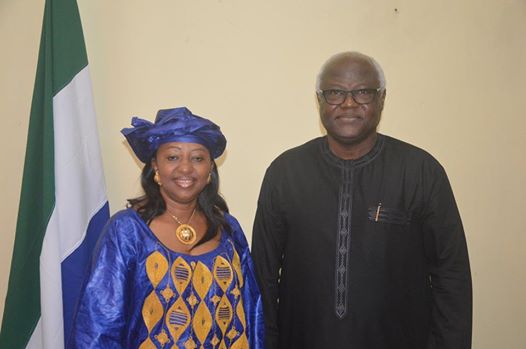 Ambassador Mabinty Daramy thanked President Koroma for the confidence reposed in her in serving in his administration since 2007 and acknowledged the effective leadership of the president in pushing forward the development agenda of Sierra Leone. She said the experience and knowledge gained over the years have left her wiser and richer in knowledge to deliver the promises of the public service.
Ambassador Alimamy Kamara in his statement said his appointment as ambassador to the Islamic Republic of Iran was a testament of the president's patience, confidence and belief in transforming "somebody from nowhere and making him somebody". He registered his commitment to serving and representing the country, uphold justice and remain loyal in serving humanity in the discharge of his duties.
The ceremony was attended by cabinet ministers, government functionaries, State House staffers, family members and relatives of the two ambassadors.