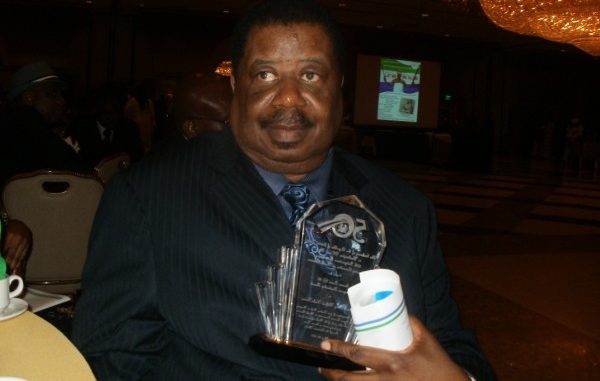 By Solomon Sesay :
For diligently keeping his nation's almost one  million citizens in the diaspora informed about news back home through  COCORIOKO,   Sierra Leone's biggest and most widely read newspaper , the paper's publisher , Mr. Leeroy Wilfred Kabs-Kanu, was last night honored  with a prestigious award by the country's 50th Anniversary Celebrations Organizing Committee in the United States. In a jampacked and exciting Jubilee Celebrations Banquet and Awards Night held at the Martin Crosswinds, 7400 Greenway Center Drive, Greenbelt, Maryland, the Rev. Kabs-Kanu received the 50th Anniversary Leadership Award for excellent journalism .
According to a citation imprinted inside the trophy, Mr. Kabs-Kanu was given the award because of his leading role in keeping the Sierra Leone Community in the United States and the world informed about events in Sierra Leone through the Cocorioko Newspaper.It is his fourth Journalism award in a thriving profession for him that spanned over 40 years starting from his secondary schooldays at Christ The Kings' College , Bo, Sierra Leone. One of the awards was from the umbrella Sierra Leone organization –The National Organization of Sierra Leoneans in North America  in 2008 -which is the equivalence of the American Oscars.
THE JOURNALISM AWARD FROM THE 50TH ANNIVERSARY COMMITTEE IN THE U.S WON BY  QUADRUPLE AWARD-WINNING JOURNALIST , KABS KANU LAST NIGHT
KABS KANU HOLDS HIS   50TH ANNIVERSARY JOURNALISM AWARD PROUDLY
Mr. Kabs-Kanu , in receiving the award, invited the Editor-In-Chief Jacob Sax-Conteh to join him on the stage and in thanking the Sierra Leone Embassy to the U.S , the Jubilee Committee and those who nominated him, Mr.Kabs-Kanu said the thrust of Cocorioko is to project Sierra Leone  in a positive light in an effort to rebrand the country and help bring in investment, commerce and tourism. He told his attentive audience that COCORIOKO does not publish negative news about Sierra Leone because the country's image has been hurt since Independence in 1961 by negative reporting which he said had the tendency to scare away investors and tourists and give the country a poor credit rating with international donor agencies.
KABS KANU AND JACOB SAX-CONTEH ON THE STAGE
Mr.Kabs-Kanu then said that he wanted to share the award with hard-working members of Cocorioko , without whose efforts, he said, the newspaper would not have reached this height that makes it possible for it to keep winning awards.He named the members as Dr. Wilfred Bankole-Gibson, Ms. Rosetta Zizer, messrs Pavi Jalloh , Joseph Kamanda, Solomon Sesay, Muckson Sesay, Alex Mansaray, Muckson Sesay and Rev. Kemoh Sulimani jr. Ahmed M.Kamara, who  designed and hosts the sight was also mentioned.  He also thanked members who are no longer with the newspaper like  Mr.Foday Mansaray. He promised that he  and team would continue working hard to continue to justify the confidence reposed in him. He also promised the audience that Cocorioko will be going into print soon.
Cocorioko was founded in 1973 by Kabs-Kanu while he was a student at Fourah Bay College. He revived the newspaper in the U.S
KABS KANU HOLDING THE TROPHY
KABS KANU,  HOLDING THE COVETED PRIZE , POSES WITH THE PERSONAL ASSISTANT AND ADVISER TO PRESIDENT ERNEST KOROMA, MR. SHEKA KAMARA
KABS KANU LETS  WASHINGTON DC APC PRESIDENT YABOME THASSLIM SESAY KOROMA AND ABDUL BERO KAMARA  POSE WITH THE COCORIOKO AWARD
PUBLISHER KABS-KANU AND SENIOR EDITOR ABDUL BERO KAMARA HOLDING THE AWARD
© 2011, COCORIOKO. All rights reserved. – Discuss this and other related articles on the Salone Forum