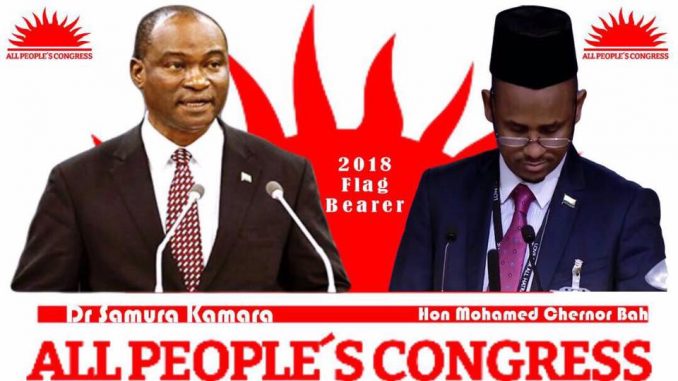 BY KABS KANU :
YESTERDAY was another momentous day in the nation when the All People's Congress ( APC )  chose as their flagbearer for next year's presidential elections Dr . Samura Kamara, the quiet, soft-spoken Foreign Minister, who has a remarkable record for diligence, commitment, hard work and moral scruples in public service.
President Koroma won thunderous applause in the hall when he made the announcement after two days of gruelling consultations among the 27 contestants and the party's National Advisorry Council ( NAC ) in one of the biggest gatherings of the party ever –The 2017 Delegates Convention–at the Ernest Koroma Hall of the majrstic APC building in Makeni, the capital city of Northern Sierra Leone.
Dr. Samura Kamara will be an enigma to Sierra Leone's opposition during the electioneering campaign for the March 7, 2018 elections as they will have nothing to fault him with, because after serving three different governments and international institutions and organizations, Dr. Kamara has a record that is as clean as a whistle. He has never been named before nor has he ever been involved in any public misconduct or corruption. In fact, it was under him as Minister of Finance that Sierra Leone became the country with the second highes growing economy in the world.
Dr. Samura Kamara enjoys tremendous local  and international respect and goodwill.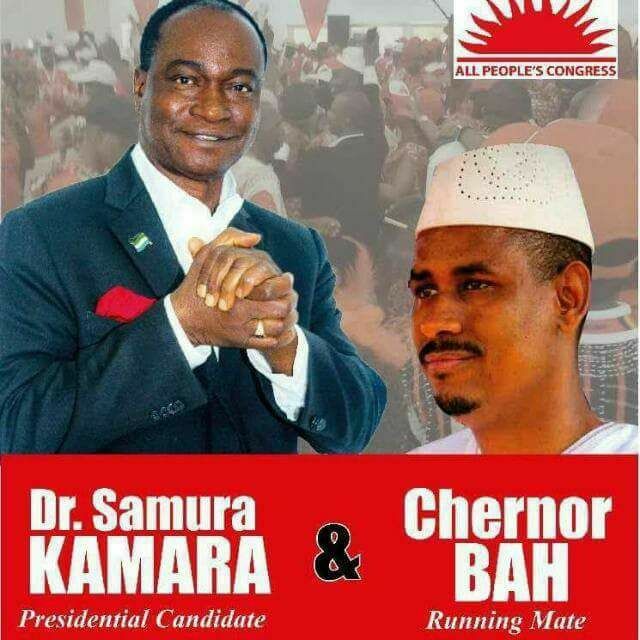 I WROTE  the following in  COCORIOKO  about him on June 29, 2017 : "He served efficiently as Financial Secretary in the Ministry of Finance during the era of President Tejan Kabbah . After that, he was appointed Governor of the Bank of Sierra Leone when President Koroma came to power in 2007 and again he performed exceptionally to the extent that the President elevated him to the position of Minister of Finance. Once again, Dr. Kamara starred very well in that capacity and President Koroma next decided to place in his competent hands the mantle of Sierra Leone's international politics and diplomacy when he appointed him Minister of Foreign Affairs and International Cooperation."
"Dr. Kamara's immaculate public service has not been confined to the shores of Sierra Leone alone. His international experience is even more astounding as he worked for the IMF as the Alternate Executive Director for African Group 1 Constituency . "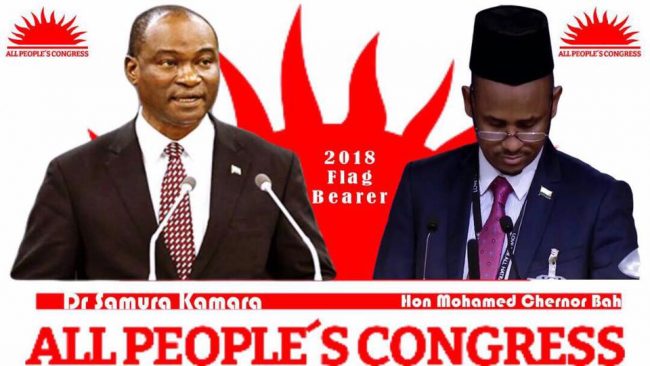 "After a brilliant performance there, Dr. Samura Kamara worked for the Commonwealth Secretariat as Senior Economic Adviser in the Economic Affairs Department and then as Chief Program Officer."
"Dr. Samura Kamara has proved his mettle as a local and international economic cooperation and development expert and reformer and as an accomplished international diplomat presiding over bilateral and multilateral agreements both for the international agencies he has worked for and his nation."
"As I said earlier, it is difficult to find a public official like Dr. Samura Kamara with a well-rounded professional accomplishment spanning all significant areas of governance and leadership . "
Dr. Kamara is described in his profile as  "a development economist with a strong foundation in diplomacy, macroeconomic, public finance, central banking and financial sector policy analyses and reforms. He holds a Masters' Degree (1980) and PhD (1986) from the University College of North Wales, BANGOR. He graduated with a Bachelor of Science degree in Economics from Fourah Bay College, University of Sierra Leone (1972). He served as Alternate Executive Director for Africa Group I Constituency in the International Monetary Fund (2006-2007). He worked in the Economic Affairs Department of the Commonwealth Secretariat in London, first, as Senior Economics Officer (1991-1994) and second, as Chief Programme Officer (1998-2001)."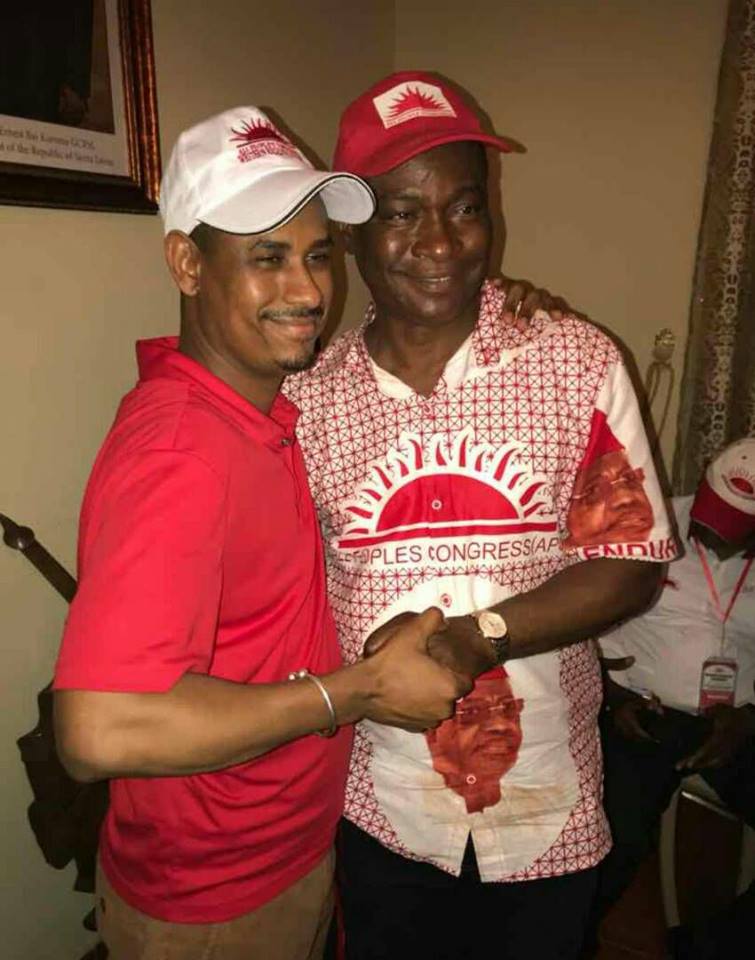 "Throughout his career, Dr. Kamara has also actively participated in wide-ranging high-level international conferences, seminars, workshops and courses in economic, fiscal and financial management, project management, regional economic integration, ICT, leadership, management skills and media training. He has acquired many years of experience in international economic cooperation, and partnership agreements with bilateral and multilateral development agencies."
"Prior to this new assignment, Dr. Kamara provided a strong intellectual and managerial leadership in articulating Sierra Leone's most successful development strategies: the Agenda for Change (2008 – 2012) and the Agenda for Prosperity (2013 – 2018) "
Social media analyst , Boye Jalloh Jamboria , said this of him : "Samura Mathew Wilson Kamara is a management consultant and understands the language is financial institutions and investors . He is the first economist to ever become leader ! He does not have to ask advice when he wants to talk with international bankers and investors. He understands the register of economics and language as loud as it is ever going to be said ! Sierra Leone needs such a leadership to get better deals and contracts ! Vote for progress ! Vote technocratic! "
Dr. Kamara's running mate is the young, brilliant and articulate lawyer, Mr. Chernor Maju Bah, popularly known as  CHERICOCO., who is the Deputy Speaker of the Sierra Leone Parliament.
The Fulah Progressive Union has the following information about him in their website :
"Chernor Ramadan Maju Bah was born on Saturday April 29, 1972 Brookfields in Freetown to a Fullah family. He is Barrister Solicitor, politician and a philanthropist. He attended the Saint Edward's Secondary School, King Tom, Freetown. He then further his studies at Fourah Bay College (FBC) and obtained an LLB with Honours in the Faculty of Law."
"Chericoco as he is fondly called came to the limelight after the 2007 Elections representing Constituency 110 where he got the highest number of votes ever in the Western Area. He started manifesting his good leadership character at Fouray Bay College as a member of the Auradicals club by demonstrated leadership character as a member of the fraternity and also in Students' Union Politics. "
"One stark reality about Hon. Chernor Maju Bah is that he is loved and cherished by his people in Constituency 101 and beyond. The reason for his soaring image is the fact that he is destined as a natural mixture of people, drawing inspiration from both the elites and the grass-roots. No doubt that he spearheads the ruling government's agenda for change as the prime-mover of people and things. That also portrays his philanthropic course, his profession as a lawyer and leadership traits as Member of Parliament. All in all, he has a living legacy to write home about as an architect of progress in his dispensations as a politician in Sierra Leone.
Thus the name Chernor M. Bah provides a magic wand also in parliamentary circles. As a Member of Parliament representing the All People's Congress in Constituency 110 in Brookfields, the legal luminary to all intents and purposes, is one such Member of Parliament who has done a great deal in the democratic dispensation of the country as well as putting the constituency he represents to the height of development."
"Residents of Brookfields, besides political patronage, can attest to the fact that Hon. Chernor Bah does not pay loud lip-service to his role as a Parliamentarian. His good works and deeds speak for themselves. "

"Since voted in as a Parliamentarian, he has played an active role as Chairman of the Legislative and Mines and Minerals Committees in Parliament, a role he has always distinguished himself in fulfillment of President Koroma's Agenda for Change. However, this pertinent parliamentary role has not pre-occupied his other political attributes to the sustainable development of the country. His humanitarian gesture knows no boundary: that within his own financial reach, he has been awarding scholarships to the needy in society and paying college fees for students and also providing jobs for the less-privileged. There is also more to it than meets the eye as he contributes to building bridges and water wells in his constituency, a feat he has achieved over the years amid hard work, commitment and dedication to duty as a Member of Parliament. Some of his sterling efforts to his constituency were the commissioning of three water dams within the vicinity of Yazebeck, at the back of Hill Station."

"Besides the strings of humanitarian contributions, Hon. Chernor Bah has always been at the helm of affairs, serving in an esteemed capacity as Chairman of All Walks of Life (AWOL). He was in the thick of things on the heels of the 2011 Awards to twenty-six categories: comprising academic institutions, parliamentarians, media houses, parastatals, ministries, medical and legal practitioners, military and police officers of the year.
In 2012 he won his party symbol unopposed and was rewarded by voters for his hard work by voting for him as Member of Parliament and was also nominated and appointed unopposed as the youngest ever Deputy Speaker of House of Parliament in history of Sierra Leone. "
"He was the Chairman of the Parliamentary Committee on Mines and Mineral Resources. He has also served as chairman for the legislative committee, the most important in the legislative arrangement."
"Chernor Maju Bah, Acting President for Fullah for Peace and Development promised to work with the youth and the Fullah chief to promote peace, unity and development in the country. As acting President, he said he will embark on developmental projects to raise funds that would promote the Fullah community and the country at large. He added that he will ensure that all Fullah youth organizations in the country work under one umbrella to move development in Sierra Leone. "