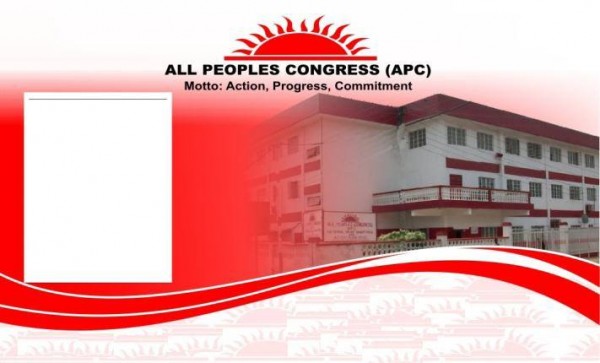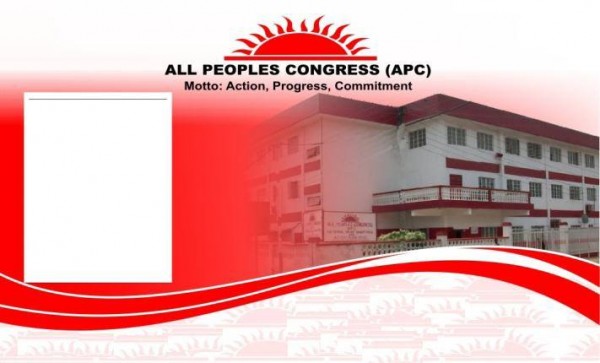 The ruling All People's Congress ( APC )  has finally completed the tedious and often contentious award of symbols for prospecting candidates for the Parliamentary elections on March 7, 2018.
Aspirants were thoroughly screened and the party adhered to the provisions of section 76 (1) of the 1991 constitution which stipulates that people holding dual citizenships are not entitled to being elected as parliamentarians.
Here are the lucky winners of the APC  symbols.
APC Parliamentarian candidates for March 7, national elections.
KAILAHUN DISTRICT
001-Sawyer Borbor Tamba
002-Sahr Humu
003-James Moses Sahr K
004-Tommy Ibrahim
005-Mohamed Sheku Kallon
006-Tamu Fedrick Mustapha
007-Alie Dumbuya
008-Fallay Robbin
009-Senesie Mustapha
010-Alfred Tamba
KENEMA DISTRICT
011-Alpha .D. Koroma
012-Lansana Brima Sangawulo
013-Kanneh John Idriss
014-Gendehmeh Umar (Bob k)
015-Gandoh Amara .L.
016-Musa Andrew. J.
117-Bapa Augusine .S.
018-Dr Kamanda Murray
019-Lavalin Lahai .D.
020-Adama C. Kallon
021-Anthony Mustapha
KONO DISTRICT
022-Turker Tom Isaac
023-Bio Ruskay .M
024-Bendu Sahr Mathias
025-Mansaray Patrick Fayah
026-Somsiam Komba Kai
027-Sorie Sahr Fedrick
028-Bonah Sahr Emmanuel
029-Biama Arron I.
030-Darbundeh .l.
BOMBALI DISTRICT
031-Conteh John Charles
032-Kalokoh Mamoud
033-Koroma Peter
034-Kargbo B. Ibrahim
035-Conteh Paul
036-Koroma Alieu
037-Tarawally Katherine Zainab
038-Sesay Osman Sallieu
FALABAH
039-Jalloh Chernor B.
040-Alhassan Jerro Kamara
041-Alusine Marrah
042-Lamin Marrah
KOINADUGU DISTRICT
043-Mansaray Momodu S K
044-Kabbah Foday Lamin
045-Kusam Sesay
046-Koroma Daniel Brima
TONKOHLILI DISTRICT
047-Kargbo Abdulai Papa
048-Koroma Arron Aruna
049-Sankoh Hassan
050-Sesay Hassan Abdul
051-Tiday Alhaji Soriba
052-Sesay Abdulai Daniel
053-Konteh Ibrahim
054-Thulley James Ozan
055-Bangura Rose Marie
056-Sesay Jawah
KAMBIA DISTRICT
057-Suma Foday Esheka
058-Bamoi Desmond Mamadan
059-Abdul Karim Kamara
060-Mohamed Salim Kamara
061-Sheku T.Kamara
062-Abu bakkar Sankoh
KARANA DISTRICT
063-Abdul Karim Kamara
064-Dr Rolland Foday Kargbo
065-Mabinty Cecilia Bangura
066-Mohamed Bangura
067-Alusine Kamara (bash)
PORTLOKO DISTRICT
068-
069-Kamara Abdul Karim
070-Koroma Abdul Karim
071-Baba Kamara
072-Alimamy Kanu
073-Samba Turay
074-Dawud Abou
075-Sesay Abdul Latim
076-Bangura Ibrahim
077-Kargbo Abdul
BO
078-Maunah Joseph Sheku
079-Daramy Rose
080-Massaqui Martin Deck
081-Dr Baindah
082-Shadrack Sannah
083-
084-Bashiru Kamara
085-Edward Magheou
086-Samuel Abdul Kallon
087-Baimba Sesay
088-Ghogbeh Cecilia
BONTHE DISTRICT
089-Esheka Sesay
090-Ibrahim Shegeh
091-Osman C. Kamara
092-Caulker Flowretta Issata
MOYAMBA DISTRICT
093-Amadu Kanu
094-Bendu Sumba K
095-James Kaindoh
096-Soriba David George
097-Komba Bundu
098-Ibrahim Koroma
PUJEHUM DISTRICT
099-Rahman Bangona
100-Kadie Massaqui
101-Sylvester Massaqui
102-Sesil B.O. Macurley
103-Mojew Kai Kai
104-Musa Baindu
WESTERN AREA RURAL
105-Samuel Kanu
106-Mohamed Kabia
107-Abu Bakkarrr Fofanah
108-Fatmata Kamara
109-Alhassan Cole
110-Kadiatu David
111-Kargbo John Sati
112-Amara Miatta
113-Kanu Rugiatu Rose
*WESTERN AREA URBAN*
114-Koroma Hufay S.J.
115-Bah Alpha Amadu
116-Bangura Arietu
117-Hajaratu Samura
118-Isaac Tarawally
119-Jalloh Timbo
120-Momoh Kamara
121-Mansaray Ahmed
122-Mohamed Sheriff Kassim (kathfoi)
123-Alpha Rashid
124-Maine Agibola Spaine
125-Alusine Conteh
126-Chernor Bah
127-Kamara Sirajin
128-Abu Bakkarrr F. Sillah (Abu APC)
129-Emmanuel Conteh
130-Timbo Osman Abdul
131-Jalloh Osman
132-Sannoh Sheku Mohamed