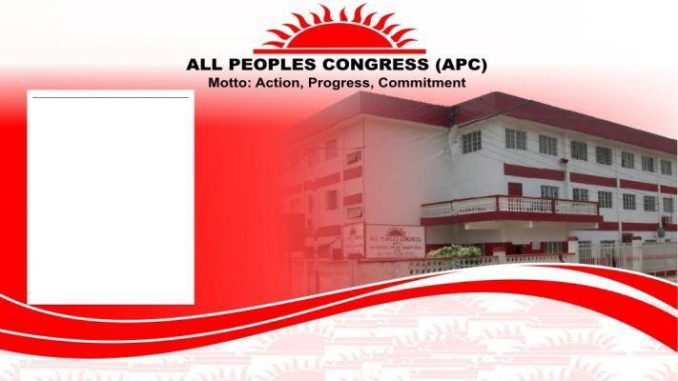 PUBLIC NOTICE
THE ALL PEOPLES CONGRESS NATIONAL SECRETARIAT HAS BEEN
INFORMED BY THE AMERICAN EMBASSY IN FREETOWN THAT THE HONOURABLE VICE
PRESIDENT, ALHAJI SAMUEL SAM SUMANA, HAS REQUESTED TO SEEK ASYLUM AT THE
US EMBASSY IN FREETOWN, ALLEGING HIS LIFE IS UNDER THREAT AND THAT HIS
RESIDENCE HAS BEEN
VANDALIZED.


THE APC NATIONAL SECRETARIAT WISHES IT TO BE KNOWN THAT
SINCE THE EXPULSION OF THE VICE PRESIDENT FROM THE APC, THE PARTY HAS NOT AT
ANY POINT IN TIME THREATENED THE LIFE OF THE VICE PRESIDENT, NOR IS THE
PARTY AWARE, OR A PART, TO THE ACT OF VANDALIZING HIS RESIDENCE, AS HAS BEEN
ALLEGED BY THE VICE PRESIDENT.

IN LINE WITH ARTICLE 8 OF THE 1995 APC PARTY CONSTITUTION,
THE VICE PRESIDENT HAS 30 DAYS TO APPEAL HIS EXPULSION FROM THE
PARTY AND THE APC WOULD WANT TO ASSURE HIM, THE GENERAL PUBLIC AND THE
INTERNATIONAL COMMUNITY, THAT FOLLOWING THE DUE PROCESS AS STIPULATED
IN THE PARTY'S CONSTITUTION IS THE ONLY AVAILABLE OPTION FOR THE VICE
PRESIDENT.

CONSEQUENTLY, THE PARTY VIEWS THE ALLEGATIONS BEEN
MADE BY THE VICE PRESIDENT AS AN INDICATION THAT THE VICE PRESIDENT IS NOT
PREPARED TO AVAIL HIMSELF TO THE INTERNAL APPEAL PROCESS OF THE PARTY AS
SANCTIONED BY THE 1995 CONSTITUTION AND IS ALSO INTENDED, BY THE VICE
PRESIDENT, TO FEIGN PUBLIC SYMPATHY AND FURTHER SHOWS THAT THE VICE
PRESIDENT IS CONDUCTING HIMSELF IN A MANNER WHICH IS LIKELY TO EMBARRASS THE
PARTY, OR BRING THE PARTY INTO HATRED, CONTEMPT, RIDICULE AND DISREPUTE, IN
CONTRAVENTION OF ARTICLE 8.I.I (II)(A) OF THE 1995 CONSTITUTION OF THE PARTY.

HENCE, THE NATIONAL SECRETARIAT CALLS ON THE ENTIRE PARTY MEMBERSHIP AND
THE GENERAL PUBLIC TO REMAIN CALM, AS OUR PARTY IS A LAW ABIDING PARTY AND
WILL NOT DO ANYTHING OUTSIDE THE AMBIT OF THE LAW.

THE END
SIGN: THE APC NATIONAL PUBLICITY SECRETARIAT