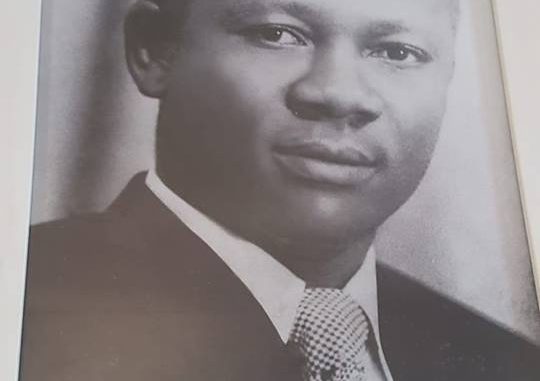 OBITUARY, BIOGRAPHY, AND FUNERAL ARRANGEMENTS FOR THE LATE HONORABLE ALPHA GEORGE SEMBU FORNA (GCOR)
The death took place of Honorable Alpha George Sembu Forna, Grand Commander of the Order of Rokel, aged 86 years, on Friday, October 12th , 2018.
BIOGRAPHY
Hon. A. G. Sembu Forna was an iconoclast, a renegade, a trailblazer—a man who shattered expectations of what he should be and defined life firmly on his own terms. A man who played an integral role in ushering Sierra Leone through its many trials, from Independence, to present day. A man who exemplified through word and deed what it meant to have unwavering love for one's country and a firm commitment to the values of honesty and pacifism.
Hon. Sembu Forna received his education at Koyiema School, the Bo Government School for Boys, and at Fourah Bay College, University of Sierra Leone. He subsequently studied Diamond Valuation in England and Antwerp, Belgium and became the first Sierra Leonean and the first African Diamond Valuer.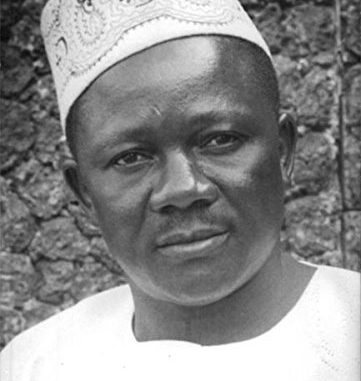 While in England in the 1950s, Hon. Sembu Forna was an instigator for Independence and a strong supporter of the Elections Before Independence Movement. In the 1960s, he returned to Sierra Leone and became a successful Diamond Valuator and businessman. He was one of the founding members of the All People's Congress party, and he famously purchased and donated 15 Land Rovers to help support the foundling political party during the 1967 elections. A political historian recalled that moment fondly – "when the 15 Land Rovers arrived at Water Quay and paraded through Freetown, that is when we knew that the APC had won the 1967 elections!" Hon. Sembu Forna contested the 1967 elections and represented his constituency in Bombali district as an APC Member of Parliament.
In May 1969, he was appointed Minister of Transport and Communications, where, among other things, he oversaw the opening of Lungi Airport and the transition to Right Hand Traffic in Sierra Leone. From there, he held various cabinet positions including Minister of Finance, Minister of Agriculture, Minister of Tourism, Minister of Health, Minister of Information, and Minister of Energy and Power. He served into the 1980s until he had a political falling out and was forced out of his constituency during a disputed election in 1987. He later helped form the United National People's Party (UNPP) and returned to parliament in 1996, as part of the main opposition to the ruling Sierra Leone People's Party (SLPP) government.
As a senior statesman and Chairman of the National Coordinating Committee for Peace during the civil war, he mediated between President Ahmad Tejan Kabbah's elected SLPP government in exile and the different factions, including the AFRC, the NPRC, and the RUF. He was an important part of the delegations participating in the signing of the peace accords in Abidjan and Lomé, which ultimately brought peace to Sierra Leone. For his contributions to the governance of Sierra Leone, including his role during the peace process, Hon. Sembu Forna was appointed Grand Commander of the Order of the Rokel, one of the highest honors in Sierra Leone, by President Ahmad Tejan Kabbah on 27th April, 2007.
Hon. Sembu Forna was many things—a canny political player, a talented philosopher, and a steadfast pacifist who firmly believed that violence was never the answer. He was known for his commitment to honesty and transparency in all things—especially politics—and prided himself on being a politician who never dipped into government coffers or used his political office for financial gain.
Hon. Sembu Forna was not only a trailblazer in his public life, he was also one in his personal life. A renowned intellectual, he was famed for his extensive knowledge of history, politics and philosophy. He was a fashion devotee who wore the most impeccable suits tailored in Milan and London, but also embraced Africana as a visible symbol of pride in his country. In his heyday, he installed a tailor in his house and wore a new outfit to Parliament everyday. He was an avid tennis player and a fervent lover of animals. He was a ladies man – handsome and suave, he married or had children with the most beautiful women in Sierra Leone. He had 20 children and was a loving and doting father. He not only cared for his immediate and extended family, he also helped raise and pay school fees for many children, and supported many others with business opportunities and in other ways.
In times when others went with the flow, he stuck to his principles and went against the grain. A brilliant statesman, scholar, and storyteller, he will forever remain vibrant in the minds of those who knew him.
With his passing, Sierra Leone has lost a true son of the soil who worked tirelessly to make his country great.
Rest In Peace, Honorable Alpha George Sembu Forna. You will be missed.
FAMILY & FRIENDS
The Late Hon. A. G. Sembu Forna is survived by his children: Salimatu, Jattou, Menday, Sama, Sulaiman, Sembia, Constance, Alpha, Pa Momoh, Patricia, Kadiatu, Baby, Pa Alpha, Ginnefine, Fatu, Bijou, Namina and Yaba. (Sembu passed away in 1976, and Nimatu passed away on November 5th, 2018).
He is survived by his former wives Chief Bowara Kanu, Mrs. Aminata Jalloh, and Ambassador Ebun Strasser-King, close friends Mrs. Columbia Lewis and Mrs. Constance Thomas, and several grandchildren and great grandchildren.
Sons-in-law: Mr Ebrahim Jallow, Mr. Michael Anderson, Mr. Emmanuel Johnson, Mr. Arthur Tucker, Dr. Shekou Momodu Sesay, Jr., Mr. Prince Jones and Alhaji Issa Kargbo
Daughters-in-law: Mrs Aja Forna, Mrs Kadie Forna, Mrs Yeye Forna, Mrs. Nancy Forna
Nephews and nieces include: Mama Yeanoh Yaba and family of Roketeh, Pa Mesem family of Banana Street, Makeni, Pa Sorie Forna and family, Ya Adama Tholley Kabia family Lunsar, Kanu Sesay family from Buya Romende, Alie Forna of the Association for Rural Development, Foday Forna, James Forna, Isatu Fofanah former Deputy Mayor, Makeni City Council, Frank Kargbo, Isatu Sesay, Hassan Forna,Former President H.E. Dr. Ernest Bai Koroma, Florence Koroma, Admire Sesay, Ione Koroma, Thomas Koroma, Elizabeth Koroma, Philip Koroma, and Sylvanus Koroma Jr.
Families include: The Forna, Koroma, and Tarawalie families of Panlap and Yeli Sanda. Dura families of Binkolo, Samura family of Makeni and Kissy, Conteh families of Kanu, Mansaray families of Makari, Foday Fofanah family of Lunsar, Sesay and Jalloh families of Kabala, Kabia family of Lunsar, Kaloko family of Robat and Masongbom, Dumbuya family, Wusu Sanu family, Serry-Kamal family, Kaisamba and Sesay families of Kenema, Aforo family of Kissy, Bangura familly of King Street, Kamara and Kargbo families of Tonkolili and Gambia, Kanu Sesay Family from Buyaromenday, Turay, Sankoh, Bangali familles, Hon. I.B. Kargbo family, Hon. E. T. Kamara family, Madam N'Silk of Makeni, Madam Masa Yeli N'Tham of Panlap, P. C. Bai Sebora Kasangha 111 family, P. C. Kabomboh of Paki-Masabong chiefdom family, Birch Conteh family of Bumbang, Former President Joseph Saidu Momoh family, Dr. Sama Banya Family, Hon. Dr. Shekou Momodu Sesay family, Rev. Osman Fornah family, Beckley family , Keister family, Lekoetje Family of US and Lesotho, and Mans family.
Friends: Cyril Foray family, Jamil Sahid Mohamed family, Donald Smythe-Macauley Family, Former President Siaka Stevens family, S. I. Koroma family, C. A. Kamara Taylor family, Thomas Kargbo family, Dr. Mahmoud Ahmed family, The Ajami and Ahmed familes.
Hon. J. E. Leverse family, Hon. D. F. Shears family, Hon. Joe Amara Bangali family, T. S. Johnson family, Gelaga-King Family, Abu Koroma family of Kono, Bambay Kamara family, Dalton Clark family, Solomon A. Pratt family, The Ganda, Lewis , Hassaniyeh and Ibrahim Kamara familes of Cockerill, members of the Blind School.
Associations: Old Bo Boys Association (OBBA), Tourism and National Dance Troupe, Diamond Dealer and Seller Association, Veteran Journalist Association, Tourist Board.
All Paramount Chiefs of Bombali and Karene Districts, Elders and Community leaders of Panlap, Punthun, Rosint, Roketteh, Makari, Masongbom, Kunsho, Binkolo, Kolisorkor villages. The Wesleyan Church of Sierra Leone, All members of the All People's Congress party.
FUNERAL ARRANGEMENTS:
Friday, November 16th
8 am – Laying out ceremony at the A. P. C. Party Headquarters, Old Railway Line, Freetown
11 am – Civic Funeral Ceremony at Miatta Conference Center
7 pm – Vigil at the Sembu Forna Residence – 3a Cockerill North, Off Wilkinson Road
Saturday, November 17th
8 am – Laying out at his residence, 3a Cockerill North, off Wilkinson Road
10:30 am – A convoy will convey the body to Makeni from the Sembu Forna Residence at Cockerill
2 pm – Laying out at the A.P.C. Convention Center – Makeni
7 pm – Vigil and Wake at the Sembu Forna House – Old Mabanta Road, Makeni
Sunday, November 18th
11:30 am – Funeral Service at Rogbane Wesleyan Church of Sierra Leone, Makeni
Burial at Old Mabanta Road, Makeni