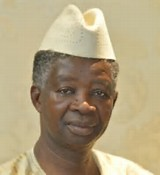 STATEMENT FROM THE NATIONAL SECRETARIAT OF THE APC ON THE POSTPONEMENT OF THE VISIT OF THE NATIONAL DELEGATION TO THE INAUGURATION OF THE APC SWEDEN EXECUTIVE. 

The National secretariat of the APC would like to record a deep apology for not being able to grace the inauguration ceremony of the Sweden Branch of the party for a number of reasons.



In the first place,the delegation was unable to travel to Sweden from Belgium because it was impossible to address the problems  of the Belgium branch and proceed to Sweden. There were no immediate direct flights from Brussels to Stockholm that would have conveyed the NSG and delegation to attend the said inauguration on time.

Further more,the NSG was prepared to travel to Sweden on a week day if that were possible. However the Branch executive explained that the event could only be organized on weekends.

Alternatively suggestions from the NSG Ambassador Yansaneh was for the event to be postponed with deep regrets and  pleaded with the executive to expect the delegation to visit Sweden immediately after the US branch convention in the second week of August 2016.

In a telephone conference with cross section of the executive of Sweden branch, the NSG and the Regional Chairman comrade Patso also addressed the branch members and delegations from the other Scandinavia countries conveying profound regrets for the inconvenience caused by the non attendance of the NSG and delegation but assured them that the visit will take place as promised after the US tour.

KINDEST REGARDS
AMB. O. F. YANSANEH
NSG APC.