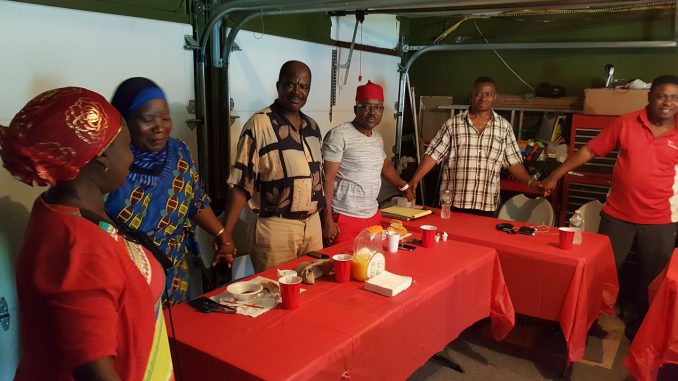 By KABS KANU :
The All People's Congress ( APC ) New Jersey Chapter, under the dynamic leadership of its President, Mr. Alimamy Turay, met last Saturday to start collecting funds and relief supplies for victims of the flood and mudslide disaster in Sierra Leone.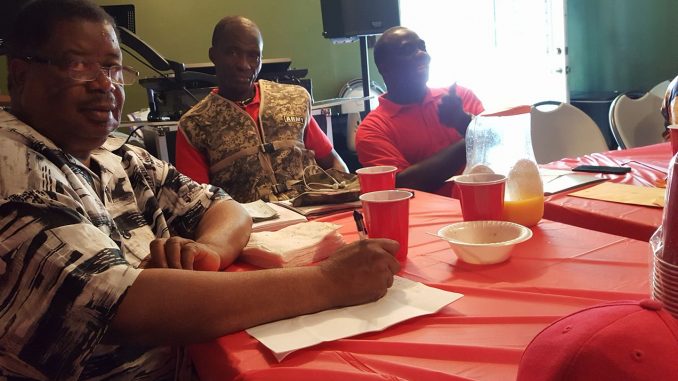 Given the many social activities across the state last weekend, including graduation sessions, birthday parties, a marriage ceremony and a baby and  marriage shower, which usually draw people away from meetings, the attendance at the APC flood relief meeting was quite encouraging , attesting to the fact that members placed great premium on the disaster that happened in Sierra Leone.
Present at the meeting were appointed officials of the chapter, regular and new members , advisers (Including the Chair, Dr. Abdul Rahman Kamara )  and the Minister Plenipotentiary of Sierra Leone to the United Nations, Rev. Leeroy Wilfred Kabs-Kanu.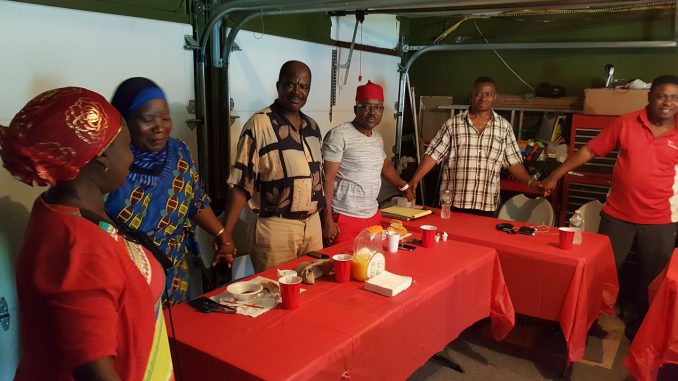 In a passionate appeal , Mr. Alimamy Turay called on members to come to the aid of the survivors of the landslide, hundreds of whom are homeless presently . He described as catastrophic the  landslide that befell the country on Monday August 14, 2017.  Mr. Turay stated that over 400 people are now known to have died and hundreds more are missing . He described the scenerio in Sierra Leone as very pitiful and he said that it was imperative that help be rendered to survivors and their families.
The Minister Plenipotentiary, Rev. Kabs-Kanu, re-echoed the appeal by President Alimamy Turay. He said that while individual initiatives would be highly appreciated as well,  he stressed the need and importance of collaborative efforts within organizations in the state to make the venture successful.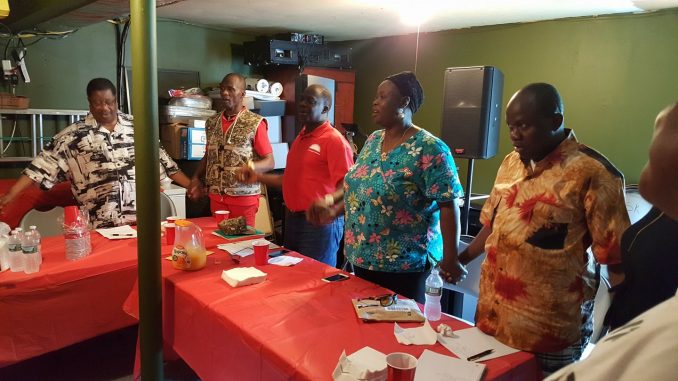 The minister said that the Permanent Mission of Sierra Leone to the United Nations in New York is very willing to work  collaboratively with organizations within its jurisdiction in the tri-states of Connecticut, New York and New Jersey that wish  to provide help to victims of the landslide disaster in Sierra Leone.
Similar appeals came from leading members of the party including the Chair of the Advisory Council, Dr. Abdul Rahman Kamara, the Women's Leader, Madam Elizabeth Thoronka and the Organizing Secretary, Mr. Donald Cline -Thomas .
Among officials present  at the meeting were the PRO of APC-USA, Madam Khadija Nabe , Professor Abdul Rahman Kamara , Hadja Khadi Sillah , Mr. Bai Kamara, Mr. Francis Sieh Kanu , Mr. Sulaiman Kargbo ,  Mr. I.B. Taylor-Kamara, Mr. Amara Kalawa, Mrs. Sana Smith, Mrs. Halima Nabe, Mrs. Fanta Savage , Mr. Mamadu Jalloh and others to be named in subsequent articles.
At the meeting, the Youth Leader, Mr. Mamadu Jalloh, was highly commended for representing the chapter during the Youth Convention in Sierra Leone early this year.
Also commended were Mr. Sulaiman Kargbo , who provided his home for the breakfast meeting , and the ladies for the food and refreshments served during the session.