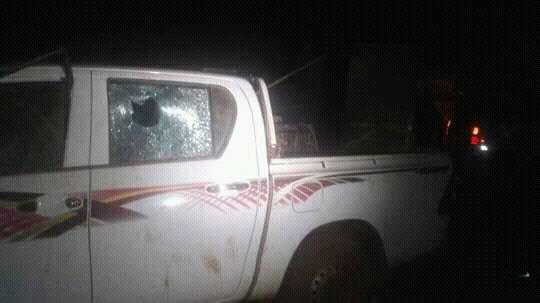 All People's Congress ( APC) Presidential candidate,  Dr. Samura Kamara,  has just told APC supporters in Waterloo that SLPP supporters attacked Kamalo,  his home town,  today. Dr. Kamara said that after  SLPP supporters left  Kamakwie, they diverted course to Kamalo just to create problems. He called on supporters of both parties to desist from violence .
Dr. Samura Kamara declared that the  APC is a  peaceful party and called on the SLPP Leadership to advice their supporters to move away from violence.
Dr. Kamara was talking during a campaign stop at Waterloo.
CLAUDIUS BECKLEY
EDITOR'S NOTE : Shortly after the news broke out, SLPP Presidential candidate, Retired Brig. Maada Bio tweeted that he had been attacked at Kamalo but did not elaborate.
So far, there has been no independent witnesses and given the partisan character of newspaper and social media  analysts, we are awaiting more reports from the Police.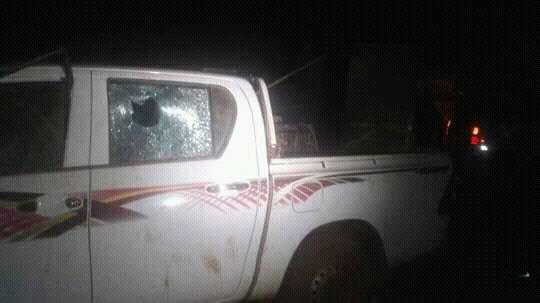 DAMAGED VAN
GUN SHOT WOUND
WE PRESENT THE VARIOUS VERSIONS THAT HAVE EMERGED SO FAR :
S.L.P.P ATTACKED KAMALO?
According to reliable sources from Kamalo, Sanda Loko Chiefdom, Karene District, home Town of Dr. Samura Matthew Wilson Kamara, A.P.C Presidential Hopeful, members of the Sierra Leone Peoples Party (S.L.P.P) whilst on their rally in that part of the Country, on Tuesday 20th February, 2018, stage -managed a scenario of provocation and violence, thus createing fear in the minds of inhabitants.
Apparently, eye witness narrated that irate supporters of the S.L.P.P entered the town with anti APC provocative songs, in a bid to stir up chaos and violence, which they succeeded in doing to an extent of inflicting mayhem on their victims and destroying property worth millions of leones.
When contacted, a member of the SLPP denied the allegations and blamed members of the APC for the unfortunate situation.
Stay tuned for full details.
@ Editayo G. Temple / The Investigative Journalist +23279316750
SLPP PRESIDENTIAL CANDIDATE MAADA BIO TELLS BBC REPORTER HIS SUPPORTERS CAME UNDER ATTACK IN KAMALO
Police in northern #SierraLeone say skirmishes broke out on Tuesday evening in Kamalo, after an opposition SLPP supporter attempted to paste a poster of his presidential candidate Julius Maada Bio. Kamalo is the birthplace of the presidential candidate of the ruling APC party, Dr Samura Kamara. Bio told me that his men came under attack as they were campaigning forcing them to abort it and dash for cover. He escaped unscathed. The police commander in the area, Francis Koroma told me that the subsequent throwing of stones "from both sides" forced his men to move their vehicles to safety. He said no arrests had been made, with one victim – an opposition supporter – admitted at the Kamakwie hospital. The SLPP Secretary General, Umaru Koroma said several of their supporters were injured and vehicles and motorbikes belonging to his party were damaged.
*THE REASON WHY KAMALO PEOPLE RETALIATE ON SLPP CAMPAIGN TEAM*
They came to Kamalo with a very large convoy and attempted putting their banners at Dr. Smura's cinema and water wells and they where told that these facilities are not constructed by government or NGO but by Dr Samura whose Banners were erected right at the points. They said the facilities are government structures so if they are not allowed to place their banners they will uproot Samura's which they did and ran with high speed unto the extend of one vehicle with AJW 063 hitting one young man leaving him with broken legs and an other young man was bulleted on his leg with an unknown gun man from Maada's convoy. So the youth decided to retaliate for the above action but they escaped with gun firing and continue destruction all APC banners in Kamalo and the corridors of Karene leading to Makeni.
Bio Supporters also destroy many Banners in Bo
SLPP why?
EDITOR'S NOTE :
As a newspaper, we are calling on Sierra Leoneans to ensure that this whole electoral process is conducted without any chaos. Liberia had their elections and despite legal protests that delayed the runoffs, the whole election ended without any violence. Our people must emulate the Liberians. We cannot afford a return to hostilities in Sierra Leone.