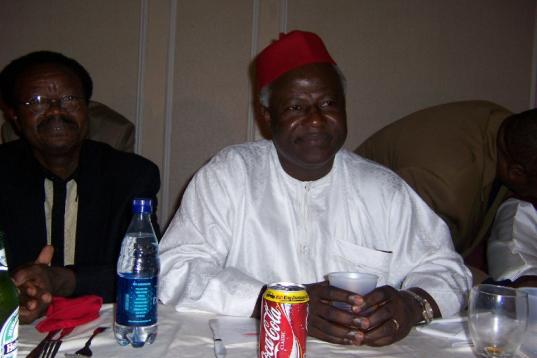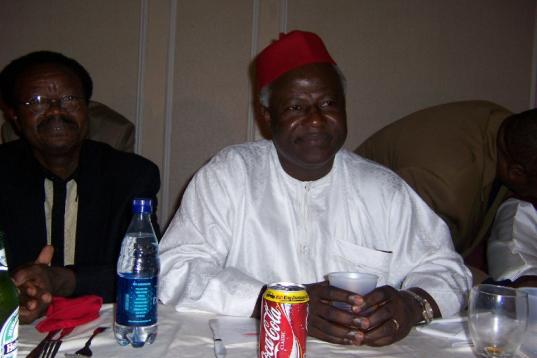 APC LEADER ERNEST BAI KOROMA : SEATED LEFT IS VICTOR FOH
Friday March 3 , 2006
Supporters of the All People's Congress told COCORIOKO  yesterday that an APC  come-back to the leadership of Sierra Leone was now inevitable. The APC  members  who came from a broader spectrum of the the U.S.  society talked to Editor of this newspaper ,  Rev. Wilfred Leeroy Kabs-Kanu, after reading  portions of a letter allegedly written by former Sierra Leone's Ambassador to the U.S, Mr. John Ernest Leigh.
In the letter , which is being circulated on the internet, Mr. Leigh , apparently responding to a Mr. Wai about the alleged discovery of a plot to kill the leader of the People's Movement For Democratic Change ( PMDC) , Mr. Charles Margai, launched a blistering attack on the PMDC  and said that Margai was losing ground because of his association with the APC . Mr. Leigh indicated  that  Margai was losing patronage as a result of this association  because a section of Sierra Leone was  living in the dread of an APC come-back. He cited other reasons why he felt the PMDC  was only a big hype.
However , talking to COCORIOKO  yesterday, APC supporters bragged that nothing would stop the party from winning the 2007 General Elections and regain the leadership of the country.
The APC  members all agreed on one point–That the ruling Sierra Leone People's Party ( SLPP)  has done such a  very bad job since they came to power in 1996 that the whole of Sierra Leone was crying for a change.  They believed thatno conscientious Sierra Leonean would  vote this time round for the SLPP because according to them the party has destroyed the country and has made no significant development since it started ruling the country. They complained that corruption had worsened in  the country and that all Sierra Leone's social instututions had fallen apart. . Sierra Leoneans , they went on, had no more confidence in the SLPP and believed that only a more progressive leader with a better vision for Sierra Leone would rebuild the country.
The APC supporters also drew attention to the deadly feuds in the ruling SLPP which they predicted had split the party and will cause their downfall in 2007.
The APC  members said further than in their youthful leader, Ernest Bai Koroma, the APC  had the man who will transform Sierra Leone into a developed nation. .Theysaid Mr. Koroma was the most credible of the Presidential candidates for the 2007  Elections.
However,the letter by Mr. John Leigh portrayed a gloomy picture of the APC 's past records  and the 2007 outlook for the party as well as  the slim chances of the PMDC  winning in 2007. and he made an interesting forecast that if the SLPP placed its problems behind it, it will win the elections.
Mr. Leigh said he spoke to people and was made this stinging evaluation of Margaii : "People in SL now realize that the PMDC is a crude attempt to hyjack the Third Force Movement that was much talked about in SL in 2004/5 simply because Margai
must lead. I heard Margai himself state over Radio 98.1 last August that what Sierra Leone needs is a benevolent dictator. I am told by some in the PMDC that Margai acts within this organization as though he is that dictator . "
READ THE ERNEST LEIGH LETTER , A COPY OF WHICH WAS SENT TO COCORIOKO , BY ONE OF OUR READERS.
Dear Mr. Wai:
Thank you for copying me on the message below.
Having just toured our country, I find the quoted Evening Scoop report
absolutely ridiculous and nonsensical. The reports seems to me as a crude
staged attempt to create the false impression that Mr. Margai is important
enough in the scheme of things in SL for an opponent of his to want to
eliminate him by violence from the coming political contest to win control of
our government.
As far as I know, no political opponent of Mr. Charles Margai will gain
anything from assassinating Mr. Margai. I do not believe the Evening Scoop
report below at all.
For your information, I returned to Massachusetts only yesterday after
approximately a month's visit to Sierra Leone. I traveled around the country
ex! tensively but quietly. I talked to countless people of various political
persuasion as well as with ordinary citizens; and I drank poyo in countless
villages. I even ate palm oil-fried fresh fish in Gbondapi, Pujehun District
and Zakitomboi over native rice everwhere.
I can assure you that my conclusion is that Mr. Margai and his PMDC are minor
and declining factors in our political landscape. While Mr. Berewa has
problems, support for the SLPP is slowly growing and if Berewa campaigns
properly with a clear message with a clean competent team, he and the SLPP are
likely to emerge victorious come 2007.
There is no doubt that Mr. Margai has followers in Bo and in Freetown and
maybe in Kenema township and in Koidu. In all these places his support is
contracting and is limited to mostly low grade noisemakers – san san boys,
honda drivers, ex-combatants, carwash boys, etc. In Kenema, the small
pro-Margai group there is silently dissappearing ! and its leadership discouraged
by PMDC thin leadership base. The absence of senior personalities around Margai
has caused some of his campaign workers in the Bo area to start to drift back to
the SLPP. Others are vehemently denying that they were ever with Mr. Margai in
the first place even they they admit they are unhappy with the SLPP leadership.
Elsewhere else in SL, Mr. Margai appears to me as an absolute non-factor.
From what I have observed, Mr. Margai appears to me as merely an internet
wonder based on support mainly from academia abroad.
People in SL now realize that the PMDC is a crude attempt to hyjack the Third
Force Movement that was much talked about in SL in 2004/5 simply because Margai
must lead. I heard Margai himself state over Radio 98.1 last August that what
Sierra Leone needs is a benevolent dictator. I am told by some in the PMDC
that Margai acts within this organization as though he is that dictator . As
far ! as I know, many of our people are leary of dictators, benevolent or
otherwise.
Second, Mr. Margai's recent prior association with Omery Golley has damaged
part of his support base. People remember RUF cruelties as well as Golley's
leadership role and are completely unsympathetic to him. Mr. Golley is, of
course, entitled to the lawyer of his choice especially in defending against
capital criminal charges. And while Mr. Margai showed courage in agreeing to
defend a loathsome character once in the leadership of the dreaded RUF, he
showed very poor judgment in accepting the assignment from Golley in the first
place. This drove some of his support away.
Third, to make matters worse, Mr. Margai has now opportuinistically bowed to
pressure from within his camp and now appears to have unceremoniously abandoned
his client and his case. This very recent decision became public during the
last days of my visit has created the impression that M! r. Margai is
unprincipled and opportunistically bends as the political wind blows. Such
makes for poor leadership.
Fourth, the impression is widespread in the places I visited and among the
people I spoke to, that Mr. Margai is in an unholy alliance with the APC. This
widespread belief may not be based on facts but that is irrelevant at this
point. What matters is the perception of the public.
Those members of the public – in both the North and East and the South – who
remember what they perceived as the callous notoriety of long-running APC-led
pre-war governments appear to be systematically keeping away from Mr. Margai in
a desperate attempt to prevent another APC victory. Fear of another APC
government is endemic in many parts of Sierra Leone.
Fifth, the CKC Incident of circa November 17, 2005 has rightly or wrongly
created the unfortunate legacy that the PMDC is suffering from leadership
immaturity and unnecessary recklessness! and that the party is populated by
riff-raff types.
Six, as for people like myself, we see Mr. Margai as a lightweight allowing
himself to be sorrounded by a number of notorious personalities at once
opportunistic, stupid, crooked and up to no good – the exact type of remedial
personalities that the Third Force hopefuls had wanted to permanently eliminate
from public service. The fact that those remedial undesirables continue to be
visible in apparent senior position within the PMDC has thrown into extreme
question Mr. Margai's level of intelligence and his everyday commonsense.
Today, our country is a very peaceful place, even amidst fantastic poverty,
unsatisfied want, vast inconvenience, hardship and very poor national
leadership. But if there is widespread general consensus of any one issue then
that issue is that absolutely no physical violence is to be perpetrated against
the person of any political opponent or public official. The citizenship is
determined to let the forthcoming campaign and political contest be
violence-free and to let the voting take its natural course. The public
intends to peacefully submit to the winners.
I am therefore convinced that the report about the purported attempted
assassination of Mr. Margai is without any factual basis and I suspect that it
may have been deliberately planted to fool the public regarding how Margai is
perceived by his competititors. In my opinion, the purported Margai attempted
assassination report is not worth the ink used to print it let alone the
cheaper paper it is printed on.
The press in Sierra Leone needs to be nutured to meet professional standards.
Thanks once again for keeping in touch.
Sincerely,
John E. Leigh
Attorney at Law
60 Thoreau Street,
Suite 176
Concord, MA 01742