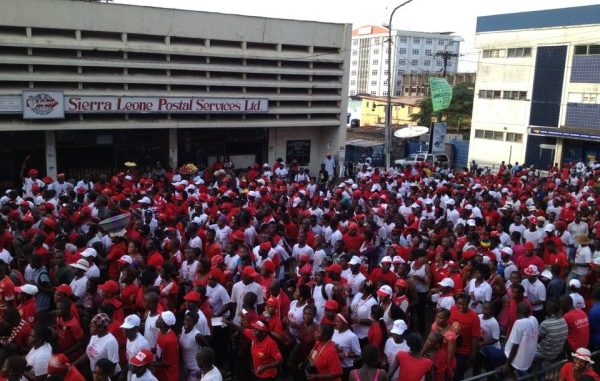 The ruling All People's Congress ( APC ) today staged its final electioneering campaign in Freetown . We bring you a report by Jarrah Kawusu-Konte and photos from various people who attended the rally :
__________________________________________________________
President Dr Ernest Bai Koroma has slammed the opposition flag bearer Julius Maada Bio For making empty, bogus and irresponsible promises of free health care,education electricity and almost everything free in this country. The President made this statement on the occasion of the final APC rally in Freetown.
President Koroma also said that the amount of jobs created For the youths is second to none in the history of Sierra Leone since independence. He called on the mammoth crowd to eschew SLPP cheap politics of intentions rather than action, which he urged the People to reject vehemently at the polls on Saturday November 17th.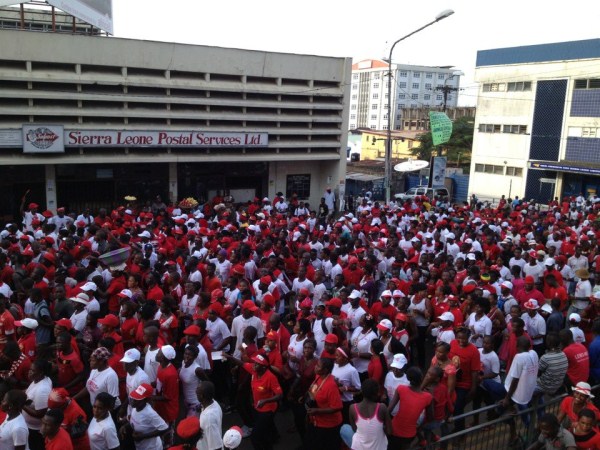 FREETOWN RED FOR THE APC : PHOTO BY SALIEU MANSARAY
The APC Presidential candidate went on to highlight all the wonderful things he has done in just five years, adding that he is proud of his human rights record.
President Koroma further told the mammoth crowd that even though his human rights record is above board,journalists must begin to take responsibility For their actions and must back up claims with facts.He informed the very jubilant crowd that he will formally open the hospital at Jui on Tuesday, which was built by the Chinese.The Chief Executive also said that everywhere he went all across the country the peopke are saying that they will re-elect him at the first ballot."I will continue to bring in more investment into the country to create more and more jobs For the young men and women," he said, amidst rapturous applause.He paid glowing tribute to the resilience of the youths who he believes hold the future development and transformation of the country in their hands. With this the stadium erupted into wild and jubilant cheers of "World Best" "World Best" "World Best"…
  AT THE STADIUM : PHOTO BY ZACARIAH DAINKEH
AT THE STADIUM : PHOTO BY ZACARIAH DAINKEH
STADIUM PHOTO BY JARRAH KAWUSU-KONTE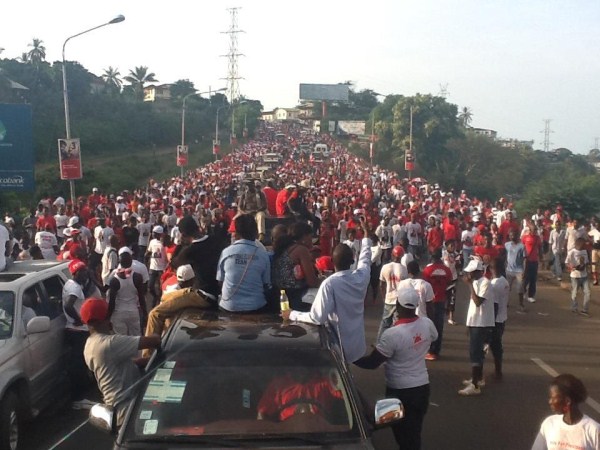 AT CONGO CROSS : PHOTO BY JARRAH KAWUSU-KONTE
APC CAMPAIGN CROWD : PICTURE BY JARRAH KAWUSU-KONTE
"World Best" say no violence…."World Best" say no violence was another refrain that reverberated right across the National Stadium.
President Koroma disclosed that MAC-P will be invoked right across the country to maintain peace and security during the elections. He admonished everyone to eschew violence and avoid undermining the prevailing peace and quiet in the country, which is necessary For the continued development of the country.
He called on the People to vote resoundingly For all APC candidates on November 17th instant.