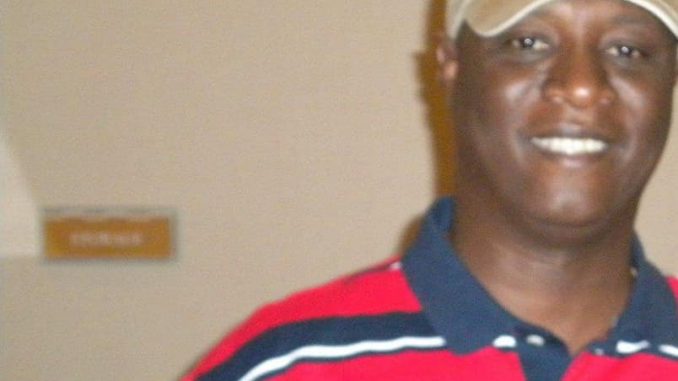 MOMOH KONTEH,  the All People's Congress ( APC )  strongman of Konadugu District, was killed in a gruesome motor accident near Binkolo, on the  Makeni-Kabala Highway this morning.
The sad news, yet another very big loss for the APC , stunned Sierra Leoneans when the breaking news and photos were published on the social media early this morning.
Momoh Konteh was killed along with two other colleagues with him in the vehicle : Saio Marah, the Deputy Chairman of APC, Koinadugu District  and  the Public Relation Officer of the APC  Koinadugu, Alakuma Konte
Momoh Konteh, the Chairman of APC Koinadugu District and former Chairman of the National Telecommunications Company ( NATCO)  was regarded as the APC Lion of Koinadugu.  He held a very strong influence in the district and he loved  his people and they too loved him . He engaged in many infrastructural developments at Kabala and surrounding towns. He also undertook many humanitarian projects, especially during the Ebola outbreak five ears ago.
_________________________
Just too devastating…lost an elder cousin, Momoh Konteh, in a gruesome road accident in the early hours of today.
He was the former Chairman of Sierra Leone's National Telecommunications Commission (NATCOM). He was also, until his untimely death, the Chairman of the All People's Congress (APC) political party for Koinadugu District in Northern Sierra Leone.
May Allah Subhanathalah grant his gentle soul Aljananah!
______________________
JOURNALIST Claudius Beckley reports further :
Report reaching us from Makeni today says that. Former president Ernest Bai Koroma WEPT this afternoon when he heard the news. ,
Comrade Momoh Konte plus two other Comrades died in the  Accident near Binkolo . According to report, in a meeting held at his Presidential Lodge in MAKENI with Family members and Party stake holders. Pa Ernest said  Momoh Konte called  him this  morning to say :  "Pa ar dae branch to u when coming for kam take Lunch with u together . Di pa say ,no problem ar dae look for u ."
Pa Ernest say the Lunch  was prepared and ready. .  The former President said he went and took a nap. When he woke up, he was just about to call Momoh Konteh when his wife, Mrs. Sia Koroma, went to the romm and told him that Momoh Konteh and two other comrades had died in an accident.
The former President said he was shocked. He could not believed his ears . Pa Ernest described the late Momoh Konte as a Great Man . He said  the late Man did a lot of good things he did not publicize. He said Momoh built  schools, mosques and helped pay  school en college fees for many children.  Pa Ernest went on to say that , the late Man  was  currently constructing a University na Koinadugu District. He suggested that when the university its completed, it be named after Momoh as a mark of appreciation. . He described their death as a big loss to the APC party . Pa Ernest said he will make sure that the party gives him a  befitting Funeral . See photo Of the late Mr . Saio Marah . APC Deputy Regional Chairman Northern Region . Na den all die Tiday . May they rest in perfect peace .