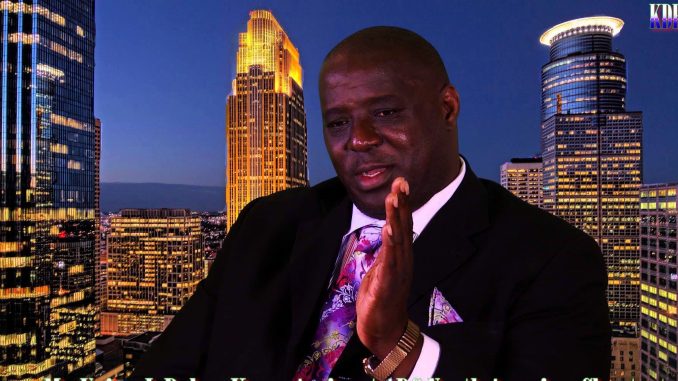 By KABS KANU :
The Chairman of the All People's Congress ( APC ) United States Branch, Mr . Unisa Kanu , last evening called on party stalwarts  from all walks of life to attend the branch's  inauguration ceremony and ball , which will be held in Atlanta, Georgia on Saturday March 18, 2017.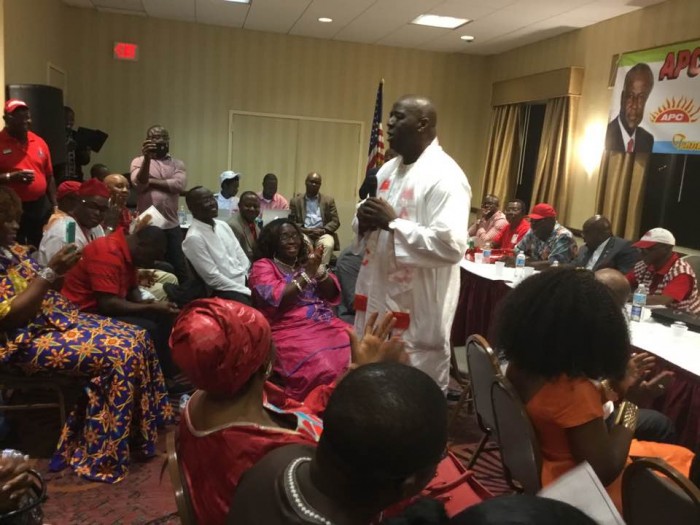 UNISA KANU ADDRESSING APC-USA  last October after becoming Chairman
Mr. Unisa Kanu described the event as very big and auspicious and it will be the first staged by APC-USA  since its reconfiguration from the erstwhile APC- North America.
Mr. Kanu was speaking last evening during an exclusive interview with the COCORIOKO Newspaper. "This is the first ever inauguration ball for APC-USA and we want everybody to be there", he enthused. "We are inviting everybody . "
Chairman Unisa Kanu told COCORIOKO  that APC-USA  has invited dignitaries from all over the world to attend the occasion. He said that they invited all APC aspirants for the presidential flag bearership of the 2018 elections , but he lamented that only Mr. John Bornor Sesay accepted the invitation and would be attending.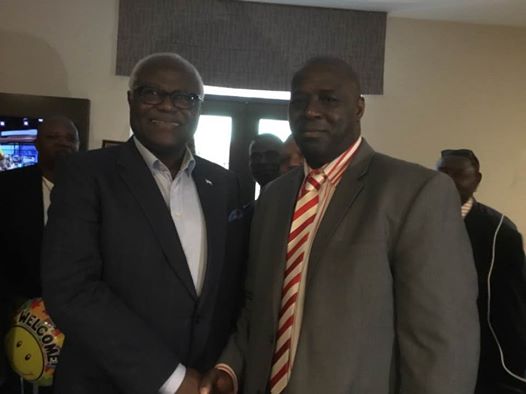 UNISA KANU ( RIGHT ) AND PRESIDENT KOROMA IN NEW YORK LAST YEAR DURING THE UN GENERAL ASSEMBLY
Mr. Kanu took the opportunity to debunk rumors being spread that only Mr. John Bornor Sesay was invited. "It is not true", he added , We invited everyone of them officially but only one of them responded to us ."
He informed Cocorioko that Mr. John Bornor Sesay will be attending the program as a chief patron and nothing else.
All roads definitely lead to Atlanta this weekend for the APC-USA Inauguration ceremony. Mr. Kanu told this newspaper that over 50 people have already breezed in and are in various hotels around the city. There are over 200 people expected tomorrow.
Chairman Unisa Kanu described the health of the APC-USA as excellent. "Since we took over last year, members of my executive , the 14 chapters of the party in America and I are working amicably together. We have no discord. It is all about moving forward and maintaining peace. We are moving forward and have no time for people whose penchant is always to create headache for executives", Mr. Kanu emphatically explained .
He thanked President Ernest Bai Koroma , V-P Victor Foh, Diaspora Coordinator Mr. Logus Koroma; APC Secretary General, Ambassador Osman Foday Yansaneh; National Deputy Chairman of the APC, Mr. Minkailu Mansaray and the Western Area Chairman, Mr. Allieu Pat-Sowe for the opportunity  given him and his team to serve the APC and help move the party's agenda forward. He also thanked the female members and the rank and file of the party for their cooperation and support. He also thanked the owner, publisher and Editor of Cocorioko, Leeroy Wilfred Kabs-Kanu for his relentless hard work in promoting and propagating the agenda of the APC.
Mr. Kanu told this newspaper that Sierra Leone's Ambassador to the U.S, His Excellency Mr. Bockarie Stevens and the Permanent Representative to the UN, His Excellency Ambassador Adikalie Foday Sumah will attend the inauguration , while the Minister of Political and Public Affairs, Mrs. Nannette Thomas,  who was invited from Freetown will serve as the keynote speaker.
Mr. Kanu was on the way to the airport to receive Mrs. Thomas , whose flight was scheduled to land at 9: 30 pm ,  while he talked with Cocorioko.
LIST OF OFFICIALS TO BE INAUGURATED :
CHAIRMAN – Unisa Kanu
VICE-CHAIRMAN 1-Joseph Bobson Kamara
VICE CHAIRMAN 2–Maimunatou Conte
SECRETARY -Abdul Modi Kargbo
ASSISTANT SECRETART 1 -Joshua Murray
ASSSTANT SECRETARY 2-Joshua Kabba
WOMEN'S LEADER -Mariama Lowe
ASSISTANT WOMEN'S LEADER 1 -Hawa Yansaneh
ASSISTANT WOMEN'S LEADER 2 -Isatu Lyoud
YOUTH LEADER-Umaru Deen Koroma
PRO -Abu Mankota Kamara
ASSISTANT 1 – Samuel Kargbo
ASSISTANT 2- Umaru Jalloh
DIRECTOR OF INTERNATIONAL AFFAIRS – Dr. Matthew Kamara
ASSISTANT 1- Mary Jay
ASSISTANT 2 -Hannah Conteh
WELFARE/HOSPITALITY – Abie Jalloh
ASSISTANT 1 -Hannah A. Bangura
ASSISTANT 2- Khadi Jalloh
ORGANIZING SECRETARY- To be announced
ASSISTANT-Namina Bomposseh Kossay
FINANCIAL SECRETARY -TO BE ANNOUNCED
Assistant Financial Secretary 1 –Minette Sheriff
ASSISTANT-Isata Grey
TREASURER – Abie Bangali Mansaray
PRINCIPAL ADVISER -Ibrahim Sanfa Kamara
DEPUTY PRINCIPAL ADVISER- Ahmed Kanu
DEPUTY PRINCIPAL ADVISER -Patrick Ojong
SENIOR ADVISERS -Finda Fillie-Faboe; Leslie Allen; Hassan Kamara; Haja Hurai ; Kabba Kamara ; Dr. Michael Sesay