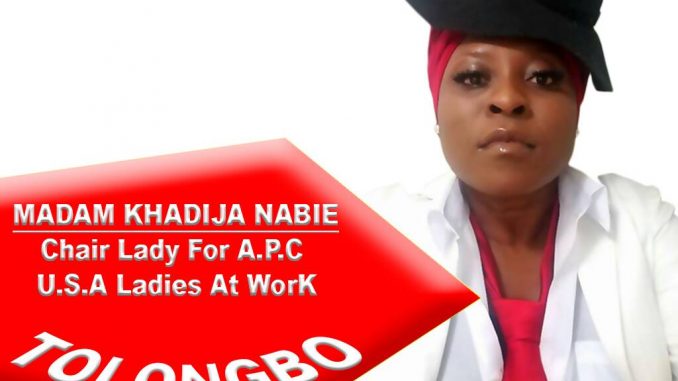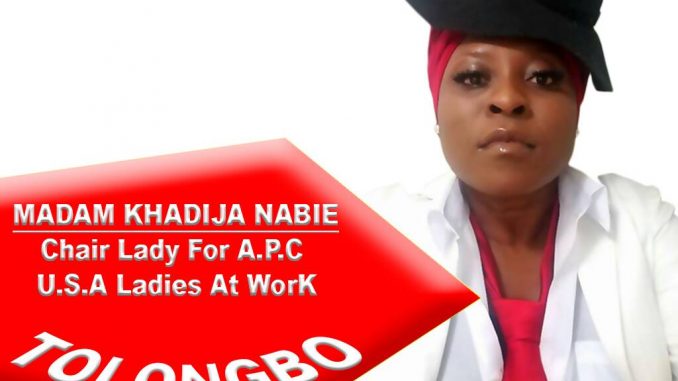 From The Office Of the Chairlady – Madam Khadija Nabie – APC USA Ladies At Work
*PRESS RELEASE *
*APC USA LADIES AT WORK, RAPID MEDIA RESPONSE TEAM*
We have been monitoring and observing misleading comments on social media with regards to a picture some are deliberately misconstruing to be inappropriate.
Our Presidential candidate Dr. Samura Kamara has no control over what one chooses to wear. Secondly, as a firm believer in protecting women's right, Dr. Samura Kamara's leadership philosophy frowns against any attempt to dictate what a woman wears or any sense of censorship. Definitely as a statesman, Dr. Kamara encourages decency but he is not the leader that will reprimand or be judgmental especially of what a women wears.
Dr. Samura's main focus for now is to win the 2018 Presidential election and to continue the great legacy of President Ernest Koroma;  which is to ensure our country is on a positive growth trajectory and promoting prosperity for all.
APC USA Ladies at Work
Rapid Media Response Team
MEMO: 
TO: THE GENERAL PUBLIC
FROM:   THE DESK OF APC USA CHIARLADY FOR APC LADIES AT WORK GLOBAL
DATE:  NOVEMBER 18, 2017
SUBJECT:  APPOINTMENT AS THE CHAIRLADY FOR APC USA LADIES A WORK BRANCH
Today mark one week from the day I was appointment to serve as the Chairlady for the APC Ladies at Work Global, USA Branch.   During the past week since my appointment, I have been silently working behind the scene to ensure that I follow all protocol prior to me executing my assignment to the very best of my ability.
The following steps were taken.  I followed the chain of commands to formally inform each of my superior despite the fact that they may have been informed unofficially via WhatsApp, publically.  
Namely, APC USA Chairman and Vice Chairs were informed.  APC USA Diaspora Coordinator was informed.  APC Regional Diaspora for both USA and Canada was informed, who also informed the next chain of command for the Women's Congress.  APC USA Women's Leader was informed.   The entire Women's Wing was informed during our weekly meeting held on November 15, 2017. I am pleased to say that everyone gave me their blessings, congratulatory message and support me wholeheartedly. This has given me the courage and zeal to execute my office efficiently.
For the upcoming weeks ahead, I will be in the background working with our executive team to   ensure that the following are accomplished. 
We will utilize our platform o encourage supporters and each other to becoming successful leaders in the political arena.
We will create a rapid respond team to help promote the peace, answer questions, encourage members and recruits more members.
We will support and embrace His Excellency Agenda for prosperity and Attitudinal Change.
We will work with Honorable Madam Elizabeth Mans and Senior Officials to help promote all Party affairs.
We will work to strengthen and make our Women's Wing more powerful by promoting unity, peace, and oneness. We will also intervene when the need arise to bring about solution on any issues that will interfere with our Agenda for Prosperity.
We will work with every Chapter Women's Leader, and every APC Branch as well as Regional coordinators. To help promote their vision, aim and goal for our Party.
We will also reach out to every Chapter Presidents to see how best we can help to strengthen their Women's Wing or their aims and goal for our Party.
For at the end we understand one can accomplish so much alone but as a team, the sky will be our only limitation.  
Yours truly,
Khadija Tejan Nabie
Public Relations Officer APC USA National
Public Relations Officer APC USA Women's Wing
Chairlady for APC USA Ladies At Work Global