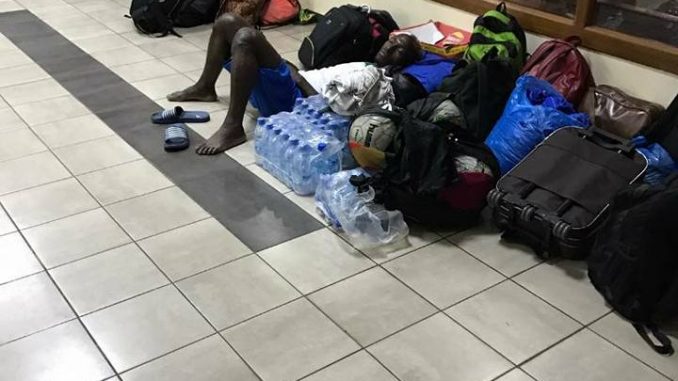 By KABS KANU
PHOTOS of players of the national football team, Leone Stars,  sleeping on the floor, allegedly at the Conakry International Airport, on their way to Senegal for their return match in the ongoing Africa Nations Cup for home-based players , have raised a public outcry in Freetown and online  among supporters of the team  , though officials say the players were not stranded.
According to a report filed on Thursday by Idrissa Conteh, a social commentator at Facebook, "A large delegation of the national football team and their accompanying officials are reportedly stranded in Conakry after missing their flight this afternoon to Dakar."
"An official accompanying the team has been quoted as saying that they were travelling under a very tight budget and didn't have money to stay in a hotel while waiting for the next available flight to Dakar.The officials don't have money to provide accommodation and food for the players who have no choice but to sleep on the open floor in the airport. Guinean sympathizers reportedly bought water and soft drinks for the players who are said to be hungry and exhausted."
"Sierra Leonean nationals in Conakry who have learned about the players plight are said to be en route to the airport to assist their compatriots and save the country's image from the present national embarrassment."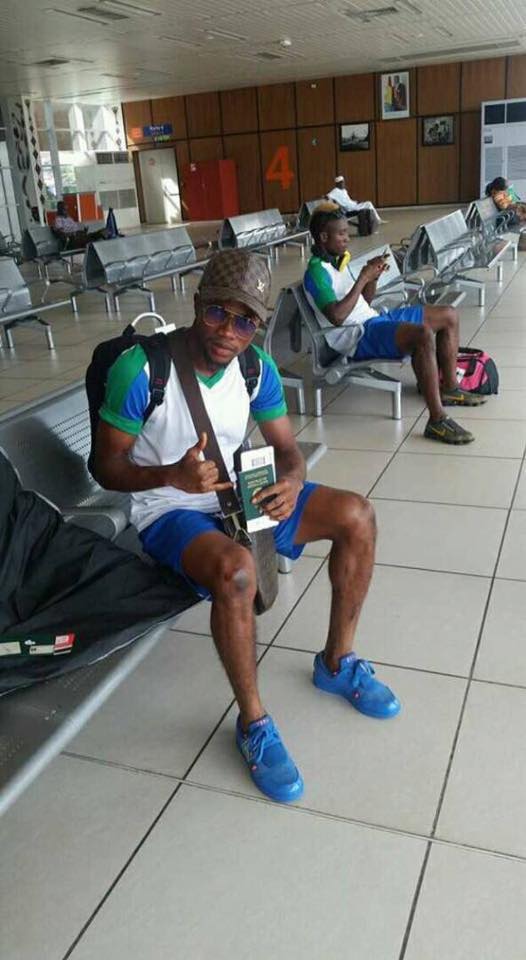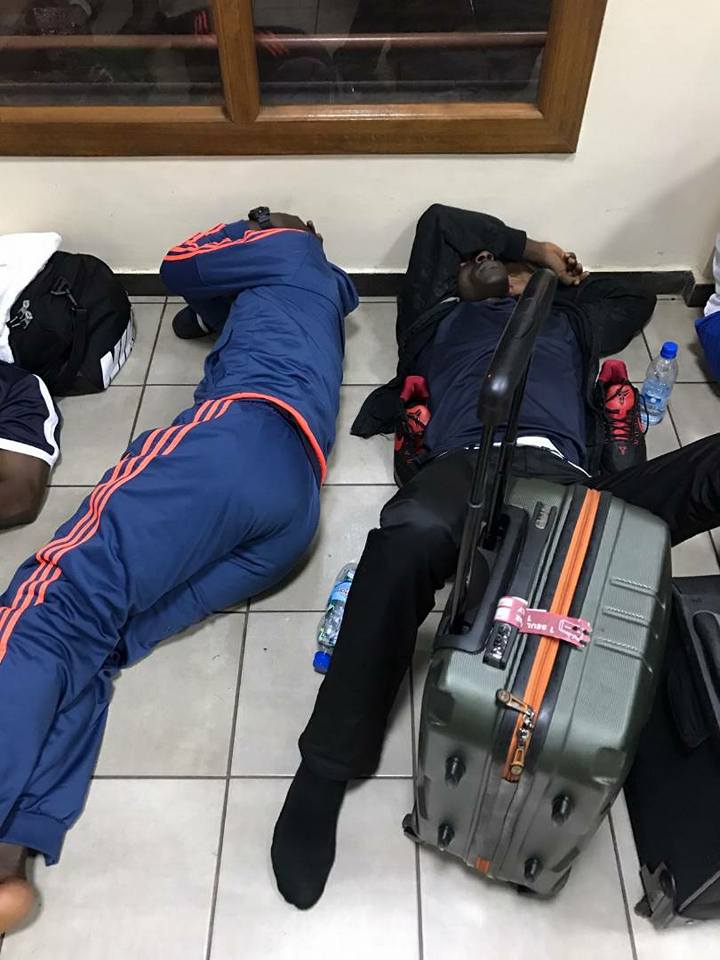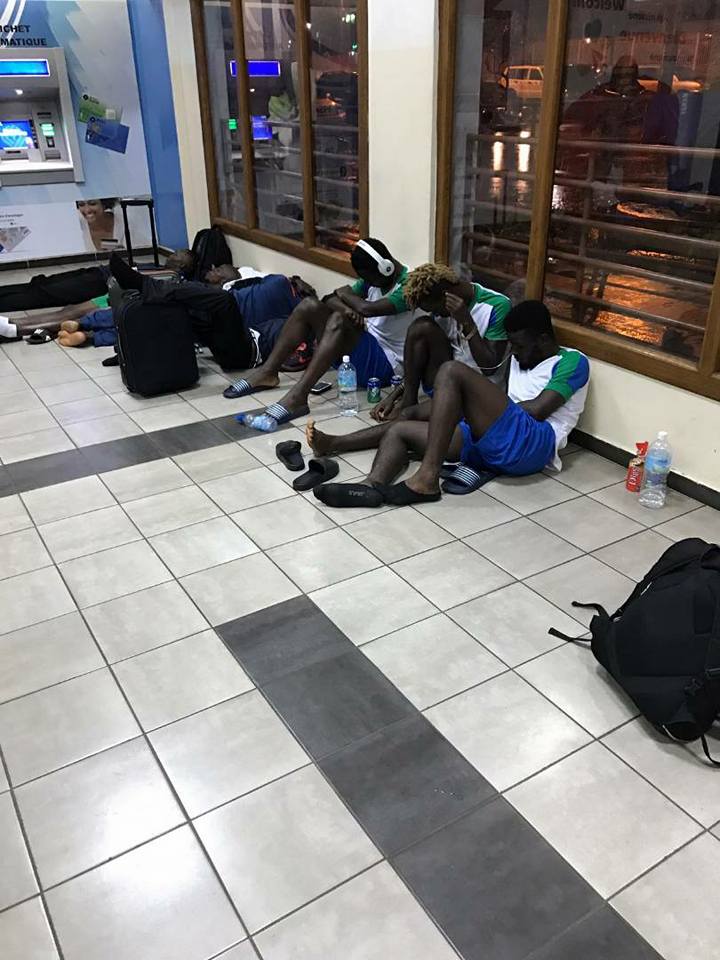 Mr. Conteh and various other contributors in the social media posted photos of young people clad in green, white and blue, alleged to be players of the Leone Stars sleeping on the floor at the airport.
The Deputy Minister of Sports, Al-Sankoh-Conteh, put out the following rebuttal, posted on Facebook by Mr. Tunde Scott :
I will confirm to this forum that the Sierra Leone Home Based players didn't strand in Conakry at anytime.
The entire delegation to Senegal slept soundly at the Lepetet Chalet Hotel in Conakry.
The entire team have boarded the Brussels Airlines to Dakar.
The aforementioned report of stranded Leone Stars Home Based players is malicious and fallacious. The aim of this fake report is to embarrass the government and people of Sierra Leone.
This act of sending wrong report on the Home Based Team, that are well taken care off is most unpatriotic and disgraceful to author of that report.
We completely denounced the said news.
© Al-sankoh-Conteh
Deputy Minister of Sports.
A Mr. Benjamin Pratt, describing himself as Information Officer, released this statement ( Published verbatim by Cocorioko ) :
Report making rounds in the social media that the Sierra Leone Home Base Team stranded in the Guinean International Airport is totally false & mischievous; this Government, headed by President Ernest Bai Koroma has spent the highest in terms of money on Football & Sport in general. Such a report is a ploy to wreck the good work of the Government through the Ministry of Sport.
The fact of the matter was that the entire delegation was late to catch their flight (Air Mauritania) at 18:15 at the Guinea International Airport after a long drive from Hill Valley Hotel, Signal Hill, Freetown. When we got at the boarder between Sierra Leone & Guinea we were held there for about 45mintues to process our Passports & Yellow Fever Cards.
At this stage we hired Taxies which are faster to enter Conakry, Guinea. But alas the terrible road on the Guinean territory & the horrible traffic congestion contributed to our late arrival at the Airport. On our arrival, the TM of Leone Stars, Christian Dauda Thompson & other Officials & Myself made frantic efforts to rebook another flight so that we would get to Senegal but all efforts went in vain.
It was during this period that some unpatriotic Sierra Leoneans amongst us (the delegation) photoed those who were so tired and could not withstood nature & answered to their nature by having a nap. We had a good night at Petit Chalet Hotel which was booked for us all to sleep.
To say we were stranded, it is totally false & to say we slept at the Guinean Airport it was a diabolic lie.
© Information Officer,
Benjamin Pratt.
SOME VIEWS SEEMED TO SUPPORT THE VERSIONS OF OFFICIALS AND A WOMAN CONTRIBUTOR BLAMES OPPONENTS OF GOVERNMENT FOR POLITICIZING EVERY EVENT.
Foday Kabba Brother Idrissa Conteh I made to understood that they were waiting for their Flight while they just took a rest as there was a change in flight schedule as explain by the sports Director in a Radio program at 98.1 good morning SALONE.
Osman Bangura The very sick of ourselves in the making here. If you miss your flight you get stranded is the responsibility of the minister? Shame on you brother Idrissa Conteh, you just too pathetic lately
Bernadette Kargbo You guys are so quick to circulate news like this. Just shows how unpatriotic you are as Sierra Leoneans. I have seen the worse in 1st world countries when it comes to situations like this but no one propagates and blow them out of proportion. Stop the partisans and politics attitude. Love for your mama salone. God bless you and God bless our mama salone.
HOWEVER, we at COCORIOKO ,  are calling on the Government to fully investigate this event. We have been reporting about the inefficiency and inept performance of the Sierra Leone Football Association, which is presently torn asunder by infighting and deadly rifts between the SLFA and the Ministry of Sports, with the corrupt FIFA  not helping the situation by supporting SLFA and considering any move by government as political interferance warranting sanctions.
What is troubling about Sierra Leoneans is that we blame President Ernest Koroma  for everything , when it is inept public officials we should be holding to account for such anomalies.