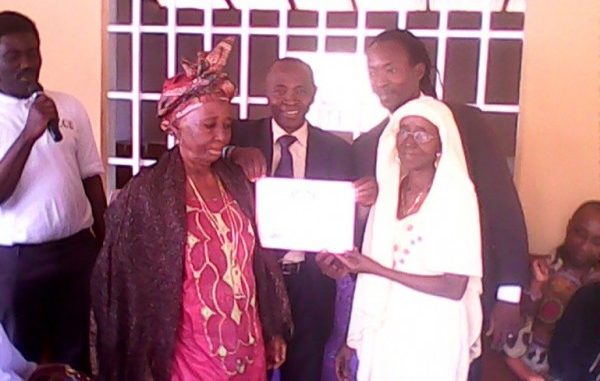 BY ODA Communications Unit
The Sierra Leone Central Union (SLCU) in the Netherlands in Collaboration with CLOZET Creation Association and the People of Wasaya Community has on Monday 4th January 2016 opened an Agricultural Vocational Business Institute at Wasaya in Lungi.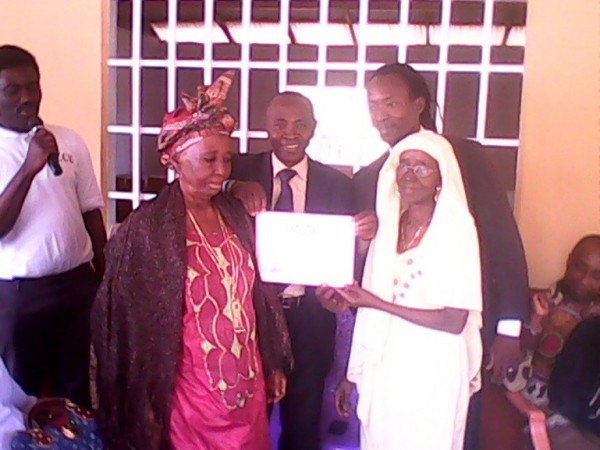 SLCU Chairman making statements, whiles ODA Director presenting Certificate to the Acting Principal of the School
According to the chairman of the SLCU-Netherlands, Abubakarr Bangura, the Construction of the institute is part of their contributions to national development of their Home Country. "We took up such initiative in order to develop and advance the Agricultural potential of Sierra Leone. The institute will provide educational services to post senior secondary students of communities in Lungi or students from any part of the country that have chosen agriculture and agribusiness as a study option and subsequent career path" Mr. Bangura explained.
He furthered that their original plans was to build four separate blocks with foundations dug out already for all the buildings, and  that One of the buildings with four class rooms and two offices have been completed . "It is our intention to complete the other three blocks in the future.  Currently there is a construction of a guest house for the school which we hope to complete before the end of this year" Said Mr. Bangura. He also applauded members of the SLCU in the Netherlands for putting their resources together, the Wasaya community stakeholders for providing the piece of Land, Mr Momoh Konteh of NATCOM and all those who contributed in diverse ways for the construction of the institute.
Commenting on the Agribusiness opportunities in Lungi, a representative of the Wasaya Farmers Association, Jim Kamara said, there is a huge potential for Agriculture in their community. According to him, eighty percent of the people in Wasaya and its environs depend on Agricultural business for lively hood." So therefore the Agribusiness Institute is a big help to us, because it can help boost Agriculture in our community'' said Mr. Kamara.
The Director, Office of Diaspora Affairs (ODA) , Mr. Kallay Musa Conteh  commended the effort of members of the Sierra Leone Central Union in the Netherlands for the construction of the Institute and  appealed to other Diaspora organizations to do likewise.'' This is the kind  good contribution  president Koroma is expecting from members of the Diaspora, and that is why he has established an office in charge Diaspora Affairs in order to harness the fifth region, (the Diaspora) towards national development" Mr Kallay Musa Conteh Pointed out. He also praised the Wasaya community stakeholders for providing a piece of land for the construction of the Institute but advised them to take ownership of the Institute so that they will enjoy its benefits. '' "This is a Diaspora- led project, and we will effectively monitor it, to ensure that the people benefit immensely from its facilities" the ODA Director concluded.