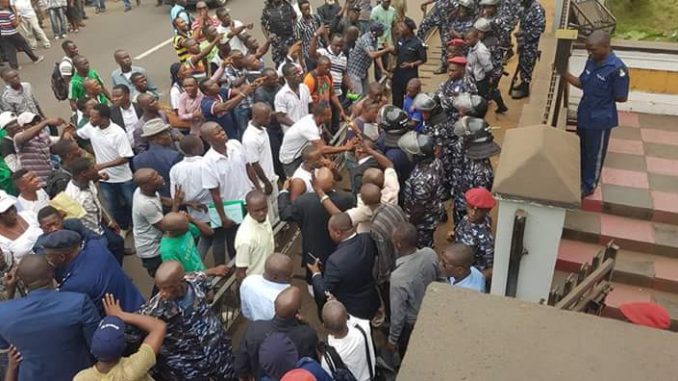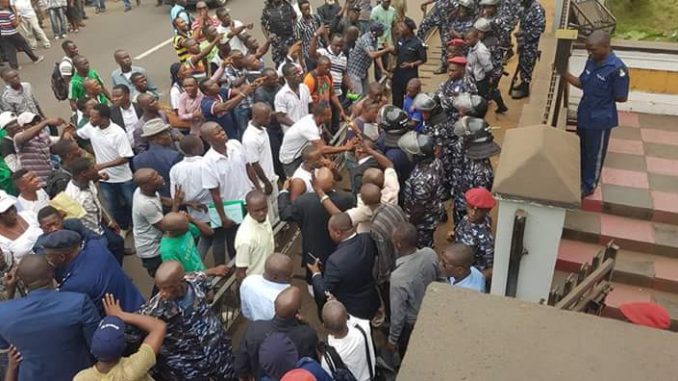 *FOR IMMEDIATE RELEASE*
Monday 6th November 2017.
*SUBJECT: CONCERNS OVER INTOLERANCE AND VIOLENCE OF THE SLPP*
The attention of the ruling All Peoples Congress, has on a very sad note, been drawn to an unfortunate display of intolerance and violence by the opposition Sierra Leone Peoples Party (SLPP).
The incident of today, Monday 6 November 2017 was characterized with blatant intolerance and violent activities displayed by members of the opposition SLPP around their party offices at Wallace Johnson Street in Freetown. These actions are unacceptable in this 21st century day of politics.
We have evidence to prove that some thugs harbored at the SLPP Office attacked innocent people and vehicles, plying that route for putting on any attire with the red color, and for pasting stickers on their personal cars with the inscription of our 2018 Presidential Candidate Dr. Samura Kamara and his Running-Mate Hon. Chernoh Bah.
We believe Sierra Leoneans are timid and tired of war; we enjoy the confidence of the people, whom since 2007, entrusted the mantle of leadership to the APC, and again, in 2012, re-elected us.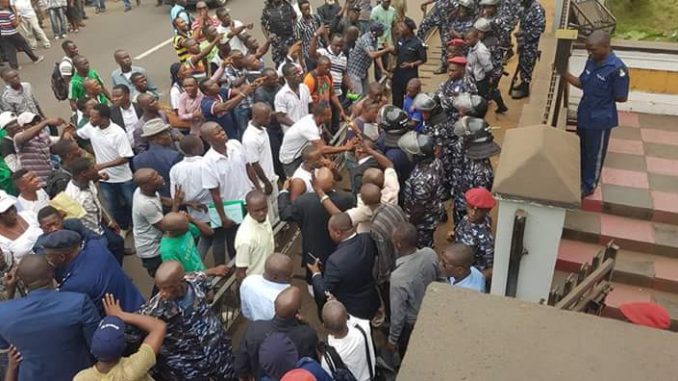 ROWDY SLPP SUPPORTERS ONCE ATTACKED THE LAW COURTS BUILDING 
The APC is proud that within these periods, there had been no major disturbance in the country.
We are not oblivious of several disturbances perpetrated by the SLPP, even among themselves, as was publicly conceded by their former Chairman and Leader, Chief Sumano Kapen.
As a ruling party, we know what we have at stake, considering the level of gains made by our government over the years, in bettering the lives of ordinary Sierra Leoneans, under the astute stewardship of our dynamic Chairman and Leader, Comrade Dr. Ernest Bai Koroma.
At this moment, we encourage our membership, supporters, and well-wishers to express restraint, as we are of the firm conviction that, Sierra Leone is governed by the rule of law and that our security apparatus are on top of every situation.
We encourage the police to continue to do their work and bring to justice anyone found wanting of derailing the sustained peace, we are enjoying.
Thank you.
-End-
Sign:
*Hon. Cornelius Deveaux*
*National Publicity Secretary*