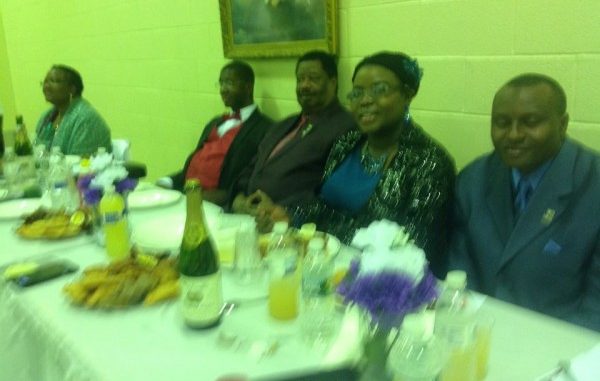 The Berean Evangelical Wesleyan Fellowship had a thanksgiving dinner last Saturday to celebrate its one year of ministry .
The New Jersey-based Ministry, one of the new and growing churches in the Garden State is headed by Pastor Joseph S. Bangura , a Wesleyan preacher from Sierra Leone.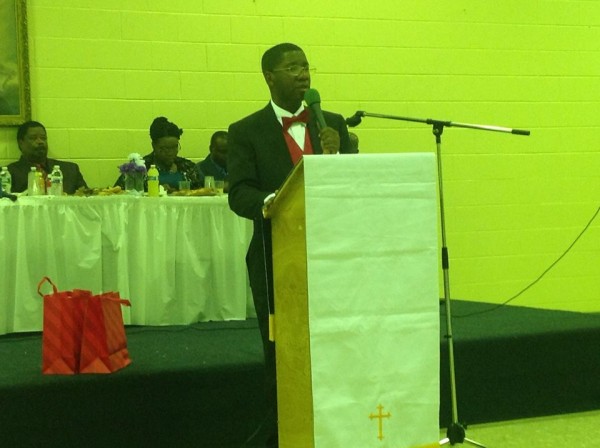 PASTOR BANGURA GIVES THE KEYNOTE ADDRESS
The dinner was held at the Consolata Mission Centre on 2301 Lincoln Highway ( Route 27 ) , Somerset, New Jersey.
The program was moderated by Apostle Virtue Bangura of the Women of Virtue Ministry.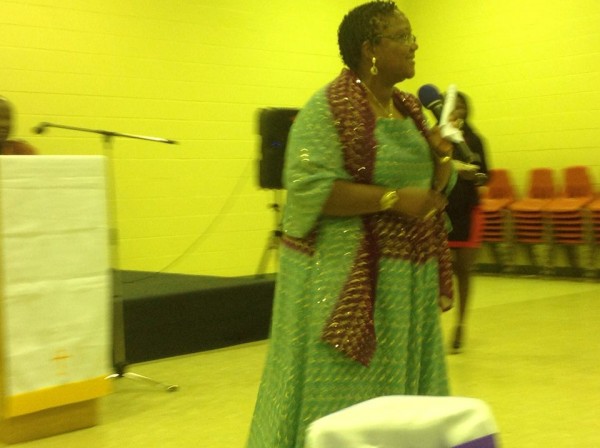 THE MODERATOR OF THE PROGRAM APOSTLE VIRTUE BANGURA
A galaxy of ministers of the gospel , as well as some distinguished personalities in the community attended the dinner.
Before the program started, a one-minute silence was observed in memory of the victims of the Ebola scourge presently ravaging West Africa. The national anthem of Sierra Leone was also played.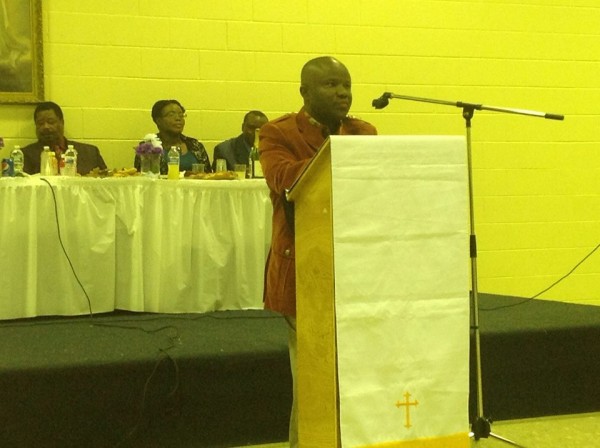 BROTHER ABRAHAM SAFFA OF THE SPRINGS OF JOY MAKING A STATEMENT
Among the highlights of the program were the recognition of faithful workers  and pastor in the ministry .
We bring you pictorial highlights and the keynote sermon by Pastor Joseph Bangura.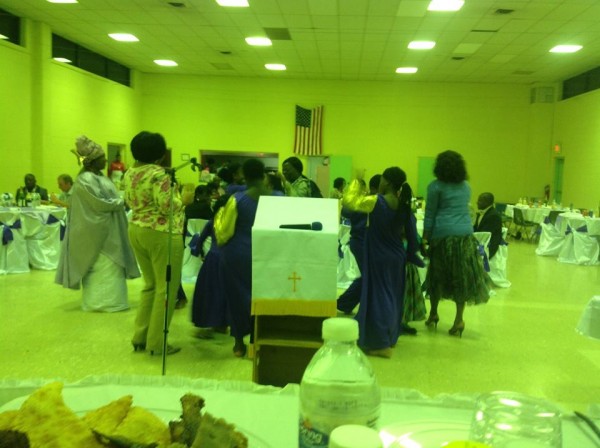 THE PROGRAM IN SESSION
KEYNOTE ADDRESS BY PASTOR JOSEPH BANGURA
 Mr. Chairman and chairlady, most honored clergy, distinquusihed members of the diplomatic and consular corps, members of the Forth Estate, ladies and gentlemen. I salute you all in the most revered and precious name of our Lord and Savior Jesus Christ; whose mighty hand has made this day possible and through whom by His Holy Spirit has enabled you to come and grace this August occasion with us. Once more, you are heartily welcome.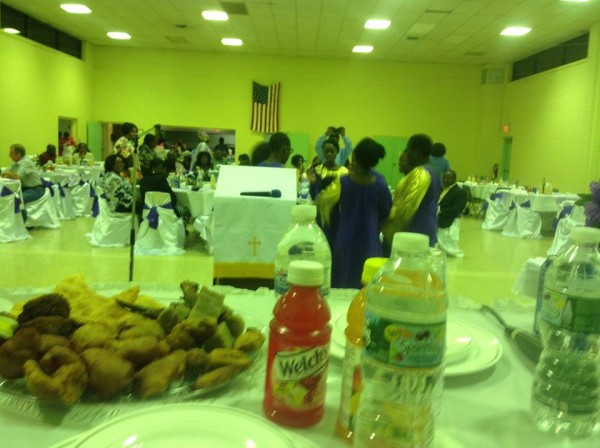 I have decided to make this statement  not  brief but also  succinct by dividing it into three main concentrations: THE CALL TO MINISTRY; THE LAUNCH INTO THE DEEP AND THE CALL TO UNITY.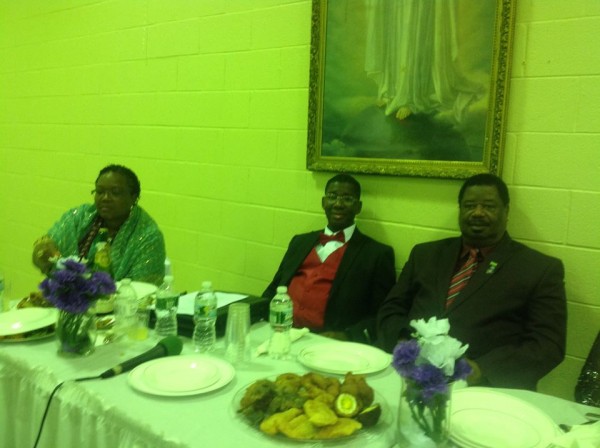 AT THE HIGH TABLE : FROM RIGHT : REV. LEEROY WILFRED KABS-KANU, PASTOR BANGURA AND APOSTLE VIRTUE BANGURA
THE CALL TO MINISTRY
The concept of God calling people to Ministry has never being ridden with controversy and misconceptions today as it were since the days of Abraham, down to inauguration of the Kingdom (both realized and eschatological) by our Lord and Savior Jesus Christ. Some people simply heed the Call, left all they were doing and followed the Lord-Abraham, Peter, John, Philip etc; Others had to be quashed by the Holy spirit; Moses, Jeremiah, Jonah, Paul etc. Some were called but   backslidden  and never repented as the devil took advantage of their stubbornness and destroyed them. Judas is a typical example.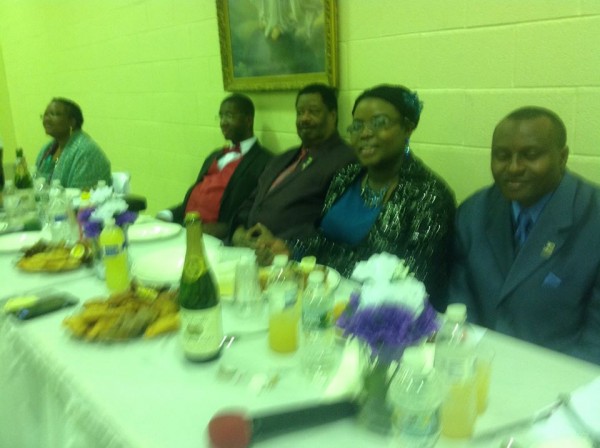 THE HIGH TABLE
Some were never called, but came on their own either for personal gain or some humanistic goal; but God's mercy accepted them by faith and they were grafted by grace, while the insincere ones simple fall by the way side and on rocky ground and the evil birds of the air consume their seeds and they died a natural death because they were never meant to be. THE CALLED AND ORDAINED SHALL BE DISTINGUISHED BY THEIR FRUITS, SAYS THE LORD. (Matt. 7:16)Note-NOT MATERIAL FRUIT BUT SPIRITUAL. In almost any Church or Christian gathering you go, you will fish out these various category of Christians/Ministers.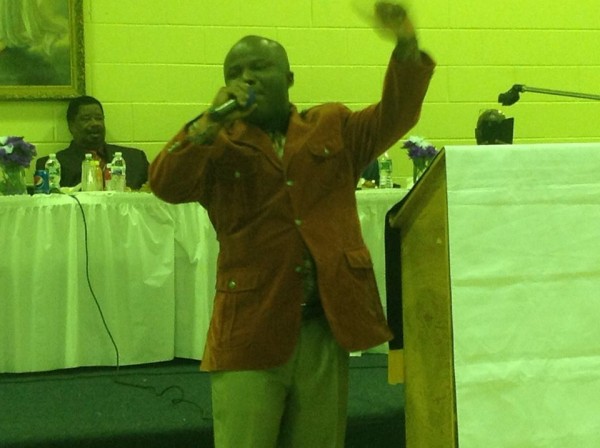 BROTHER ABRAHAM SAFFA PERFORMING A SONG
THE LAUNCH
Both biblical and human history has given us enough evidence to know that God's call is not without obstacles or challenges.
In 2012, when I visited the US, the vision/idea/concept of starting a Church came to fruition. At birth, it was dismissed as unwise, unplanned and impossible because "you are not resident in America, how can that happen?" Some even say" Do you think this is Africa? Here is a different terrain.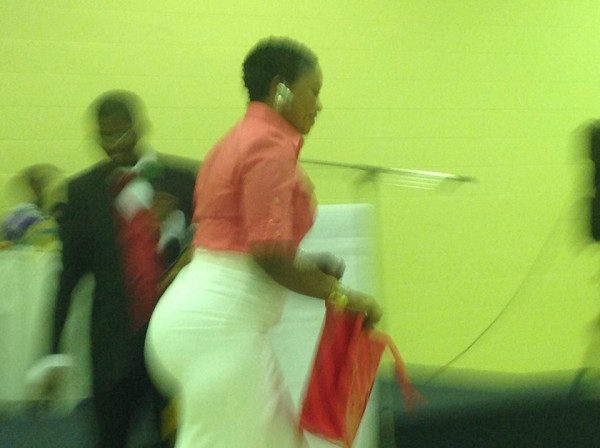 ONE OF THE MEMBERS HONORED AT THE PROGRAM
However, among the pool of negativism, stood two people of positive divine inclination-My beloved wife, Evangelist Nancy Bangura and Pastor Steve Ngbougbou, who boldly share the vision with me and saw what nobody else could see and they started home cells and fellowship meetings, with fervent prayers. As my wife would report to me in Sierra Leone. Sometimes just 3people and sometimes 5. Very discouraging and at times she even thought the negative prophesies were correct.
THE BEREAN SINGERS PERFORMING
I encouraged them to hold on until the devil is warned out!!. NEVER GIVE UP ON GOD. NEVER GIVE UP ON YOUR VISION!! WHEN I FINALLY CAME IN LAST YEAR OCTOBER, all of us put hands on deck to water and grow the seed. Now we have 50 members and 20 associated members, 12 junior members, plus an unnumbered seekers who are on the fence to enter into a relationship with Jesus throught this fellowship.
If anyone here is looking for a FAMILY CHURCH THAT IS BIBLE FOCUSED, YOU ARE MORE THAN WELVOME TO JOIN US TODAY. DO NOT DELAY AS THE DAY OF SALVATION IS NOW.
THE ENVIRONMENT
The environment of the Sierra Leone church in New Jersey and Somerset vicinity in particular is rooted in a history of animosity, backstabbing, gossip and sectarian bickering instead of FOCUSING ON THE WIDER KINGDOM BUILDING AND UNITING THE BELIEVERS from one country under the banner of Jesus Christ. THIS ATTITUDE MUST STOP OR ELSE WE ARE ALL BUILDING ON A SANDY SOIL THAT IS ONLY WAITING FOR THE NEXT HURRICANE TO CRUMBLE. Is Christ divided? Whose glory are we seeking? Ourselves or Christ? The Apostle Paul in 1 Cor. 1:10-23 raised similar questions and called for Unity in the vine yard of the Lord. The Lord Jesus himself in John 17:21-23, prayed for his disciples before his departure- "that   they may be one as we are one."
My role tonight is that of a WATCHMAN as written in Ezekiel 33. This trumpet must be blown and warn us all that the direction we are heading is diabolic, ungodly and self-destructive. Why can't we support a good idea that someone has generated, instead of opposing it and then starting ours, to create an unhealthy competition and needless divisions? We are one people from the same country. The present EBOLA crisis should teach us how to come together as one people and not behave like politicians (Republicans & Democrats) who will never see anything good in their opponents.
CONCLUSION
This Dinner and Thanksgiving tomorrow at the Church, will be a tradition for us all to come together, re-assess ourselves and move forward with the banner of the Cross high and lifted up. It is my prayer and deep-heart-felt prophetic declaration that all those who are seated here tonight will live to see year 2015 and also join us next year for this Annual Event. Whoever the devil has plotted sickness, accident and death among us, we CANCEL, DISMANTLE AND RENDER IT NULL AND VOID BY THE BLOOD OF JESUS AND THE POWER OF THE HOLY SPIRIT? MAY YOU RETUN SAFELY TO YOUR HOMES AND TOWNS BY HIS GRACE AND MERCY. I THANK YOU ALL FOR YOUR ATTENTION.