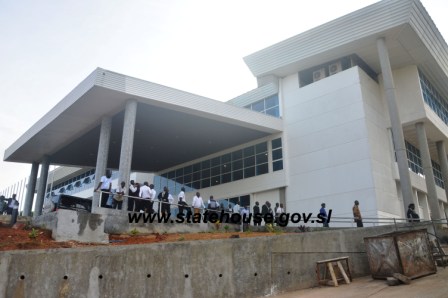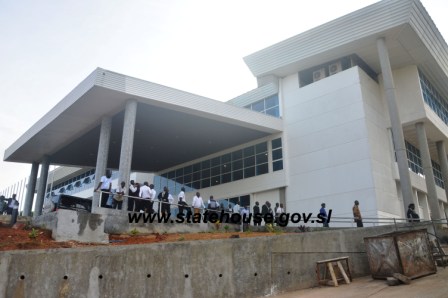 THE FAILED CONCEPT OF THE PROPOSED NATIONAL COHESION AND PEACE CONFERENCE.
(CIVIL SOCIETY ON THE BEATS)
The People's Action Omega1
almondar@gmail.com
ATTN:
THE OFFICE OF THE PRESIDENT
MINISTRY OF POLITICAL AFFAIRS
ALL POLITICAL PARTIES
TRUSTED AND CREDIBLE CIVIL SOCIETY ORG
THE MEDIA
THE CITIZENS
Looking back at the central cause and fuelling of the 11 years Civil Conflict in Sierra Leone, it is stated in the TRC Report that "Institutions meant to uphold Human Rights and accountability such as the court and civil society were thoroughly co-opted by the Executive Arm". This context provides ripe breeding grounds for opportunists, which unleashed a wave of violence and mayhem that was to sweep through the country. Most Sierra Leoneans particularly the youth, lost all sense of hope in the future.
Today, nothing has changed and it has become worse than ever. Civil Society organizations have lost their direction as an alternative force of governance representing the citizens of this country. They have no sense of purpose, all they do is partnering with these INTERNATIONAL JOINT CRIMINAL ENTERPRISE referring to themselves as International Donor Communities, to rob the State on the basis of fake projects implementation and noisiness.
The idea of coming up with a National Conference based on National Cohesion and Peace is a wonderful initiative and move by whosoever thought about its importance. Holding a National Conference of such valuable nature must capture key considerations.
The Government of President Bio has offended so many people of which some I guess he is aware and other undemocratic and inhumane behaviors and acts are considered to be an oversight, though he is considered to take responsibility of these physical and psychological tortures Sierra Leoneans are encountering the hands of his SLPP Paopa fists.
I would rather advise organizers to put a suspense to this conference and involve trusted and credible Civil Society Organizations, Community Stakeholders, Traditional Leaders, 5 representatives of every Political Party, Interreligious Council; and will advice that no EU representative must present in that forum. We must learn to solve our problems by ourselves and see a reason to let go all that have happened against rivalry political figures.
I would also take this opportunity to advise Civil Society organizations that works alongside political parties, more especially those noisy so-called Civil Society organizations that have breached the Trust of the people to stay aback so we can achieve a fruitful outcome
STRATEGIES OF INTERVENTION :
The Deliverables:
The Organizers must institute a Team of Steering members
There must be an all inclusive representation of stakeholders to an instituted Steering Committee.
The Committee must craft a Programme Plan highlighting who to target for a one-on-one independent interviews such as Politically Exposed Persons ( The Executive, Speaker of Parliament, Leader of the Opposition, Leader of Government Business, key Ministries by selection, the Chief Justice, Human Rights Commission, PPRC, NEC, The Military, SLP, Prisons, OMBUDSMAN, PSC, HRMO, to The President, Heads of Political Parties and Labor Congress); Special Specific Targeted such as the Paramount Chiefs or their President, Local Councils Heads or their Association Chairman, etc.
The team will then start to conduct a District Consultation on Citizen Participation for National Cohesion and Peace (A Community Town Hall Event across the 17 or 18 districts). These Consultations will represent the voices of the people. The team will take the responsibility to compile all feedback from the people and report in the National Consultation Conference. This untimely proposed Conference is an empty vacuum breezed with politicians who poses to be civil society members. The Government may have already made its invite base and agenda, or the Conference may attract those opportunists calling themselves International Community in attendance, or other sets of imposed invitee, desperate and deprived Honourables who've mortgage their integrity, some paid up supporters of the the ruling Party. Of course we are expecting our Paramount Chiefs to attend this Conference but this Conference will never hold its value, if the aforementioned are not met. It is no magic. To manage Democracy is easy bit can only achieve the side when you a Democratic Leader wish to laugh with the people, rather than at them. When a leader build a country of National Cohesion, he builds Unity and not Divisiveness.
National COHESION can only be achieved with the foundation and pillars of inclusive doctrine or inclusiveness. When a government succeeds in achieving those Democratic Values, it is easy to think a better way to protect and seek the welfare of its people, by changing the unworkable and despotic strategies.
Another risk factor to take into consideration is the presence of some criminal international donor agencies, who have contributed to stagger the peace and stability of this country. Sierra Leoneans are peace loving people and if agencies such as The European Union hands off our politics and stop robbing the people of this country, our Nation will continue carrying the face of peace loving Salone. They are appalling and sickening. What we need as a nation is to start taking the lead in addressing our issues collectively as a nation and always put Sierra Leone first as we always exalt thee.
I am challenging the organizers if they just go by these Civil Society organizations who only thinks of robbing the people for their selfish interests, we will have a shambolic conference that will add no value. You don't just sleep and wake, then come up with a national conference that is defined to be a national solution to tribalism; regionalism, nepotism; mass firing of northerners, Konos and Krios in the public service; extermination; forceful deportation; murder, torture; looting; etc; the stories and issue are so many to be addressed, which I believe will give President Bio the opportunity to get a comprehensive understanding about what has been going on in the different communities.
Sierra Leone has endured economic collapse over the years, yet, we continue to face endemic corruption and corrode governance as a result of growing hate among nationals and intimidation of one set or other regional and tribe(s). The country's economy suffers from hyper inflation and the government is not practically and actionably showing interest to deal with microeconomics "fundamentalities". No cooperate holdings, no open exchange in the economic realm. These are the issues we need to handle as a growing economy, but we think so high, which cannot be achieved. These are impotent and misleading economic foresights.
Leaders are bound to be the same as their people. The government must shift its strategy of misleading Civil Society partnership to a more credible and trusted civil society ORGANIZATIONS that can present the real happenings in the different communities. These Civil Society organizations have lost their civil identities and they are the key contributors for President Bio's challenges in this short entry. The President's Plan is overwhelming, but because he is trapped by criminals in the deceiving face of Civil Society and International Community, he is set between a rock and heartbeat. His political dice has stopped twisting.
A national Consultation cannot win it course if my honest considerations or deliverables are not taken into consideration. Civil Society is not meant for FOOLS, it is a career and not a dumping ground.
Lastly, my supplementary consideration to achieve a well meaning and major National COHESION and PEACE CONFERENCE, we must wave our thoughts of inviting ECOWAS, AU, Mano River and other Special Countries like Rwanda, Angola, Kenya, Botswana, Tanzania; I have my reservation.
I can assure President Bio and his Government that he will continue to face challenges, which will contribute towards not achieving his dream for this country, if he continues to follow his service of Civil Society Hawkers composed of ill minded people. The way they want to go about this Conference, they won't succeed.
Hint: they are about to set up the traditional Civil Society Coalition on Peace and National Coalition where they would create a financial wall for funding, attending international conferences, teaming up with these Criminal So-called International Community, tapping into the struggling and staggering national financial basket, etc; this nonsense must stop.
HINT:
People's Action Omega1 is a lead and trusted civil society organization established to looking at the performance of governance institutions and monitoring of donor support projects. Our major fold is Policy Interpretation. We have an Affiliation with People's Action and ASH. 😹. We are extremely independent.
Noteworthy, SLPP did not win the National or General Elections, President Bio won the Presidential Election by majority votes across the whole country, not only from the Southeast. APC the Major Opposition emerged to win the general popularity and stake in the country, so we must be very careful how we address governance issues. Sierra Leone stands to excel in democracy, because there is a fair die. We must come together and support the New Direction if the Government needs a collective support.
Undiluted.
Over and Out.