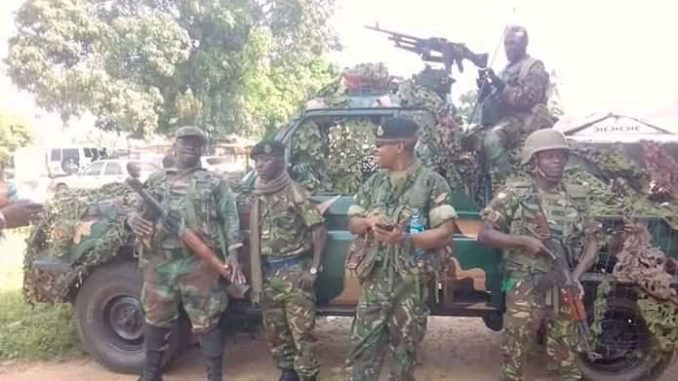 By KABS KANU
On his way to Makeni  last Friday, President Maada Bio looked like he was leading troops to the warfront. The show of extravagant and excessive military power , with mounted artillery , machine guns , rocket-propelled grenade machines and soldiers (armed to the teeth  with M16s and AK47s ) in combat and camourflage  fatigues and vehicles , petrified lots of Sierra Leoneans who wondered whether their country was at war. Though as President, Mr. Bio is entitled to water-tight security, many Sierra Leoneans believed he overplayed the security card for political reasons.
President Bio did not look like he was going on a friendly Thank -The-People tour of the North. It looked like he was leading a whole battalion of combat-ready troops into enemy territory for a merciless conquest . Many people  complained bitterly  in the social media about the state of fear President Bio provoked last weekend.  They believed that Bio's conduct showed what he thought of  the North—-Hostile enemy territory. People could not understand why Bio  perceived the North as a theatre of hostility towards his personal safety and the security of his government to the extent that he  had to travel with a battalion carrying fearsome weapons they would, in all likelihood , had not needed , even if the people had rioted, unless he was looking at a horrific and large scale massacre, or to "Exterminate the brutes ! ! "
Posted by Sahid Will on Saturday, November 24, 2018
Many Northerners told COCORIOKO  that they were scared as well as offended, obviously, because President Bio behaved like a warlord going into hostile enemy territory, which the Northern Region is not. For all the hostilities, marginalization and sidelining the region has suffered from President Bio since he came to power in April this year,  not to mention the beatings and burning of houses of sons and daughters of the region, the North is just another normal and friendly part of Sierra Leone ready to work with him to build a better Sierra Leone. To them, the excessive show of military power was a strong message to Northerners that this government will not treat them with kid gloves even in the military sphere.
"He promised to come and thank us for voting for him , but he came with an  intimidating  showoff of military power , " Amara Turay, a resident of Makeni complained to COCORIOKO .  "His presence in Makeni was just a show of military strength but not to unite the nation. He came to Makeni like how Hitler entered Paris, to provoke and create more division within the country", Peter Sesay remarked. 
Did President Bio have to intimidate and put fear in Northerners to get them to receive the message that he did not consider them friendly allies ? What message was he actually sending across ? Should he not have adopted a more pacifying and unifying posture , considering that he was going there to also mend fences with Northerners ?
Some Sierra Leoneans reminded the former junta leader that he is not a junta president, however hard he tries to look like one,  and therefore his junta style of leadership is wholly unacceptable to the peace-loving populace of Sierra Leone . The war ended 16 years ago and Sierra Leoneans did not need that kind of macabre reminder .
To his credit however, once he got to the North, the whole thing changed. President Bio had  impressive rallies with the people of  Makeni and Magburaka during which he made some fascinating statements and promises about national unity and national cohesion and even broke grounds for a new hospital project.
However, President Bio left a bitter taste in the mouths of Northerners and this is not good for national reconciliation, national reintegration and national cohesion.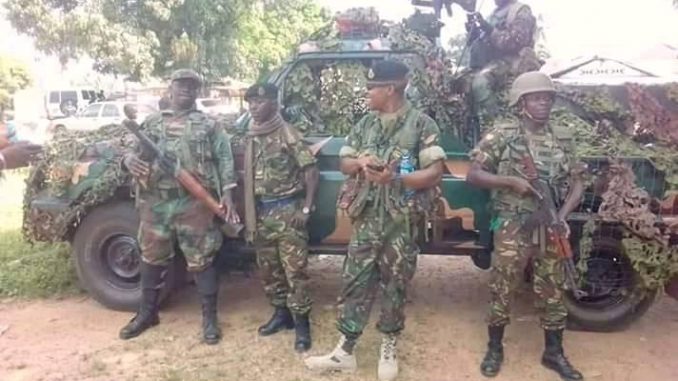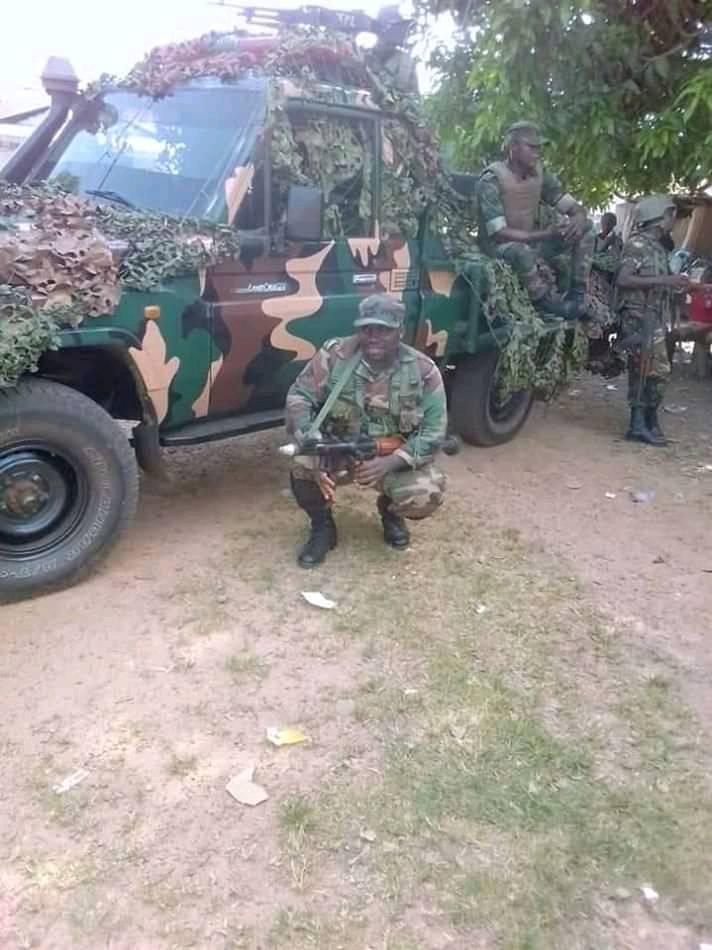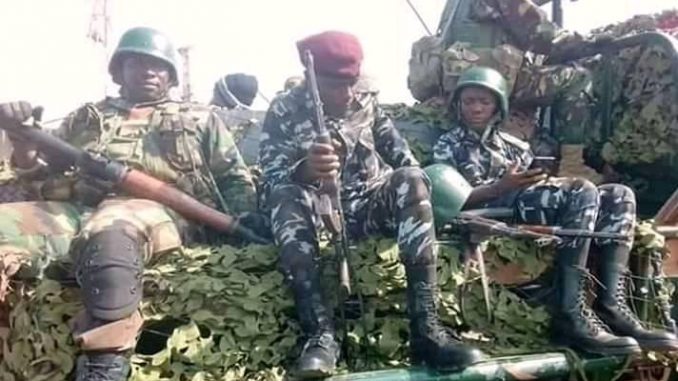 The weaponry and military vehicles I saw behind my president on his way to my sweet, calm, peaceful and beautiful Makeni makes me ask if we are in a war period !!!
Yankuba Kai-samba The constitutional duty of our arm forces is that of defending the sovereignty of Sierra Leone. They are really not there to be riding in large conveys accompanying the president. It intimidate the public.
It is primarily the responsibility of our police to provide protection and security to the president.
These two responsibilities should not be merged together.
Yusuf Keketoma Sandi …lol war against indiscipline and corruption lol.
Yusuf Keketoma Sandi  I am not surprised at your response bro ….but tell me why that heavy military presence sir ??? I still maintain d brotherhood … by the way enjoy your visit and if i should come in to take u round give me 2 mins notice I can fly over hahahaha 
Moses Kamara I saw it myself and frankly, I was timid with what I saw. We pray the atmosphere of calm and peace will be upheld.
It about four AA plus a Jeep covered with military rags.
Anyway security can also not be underestimated.
Adams Bangura Bra it speaks to the heightened level of divisiveness in a nation of little over 7M people. I'm told there were some military repostings or realignments of top officers as a result of the Pa's visit. I appreciate we mustn't take chances over the well being of the 1st family but pls don't make it too obvious. More for a Peaceful coexistence
Baba Musa Karmara The guy Maada bio is just preaching tribalism, regionalism and creating a division within the citizens of our country.
His present attitude and actions indicates to every Sierra Leonean that he is not prepared to unite our people as president as he has clearly shown the Makeni North and North West is for the APC party and his Bo south and partly south east for his slpp party.
It is only Allah God that can avert and forbid the Rwanda 'Tutsis and Hutus' type of coexistence before the breakout of their genocide war.
Leadership is not by force or by pa-o-pa, one must possess the know how and the leadership skills of interacting with your people as a leader and that must be paramount.
Alhaji Nyakoi Stay cool John, President Bio is a man of peace. Your brothers s and sisters in that part of the country are violent. Evidence abounds that they have attacked him severally.
Peter Sesay His presence in Makeni was just a show of military strength but not to unite the nation. He came to Makeni like how Hitler entered Paris, to provoke and create more division within the country.
This not to thank you tour
This na threatened tour
1. No body nor ever go tell e mother in law tenki with cutlass for way e married e pikin.
2. Tejan kabba nor wan day visit bombali district in such way.
3. Ernest Koroma nor ever visit Bo, kenema, Or any part na the south in such way.
4. Maada Bio disarmed all d military soldiers dem na teko barracks n go with in mende soja man dem na makeni.
5. Maada Bio d feel insecure because e know say Basta pikin Nfa Alie tiff d people dem mandate n gee am.
6. Maada nor go with dis kind weapons na Bo & kenema during e thank u tour why na Makeni e for go with dem waepons ya.
7. Maada Bio na real rebel n na only rebel nor more kin behave so.
8. Alaki present san mus comot pa am na net.