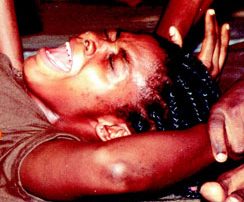 By Mustapha Sesay
As Sierra Leoneans brace up for the 2018 General and Presidential Elections, one topical issue that will continue to surface is that of Female Genital Mutilation(FGM) in our communities.
It is interesting to note that while one set of politicians are supporting the act of FGM on the grounds that, it is performed in line with tradition and social norms, to ensure that girls are socially accepted and marriageable in society, others like: Civil Society Organisations, Human Rights Activists and politicians   argue that FGM has no health benefits, and it is recognized internationally as a violation of human rights of girls and women.
It involves removing and damaging healthy and normal female genital tissues, and interferes with natural functions of girls and women's bodies,.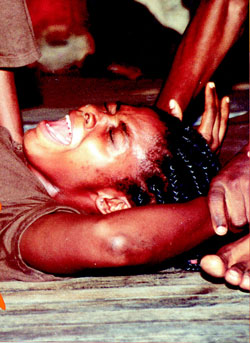 With this, it is time for government to be proactive in dealing with violations against women, urging Members of Parliament (MPs) enact legislations favouring women in Sierra Leone against FGM, as the government  has signed various treaties geared towards the elimination of forms of violations against girls and women in Sierra Leone.
It must be noted that some countries in Africa have passed legislation to legally ban FGM and the severe penalties involved to anyone who dares to subject children to FGM.
In the midst of all the arguments advanced for or against the motion, we will soon experience the period of lots of initiation of young girls.
This year's initiation of young girls also concedes with the electioneering process, where some politicians may want to lavish money by initiating hundreds of girls, instead of paying their school fees.
This is a moment where most parliamentarians go to the remote parts of the country and inform parents that " I have come to reduce your burden by paying all that it takes to see that your girls are initiated…."  It is unfortunate to note that, after the electioneering period, they are nowhere to be seen, let alone they make visitations to address the plight of the suffering masses.
In the rural areas, this is a sensitive issue, as political figures who speak against this tradition are bound to be negatively paid during the pools.
Speaking to Hawa on this issue, she noted that   "The reception from my community about my end FGM work has been hostile. Sometime ago, girls escaping from FGM started coming to my house. I would place them in rescue centers and inform government officials from the Family Support Unit, who would then spring into action. In most cases the police are involved and the parents or relatives responsible are arrested.
"This was used as a propaganda tool to ensure that my father, who was running for political office in the elections, was 'punished' for my deeds. I was blamed by the community for the political seat my father lost because everyone knows that I campaign against FGM in church, in the village, at my work place. They know my girls are not cut so I could not hide from it."
In an interview with Hawa, she recalled the pain, trauma and humiliation she felt when she underwent Female Genital Mutilation (FGM) during the early hours of a Saturday morning in 1999 when she was just 13-years-old.
Hawa now aged 31, lamented : "My parents bowed into the community's demand. One of my sisters told me to refuse and run away but my mother told me to undergo FGM because it is a good thing. Older women in the community who were my mother's friends agreed. These pro-FGM women were convincing, they were older, I respected and believed in them. My sister was younger and I thought she was denying me something good because she had undergone FGM herself, so I gave into their demands."
It was the vision of Hawa to become a pilot, unfortunately for her, after the initiation, a young man started spending lots of money to win the hearts of her parents.
Little realizing that it was a trap to halt her vision, Hawa became pregnant for this man. Hawa was forced to stay at home looking after her daughter. Her dream of becoming a pilot had faded and her only prayer was that the father of her baby who was then in college would marry her, if only to save her from the shame and ridicule."
During the period of Child birth Hawa noted that,  "Child birth was traumatic, I wouldn't wish my worst enemy the kind of pain I felt. When giving birth, you tear because the passage for the baby is very narrow due to FGM, it is so painful because you bleed a lot."
Hawa was inspired by one of her friends and so started a campaign in her village to protect girls from being coerced or forced to undergo FGM. She managed to convince her husband to support her initiative, and six years ago began opening their home to those escaping the cut and child marriage.
With the support of the father, many people kicked against the political career of Hawa's  father. Friends, family and community leaders responded bluntly, warning that Hawa's campaign against FGM would prevent him from winning a seat.
She furthered that during the campaign period there was a girl who was circumcised in the neighborhood. she informed the church, so obviously word went around that the village snitch is at it again. They knew it was Hawa  who leaked the information to the police on FGM because she empowers girls and even take them for alternative rites of passage conducted by various organizations.
With this the people noted that they will not vote for her father, because his daughter is a snitch; 'if he wins we will all be targets of the police and will be arrested; if he wins the daughter  will stop us from enjoying our culture'.
During the 2012 Elections, Hawa's father lost the election, local community members blamed her. She says: "His win looked certain because he'd won during the hotly contested party primaries and was in the most popular party. Other local candidates in the same party, but who support FGM directly or indirectly, have clinched the seats."
The issue now at hand is will this same FGM campaign affect other politicians in the upcoming General and Presidential Elections? Will political parties admonish intending aspirants to keep mute over this issue? We are fully aware that a lot of money has been spent on advocacy and workshops for stakeholders especially, Sowies or traditional leaders. Many did commit themselves to most of the treaties.
As we draw closer to the 2018 Elections, it is another test case, whether FGM is going to influence the political landscape of the country.