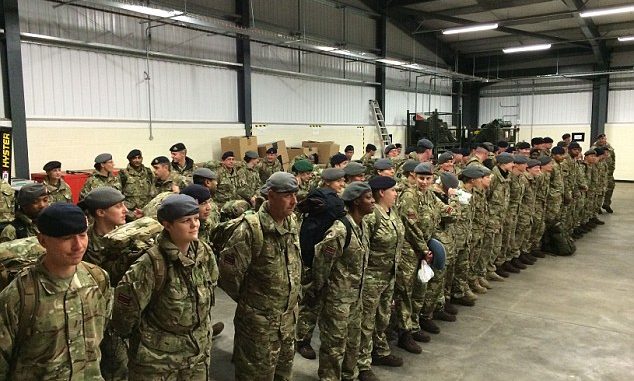 By KABS KANU :
BRITAIN, who once colonized Sierra Leone, continues to put together commendable efforts to help the West African country overcome Ebola. As a newspaper, we cannot thank Britain enough for what the country is doing for us during this period of need . We bring you some reports from the British newspapers about British efforts to save Sierra Leone :
____________________-
British Army medics from 22 Field Hospital in Aldershot arrive in Sierra Leone
as part of UK's response in fight against Ebola crisis
92 doctors, nurses and consultants will treat other medics who have Ebola

They will set up a field hospital 30 miles from capital but will not treat public 

Britain has already sent 40 troops to Sierra Leone to help with crisis

Medical ship RFA Argus with 750 military personnel will arrive by November
British Army medics will arrive in Sierra Leone today to help contain Ebola.
Ninety-one people, including nurses, doctors and infectious disease consultants, will run a field hospital near the capital Freetown to treat other medics who have caught the disease.
Their role will not involve treating members of the general public who have the killer disease. 
Scroll down for video 
Ready to go: These 92 Army medics will arrive in Ebola-ravaged Sierra Leone today to help tackle the disease
Precaustions: A healthcare worker is sprayed with disinfectants after working in an Ebola treatment centre in the Hastings area of Freetown, Sierra Leone. Army medics will treat other medics if they fall ill
They will join 40 soldiers already in the west African country to work at the facility, which has 12 of its 92 beds set aside for those helping to treat others with the deadly disease . 
Commanding Officer, Lieutenant Colonel Alison McCourt, of 22 Field Hospital which is based at Normandy Barracks in Aldershot, said her troops want to help provide a safe environment for medics.
'We need to provide sufficient reassurance to healthcare workers that will encourage them to come and help defeat this disease,' said Lt Col McCourt.
Before setting off the army personnel, who will be based at Kerrytown, around 30 miles from the capital, Freetown, had nine days of intensive training in treating those affected with the disease, which has killed more than 4,000 people.
________________________________________________________
Lt Col McCourt said: 'This unit has been the 'Vanguard' medical regiment for the past 20 months which means we are on high readiness to deploy at short notice to anywhere in the world – although this is a bit different and provides us with a challenge we are perfectly suited to this kind of task.
'I firmly believe we can make a significant difference and it will be professionally rewarding for those taking part.'
The medics will staff a field hospital in Sierra Leone established specifically to treat other doctors, nurses and health workers who have caught the disease. Pictured here training
A health worker uses a thermometer on a man outside government buildings in Freetown, Sierra Leone
This woman was so overcome by grief after a death in their family in Waterloo, some 30 kilometres south-east of Freetown, Sierra Leone, she fainted while her relative had to be held
They have been undergoing an extensive training exercise in preparation for their deployment to West Africa.
As part of the training they have been wearing full protective suits, treating simulated casualties in make-up. 
The exercise at Strensall Barracks, York, saw a hangar converted into a mock-up field hospital.
It is part of Britain's wider response which will see a medical ship deployed to tackle Ebola in West Africa.
A team of 750 military personnel will reach Sierra Leone by November, with a Royal Fleet Auxiliary ship leaving Falmouth Docks in Cornwall on Friday.
RFA Argus will set sail at high water, loaded with three Merlin helicopters and a crew of around 350, including 80 medics and 80 Royal Marines.
Strict rules to keep the ship 'sterile' from Ebola include banning personnel from going ashore on leave during up to three months of deployment.
A view of the Royal Fleet Auxiliary Argus, docked in Falmouth, as the ships crew prepare to set sail on Friday October to Sierra Leone
Royal Navy nurse Lieutenant Susan Jeffreys checks medical equipment aboard the Royal Fleet Auxiliary Argus, docked in Falmouth
Royal Marines who leave the RFA Argus for operations in the local community will go through a decontamination process upon their return.
Medics will take their temperatures twice a day and anyone who shows signs of Ebola will be flown to a British treatment clinic in Kerry Town.
Yesterday Ebola survivor and volunteer nurse Will Pooley said he is preparing to go back to west Africa to help deal with the epidemic because it is 'something I need to do'.
The 29-year-old, from Eyke in Suffolk, said he knows that his family and friends will be worried but stressed that there was an urgent need for strong medical support to tackle the virus.
Read more: http://www.dailymail.co.uk/news/article-2795151/british-army-medics-22-field-hospital-aldershot-arrive-sierra-leone-uk-s-response-fight-against-ebola-crisis.html#ixzz3GNwy5Pu7
Follow us: @MailOnline on Twitter | DailyMail on Facebook