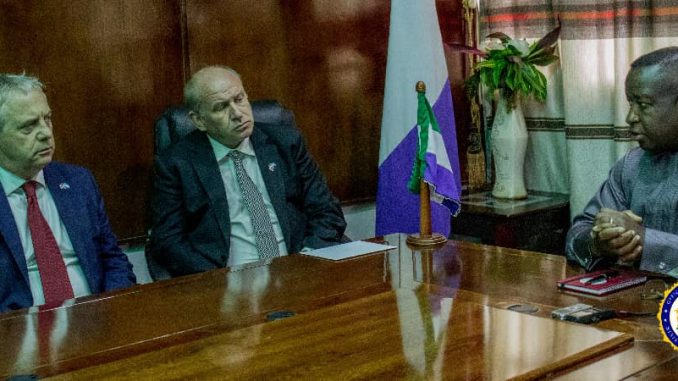 By KABS KANU
Following up on the visit last week by the ECOWAS Early Warning System team , parliamentarians from Britain have come to Sierra Leone , in response to recent events in the country which have seen citizens and local media complaining about gross human rights abuses by the President Maada Bio Government .
Once you have been in governance before and you know how the international system works, you know that early warning teams and parliamentarians from an ex-mother country do not just come to a former colony they are helping economically, politically and militarily just to drink wine with the president and pat him on the back and commend him for a few things he has done. No country can afford to waste resources on plane tickets for fruitless visits by their officials.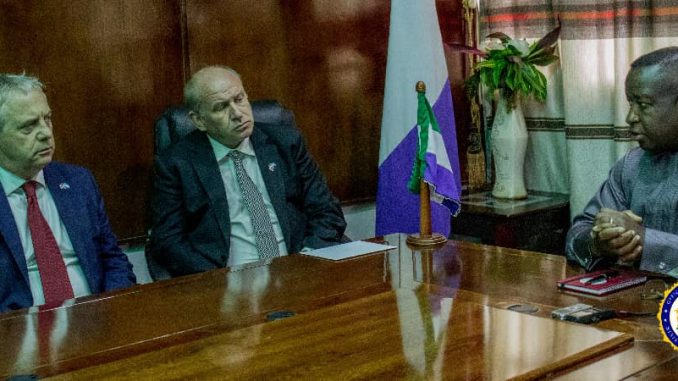 ALL SOMBRE  FACES IN THE ROOM AS BRITISH MPs GRILL MAADA BIO FOR THE HUMAN RIGHTS ABUSES OF HIS GOVERNMENT.
Diplomatically, there has to be a very important message to deliver or a fact-finding mission to accomplish. Diplomatically, this message is often delivered behind closed doors and deliberations are often not made public.
When I was Minister Plenipotentiary in charge of Public Affairs and Media Relations at the Permanent Mission of Sierra Leone to the UN, I was often strictly directed not to publicize everything that was discussed behind closed doors between the President , Government, my ambassadors, or international diplomats, especially when the UN /Sierra Leone Special Configuration Peacebuilding Commission was in operation. I was only permitted to publicize the exchange of fine sentiments by officials. We can therefore forgive the State House Media for only reporting the good things teams say about government. Diplomatically, as a matter of courtesy and protocol, presidents are supposed to be motivated by one or two praises thrown here and there to soften the message delivered. It is part of protocol.
Whenever the Prime Minister of Israel is summoned to the White House by the U.S President, what the media report is completely different from what the two leaders discussed behind closed doors. The SLPP spinmasters should know that this is an era of enlightenment and people can no longer be fooled.
The ECOWAS Early Warning Team did not visit neighbouring Liberia and Guinea or other West African countries for one to have lied that they were on a subcontinental tour; they came specifically to Sierra Leone. The UN set up the Early Warning Signs System to boost its new approach of preemptive PREVENTIVE DIPLOMACY–to wit, identifying early warning signs that going by recent events in a country , there was the potential of chaos or war emanating from governance issues or ethnic tensions–and to start acting , rather than wait for things to go out of hand. The UN is trying to avoid the mistake it made in the early 1990s to have intervened late when all was almost lost in Liberia, Sierra Leone, Rwanda, Bosnia and Kosovo.
Britain has a fully-staffed High Commission in Sierra Leone. If they wanted to just let Mr. Bio know he was doing well, they would have sent their High Commissioner, Mr. Guy Warrington to do that. They will not dispatch a team from Parliament to travel all the way to Sierra Leone just to tell Bio he has done well in certain areas. They were here on a fact-finding mission.
The visits by the ECOWAS Early Warning Systems Team and the British MPs , coming at the heels of the killings, violence , vandalism and human rights abuses by the Bio Government show that all is not well in Sierra Leone and international efforts have been stepped up to advice President Bio to change course.
WE KNOW BECAUSE WE HAVE BEEN THERE.
.