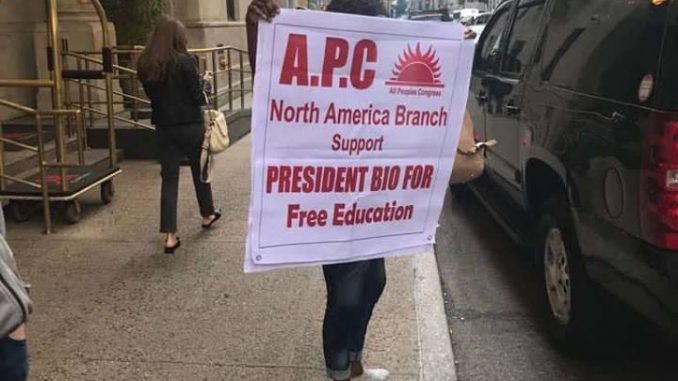 The SLPP Women's Leader- Delaware Valley USA, Ms. Jainny Tejan Kella was  busted yesterday pretending to be an APC supporter in New York  holding a pro-President Maada Bio banner, extolling free education in Sierra Leone.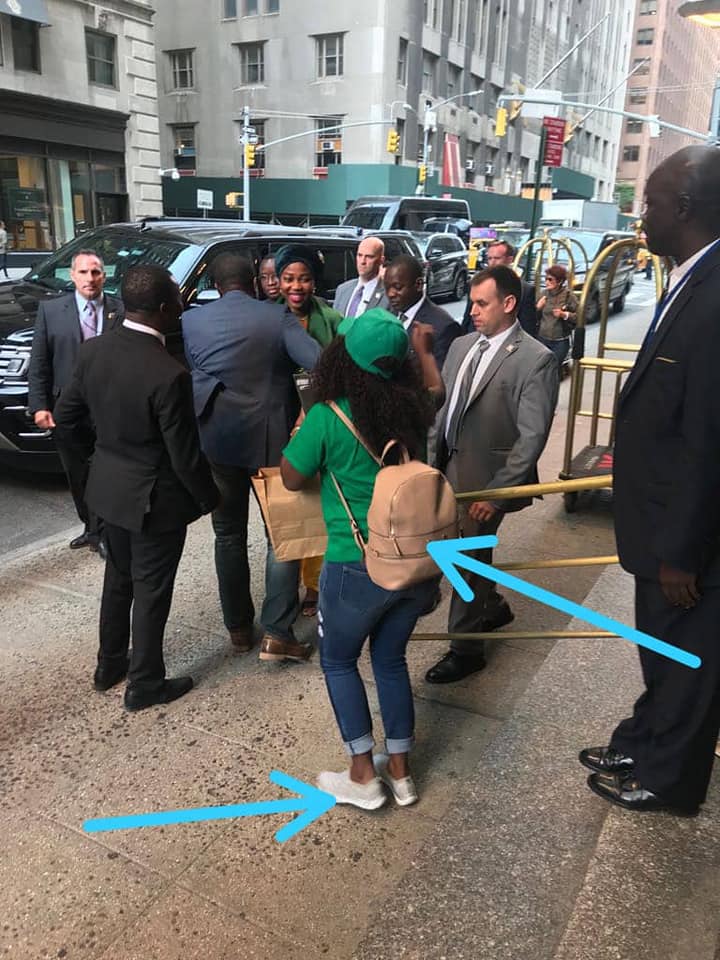 IMPERSONATOR HIDING HER FACE WITH FAKE BANNER, BUT SHE IS NOT SMART. HER SHOES AND TURN-UP JEANS GAVE HER AWAY. 
THIS IS WRONG. THIS IS DESPICABLE. FAKE.
SLPP THUG SEEN HERE HOLDING A FAKE APC BANNER TO WELCOME PRESIDENT BIO IN THE USA
THE BIG IDIOTIC MISTAKE THAT HAS EXPOSED THE FAKERY AND GIVEN THEM AWAY IS THAT THERE IS NO APC NORTH AMERICA ANYMORE. AFTER THE FORMATION OF APC CANADA BRANCH, APC NORTH AMERICA BECAME APC – USA THREE YEARS AGO.
THERE IS NO APC NORTH AMERICA. DO YOU SEE NOW WHY SOME OF US CANNOT BE SILENT ? SUCH FAKE POLITICS AND DECEIT ARE NOT GOOD FOR OUR NATION.
WE HAVE TO STOP THIS EXTREME POLITICS IN THE INTEREST OF OUR NATION. WE ARE GOING TOO FAR TO INCREASE THE GAP BETWEEN THE APC AND THE SLPP. POLITICS NEED NOT BE PLAYED LIKE THIS. WE ARE ONE COUNTRY, ONE PEOPLE. WE CANNOT BE DEVISING SUCH DEVIOUS METHODS TO CONTINUE POLARIZING OUR NATION.
SLPP SHOULD DENOUNCE THIS BECAUSE IT IS NOT GOOD FOR THEIR CREDIBILITY AND COMMITMENT TO PLAY CLEAN AND DECENT POLITICS.
WHY FAKE APC T -SHIRTS AND BANNERS ? HOW DO WE TRUST THE SLPP ? HOW MUCH MORE FAKERY ARE THEY ENGAGED IN ?