The Coalition For Change (C4C) has  overhauled its  Parliamentary Caucus Executive structure which was initially headed by Honorable Emerson Lamina.
This comes after the former caucus leader went ahead and supported the appointment of Mohammed Konneh (Former Director at FIU) as the New Chief Electoral Commissioner of the National Electoral Commission despite disapproval from the Party Hierarchy. His action, has cost him the position of Parliamentary Caucus Leader of the C4C and it has initiated a total overhaul. Honorable Francis Bendu has been appointed by the Party to serve as Causcus leader.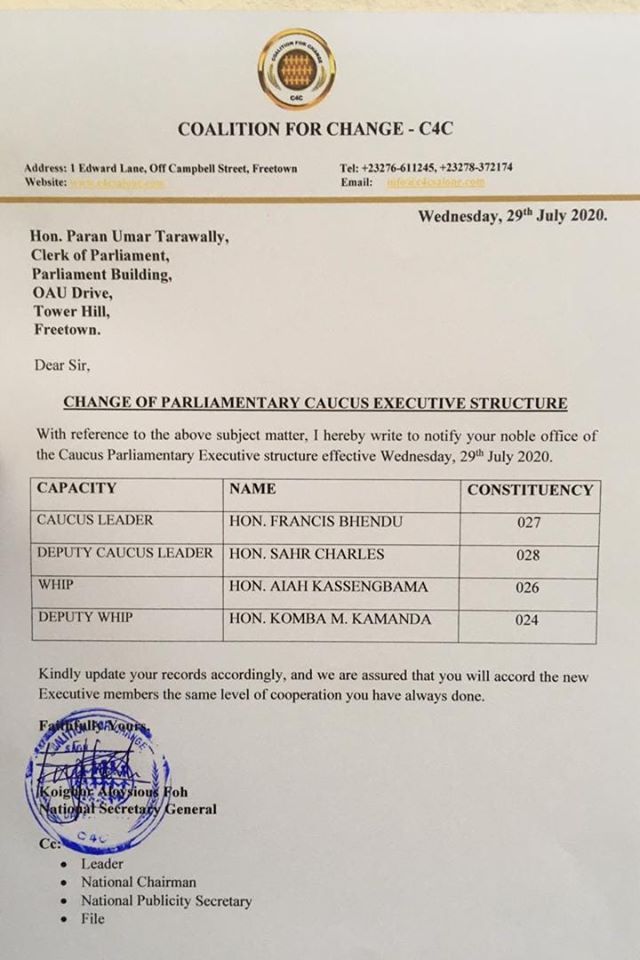 The All Peoples Congress Party also objected to the appointment and approval of the New NEC Boss citing constitutional violations and illegalities. According to Secretary General of the APC, his party intends to seek interpretation to the constitutional provisions they believe prevent Mohammed Konneh from serving as Chief Electoral Commissioner of NEC, in the Supreme Court. The process of approval was a tight one as 78 MPs were in favour and 51 against.
MR. LAMINA HAS HOWEVER CHALLENGED HIS PARTY'S ACTION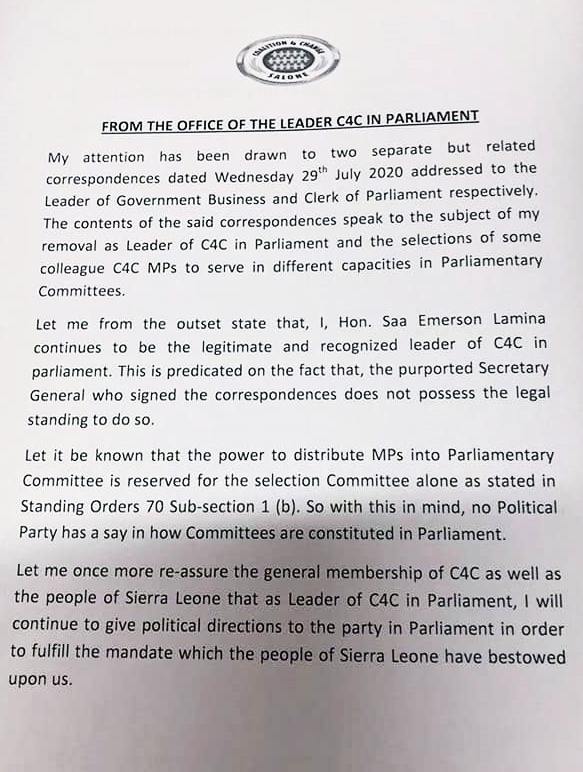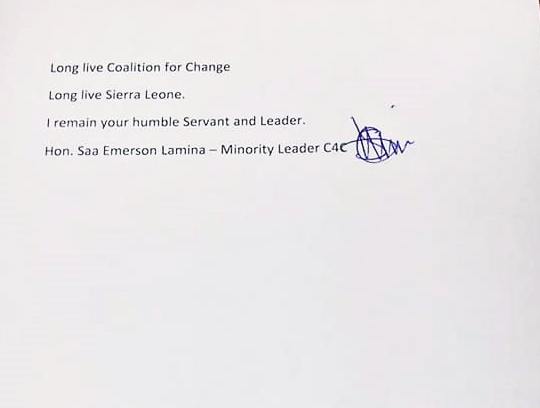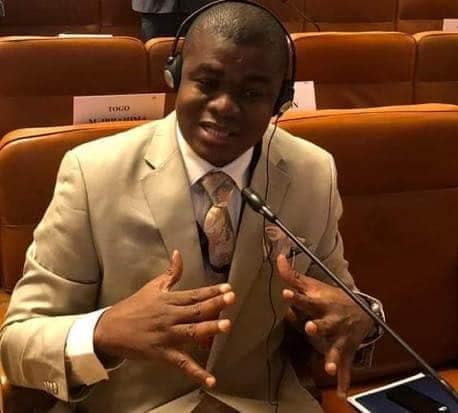 AFTER THIS TERM YOU NEED TO GO AND REST .
Are we in a different ERA??? Sam Sumana was unconstitutionally removed from his party and later fired from the office of the Vice President of Sierra Leone. Where was the opposition then? Where was parliament???? Are we living in George Orwell's Animal Farm? The law can only fit when and how they want to sew the suit. C4C as a legitimate political party has a mandate and constitution that all its members SHOULD abide to without prejudice and interference from outsiders. Where is our democracy leading to and at what cost??? Just my candid opinion and you are welcome to yours.
There is only one politician who is arguably more popular than Hon Emerson Lamina in Kono land. He is obviously former Vice-president Samsumana. If this action
 leads to a split in C4C there is no price for guessing which party Hon Emerson Lamina and his supporters will warm up to.
I know if there is such a development its impact is likely to be trivialized by C4C as APC trivialized the sacking and expulsion of Samsumana.
We all know what was the fallout from that action.
Even if the C4C party believes Hon. Emerson Lamina took the wrong decision on behalf of his party I still think this penalty; if it is truly coming from C4C hierarchy is very harsh and rash. There should have been time for reflections on what happened and the ramifications on any action the party might take.
BE WARNED HON EMERSON LAMINA!!!!!!!!!!!!!!!!!!!!!!!!!!!!!!!!!
Hilariously, I am bemused at the display of the misguided loyalty Hon Emerson Lamina is showing for this present government at the expense of his own people in kono district.
Emerson, I can see that you have been power thirst to the extend of you mobilising thugs against the very man that made you who you are today. Emerson Lamina, you never believed in the initiative and ideology of the C4C in the first place, the people of Kono district frowned at Sam Sumana for giving the C4C symbol to you but Sam Sumana went ahead and awarded symbol to you with the approval of the Chairman Tamba Sandi.
The very guys today you ordered police men to arrest, Mukeh, Adamu, Akon and others were the one's that fought for you to have a Symbol, but all what you could pay them with is for you to ordered police officers to arrest them under orders from above.
Emerson, I know you had been promised running mate come 2023, but let me reaffirm or re ecko this to you coconut head that, Kono district is not a dungeon for any running mate position.
You claimed to be an honourable member for the C4C but you are representing the SLPP to the fullest. But trust me brother that's a blind move you are making. Sam Sumana is the political head for Kono district, so parading yourself as the political head for Kono district is not only a film but a complete naivety from your path.
All those sycophants meddling around you, who you called your social media bloggers are nothing but political hoodlums. The promised you made to the SLPP, together with Saa Sam who parade himself as a younger brother of Sam Sumana is nothing but a gold digging coward. Today you guys can intimidate the last man standing guys with all your political arsenals but one thing that you guys can not take away is the unflinching support and love the Kono people have for Sam Sumana.
You guys have being miss used and manhandled and that will never help you in Kono district, trust me.
Let the SLPP government deliver their promises been made to the people of Kono and stop depending on your fake promised made to them by handing Kono over to them.
Our politics in Kono is very unique and can not be battered by anyone trust me I meant anyone.
Culled
From the political Orator!!!
Ayu Cole *THE KONOS HAVE IDEOLOGY NOT PERSONALITIES SO EMERSON LAMINA IS TERRIBLY WRONG*
I am keenly following the political and cultural entanglement that has gripped Kono district ahead of the 2023 General Elections.
For further clarification and elucidation of the seeming political challenge to his candidature at home, Chief Sam Sumana who by public estimation is the front runner and would-be the All People's Congress standard bearer in the upcoming 2023 General election has just found another enemy and enemy of the people of Kono by the name of Saa Emerson Lamina right under his nose and a soul he promoted. For those of you who don't know Emerson, he is a son of a respected Kono family with strong religious and cultural background. His father was respected and I don't think anyone of my age can tell if they were present or heard or experienced where he disobeyed his native land, it's people and the UMC family in Sierra Leone. But as you may want to Know, Emerson strived well because he did religious studies at post graduate level and given his father's history in Kono, people including me thought that if the gentleman is trusted with authority, he would bring with his background and family values in politics sincerity, honesty and steadfastness. But listening today on 98.1 FM Good Morning show, I came to the conclusion that *let no pastor tells you that he is going to take his her pastorial qualities into politics and you take him/her serious*
*Emerson's Response to His Replacement Interview as C4C Causus leader in Parliment*
Forget about Sam Sumana for a while, but let me ask you these, is it possible for one man to make a political party? Was the vote in Kono not a protest vote? Was this the first time the Kono people have shown solidarity and unity of interest? The answers to the questions don't favour any right thinking individual to believe that Emerson Lamina a self made Kono icon single handedly made the vote in Kono possible in favour of C4C.
Emerson, let me educate you a bit. I am quiet aware that you find it difficult to express things clearly without disobeying grammatical rules ( *Competently Qualified*) But get this and get it clear. You have been decived to an extent that with the Kono political history in mind, you are a *living political corps* . Snce you took battle with the Kono people. You think you are voiceferous, smart and intelligent but it's the reverse. You have failed and the trust we had was because of your religious background. But you have failed your father and failed the Kono people.
If C4C us not a useless political party to say the least, Emerson should have been served your suspension letter for deliberately posing challenge to the forces that made you what you are today. You should have never answered to the question of regret of disgracing, challenging and publicly brining the party into dispute like that. However, we will see how and wether those at the realm of affairs at C4C will shamelessly buckle down. Your presentation today was *unKono* meaning a Kono of repute don't do as you did. You need forgiveness, you are one of the lest educated sons of the soil, one who has greatly benefited from family asset namely family name.
*Emerson and Sam Sumana*
In the ongoing replacement of Causus leader of C4C, many people have resulted to abusing Chief Sam Sumana. Look, don't just abuse him, the Kono people are waiting and they are patiently waiting for APC to make that monumental decision. Emerson, your political imagae will vanish the very day Chief is elected standard bearer of APC. You will surely speak to the same 98.1 expressing regret, I bet you.
The Kono people don't have two leaders at a time. This time is for Sam Sumana, the same like Abuu Koroma, Like Briwa, the Capios and Sulukus. You can't change our history. We don't care what you say. We follow our leaders religiously. That is our culture, our tradition and the spirit abhorred in *Kono eàa Konoda*. You can't change it.
This spirit have led us to have our first members of Parliment in the 1950, we reachoed it in 1996 and affirmed it in 2018. It's not about Emerson or Sam, this is about us as a people, about us a political block. Don't be decived, no rightful thinking Kono man in our world, not in the world of Emerson will want anything *except that which Sam stands for*. We are with Sam, he is our man, he represents the Kono ideology and no amatuer politician like Emerson can detail the plan of the APC and the Kono people. Emerson, your greatness is as result of Sam. We sympathize with you because you stood by him, we will cut you to size if you pose a threat to the *Kono Era in Politics* . You can't and you can't. We will undress you and make you walk politically wingless. Emerson, don't challenge Chief, say what you may, he has been able to carry himself like a true Kono man. He makes us proud. He has been around for long and we still love him, he represents the Kono people. He is a unifying candidate a personality our country needs now the most. As a minority tribe, he is best suited and the ground is being naturally prepared for him to bring truce between the two largest ethnic groups. His peace record is unbroken at the moment and your unforgivable spirit should notify the SLPP that you are nothing but an opportunist and a dreadful crook.
Sam was greiviously wronged , but he forgave. Emerson you are not religious. Sam's brothers including David Tam Mbayor betrayed him, and they have learnt their lessons now he is with our man. We will pay you in your coin Emerson. Your challenge to Chief and the Kono interest will not go unpunished. If you want us to respect you, behave just like Sam he is preferably the best for State House 2023. At least he has set the stage and standard.
*The House of Parliment Speakers Comments*
It should not be surpring that a party heading for electoral defeat will hang on anything to survive. The action of the Speaker of Parliment is nothing new. This same Parliment did to the same thing to PMDC. That bad decision had a lot to learn from. So the Speaker decision's to go with the order of the day instead of the right and legal thing is not only counterproductive but a mere bullet in the SLPP re_election bid. Mr. Speaker, you stand to loose more behind that decision of maintaining Emerson. Mr. Speaker you know and I know that the leader without followers is a man taking a walk. The gullible and quiet public keeps watching and the ballot will tell. Mr. Speaker, you will see this issue on TV when you are out. So support Emerson, but just know that your comfort in that cozy house won't extend beyond 2023.
*APC and SLPP*
What is currently, happening in Kono is nothing but a political proxy war in Kono. SLPP is worried and waried about Chief Sam Sumana to the point that they captured less committed, hard hearted , unforgivable and a political opportunitist like Emerson. APC, you must be the reason behind this. Your past record, your negligence and inaction to start nailing SLPP is making SLPP to continue to play guess game. You are still dragging foot to keep SLPP on toes with Chief. The average Kono, including those religious leaders like Emerson do not have faith and trust that Chief will lead. To silence SLPP, give them what they hate, what can shake up their political base and hope. APC, you need to act as and act fast to change the political dynamics of the country.
The Kono people know what they want. We know it , and we are close to it. Pastor Emerson should go to church, he has proven to be highly dishonest, disloyal and inpatient.
*Emerson must go. He must go, he has to go, he should have gone ,its time for him to go and he will go*
Kono a' kono faa' 🤷🏻‍♂
Let me put forward this succinct piece but very important.
C4C Political Party is registered and recognized as a political party with basic Political rights, Caucus Leaders are always appointed by their Political parties and not by the speaker of parliament, parliament or SLPP as per party constitutions or guiding principles.
Therefore, the replacement of Honourable Saa Emerson Lamina is purely C4C Political Party issue and not fall within the purview and jurisprudence of the speaker of parliament or SLPP,both don't have the legitimate right to overturn decision regarding the replacement of a Caucus Leader which can even be renewed annually due to the right accorded parties as per principles.
The former C4C Caucus Leader, Honourable Saa Emerson Lamina has spent over two years and now the party says,we need other MPS of the same party to serve as Caucus Leader and his deputy.
He was never voted for to be the Caucus Leader of the party in 2018, the party gave him the mantle of Leadership,not the speaker or SLPP.
C4C party stakeholders wrote a letter with Honourables and their respective positions to be held in 2018 and it was honored by the speaker and parliament,the party followed the same procedure to replacement Honourable Saa Emerson Lamina with the one time deputy Caucus Leader, Honourable Francis Bendu who is equally qualified and eloquent.
Come what may, the decision taken by the C4C political party Leadership is irreversible and it is final.
I called on the speaker of parliament and SLPP to stop interfering with C4C party matters as some people are insinuating.
Sent in by the C4C Eastern Region Publicity Secretary.