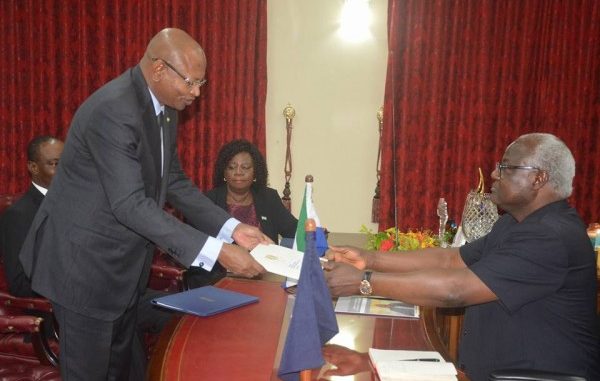 Chad Solicits Sierra Leone's support
By State House Communication Unit
Minister of Infrastructural Development and Transport of the Republic of Chad, Adoum Younousmi, has solicited Sierra Leone's support for Chad's candidacy for Chairperson of the African Union Commission. He made this appeal in his capacity as Special Envoy during a courtesy call on President Dr Ernest Bai Koroma at State House in Freetown.
Chad has presented the Minister of Foreign Affairs, Moussa Faki Mahamat, as candidate for the Chairperson of the African Union Commission.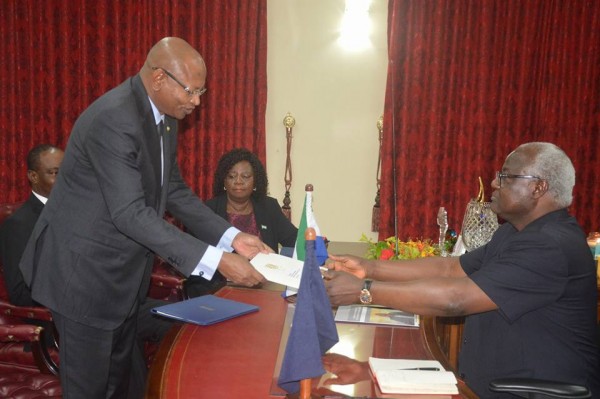 Sierra Leone's Minister of Foreign Affairs and International Cooperation, Dr Samura Kamara, who led the envoy said, Mr Younousmi was in the country on a special mission to convey a letter to President Koroma from his Chadian counterpart, President Idriss Deby Itno. The aim is to lobby Sierra Leone to support Chad's bid for the African Union Commission chairperson job.
Welcoming the envoy, President Koroma said he had noted the contents of the letter from his colleague and brother. He also noted that Africa is going through critical times vis-a-vis issues of climate change, terrorism, addressing poverty, which requires a high profile personality to lead the Commission to prudently address all of these challenges. "We need to have a candidate that has the ability to stand tall in all of these because it is about Africa," he emphasized. The president pointed out that as Africans they shall continue consultations to ensure that the right person among the five aspiring candidates is duly elected to man the position for the benefit of the continent.
The Chadian envoy on behalf of his president thanked President Koroma for the outstanding leadership shown not only in the fight against the unprecedented Ebola epidemic, but also in the call for reforms of the United Nations Security Council. He said Chad as a country appreciated his fearless stance towards the reform of the Security Council and counted on his support for their candidate in the race.