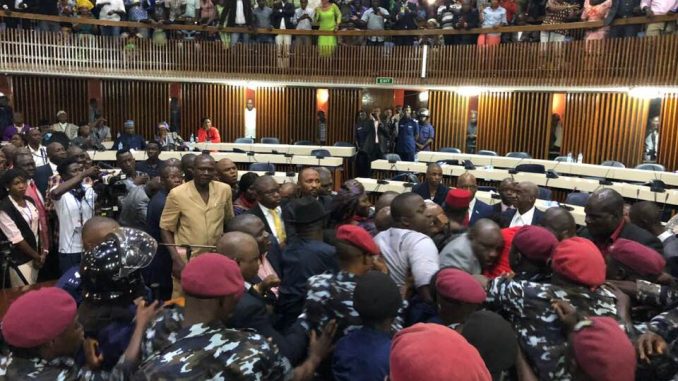 Base on what is happening in Sierra Leone, it is ok to now call it a shit hole country. We are a sad nation that has been rule by people that have no respect for the constitution or it people. SAD!
 Bleak days ahead for SL as the newly-elected SLG seeks to abuse its authority to pa-o-pa elect the next Speaker of Parliament despite its lopsided minority status. The public is likely to pay for this via higher consumer prices and possible chaos. The Leone's exchange rate is trending down. We now need over Le1million to pay for £100 worth of goods. It used to be Le200 = £100. Here is a measure of SL's hardship due to bad politics.
Toni Kay
It is a sad and unfortunate situation that we are in at this moment. The things they are perpetuating just keep piling up. Do hope the international community is watching
If u say so, what about the 31 MPs from SLPP that APC petition? is the law selective to just one party. we dont have no problem of petitions, But the APC petitions too. The petition is still in the court without hairing. Why is the rule of law not prevail to both petition? The SLPP is using order from the above to supress the oppositions. is that not a way of inviting trouble in the country. former president Koroma maintain the peace that Pa Kabbah left. Maada and his thugs wants to destroyed it. WE NOR WANT FET AGAIN. BUT E LOOK LEK SAY SLPP NOR GO TAY DAY. MARK ME WORD. TOO MUCH OF ONE THING IS GOOD FOR NOTHING.
Culled from Komba Komba.
Mr former Minister of Energy and Power who had more fair in complexion ladies at your Electricity Building office, from your statement above, especially the last three sentences, IT MEANS YOU PLAN TO DESTABILIZE THIS GOVERNMENT that is not even a month old…not so?
Turning and turning in the widening gyre The falcon cannot hear the falconer, Things fall apart; the centre cannot hold; Mere anarchy is loosened upon the world.
New SLPP Record!!!
OSD personnel brutalises MPs in the Well of Parliament for the first time
🤔
🤔
 Nancy S. Kamara 

Democratic chane is what we voted for not witch hunt and vindictiveness. Please show us that we did not vote for APC. If you are happy and not ashamed of using the same tatics you campaigned against then you misled the people of Salone badly. This is disgusting
I AM CALLING ON THE HELP OF THE UN TO THIS MATTER BEFOR IS 2 LATE, PLS THE S.L.P.P PARTY WANT TO LEAD SIERRA LEONE INTO WAR, PLS GIVE US AN HEALPING HAND
2 hrs ·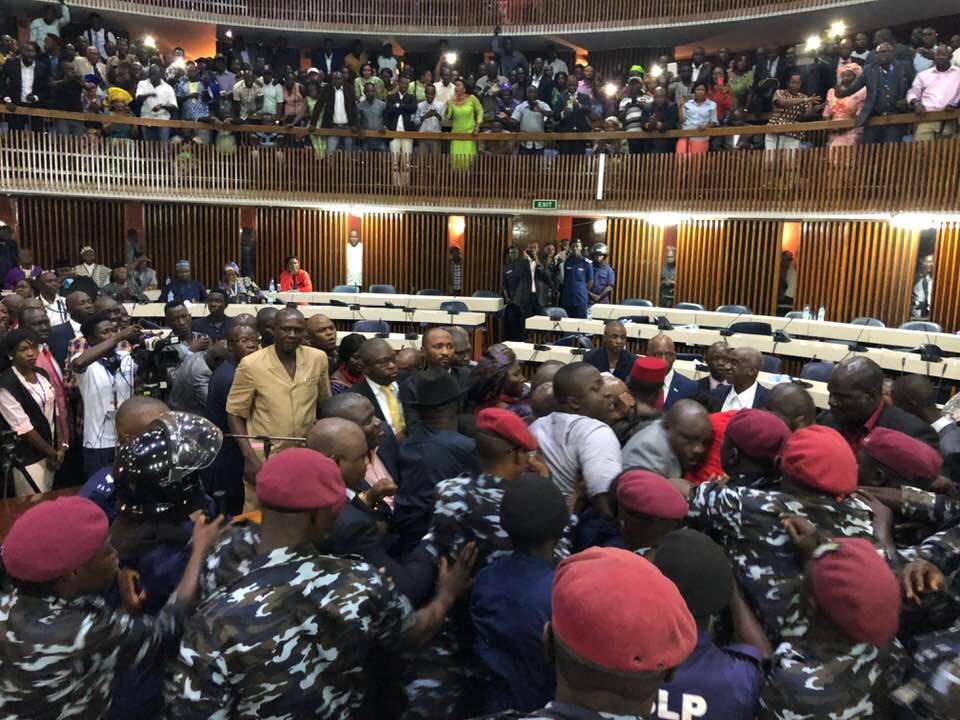 Democracy is going down down… I can't believe this
So APC brazenly violated the Constitution, now SLPP is doing so. Same soup en Dr. Yummy jes dae wach dem 
Even a core SLPP supporter do not condole the position taken by the SLPP in the wells of parliament. It's good to know that SLN has some decent folks in the SLPP Party.
By: Emmanuel Saffa Abdulai Esq.
My position of today's event innthe House of Parliament is that it was unconstitutional to elect the speaker with 76 members of Parliament. The constitutional requirement is 2/3 of the members of parliament to elect the speaker. Now 2/3 should not be wedged through the maze of technicality. If the constitution wanted to say 2/3 majority of MPs present, it would have said so unequivocally. When it said "2/3 majority of members of parliament," it simply means the entire house. That 2/3 is 95, I think. We only had 76 in the house and that is not a quorum. However, with so many ouster clauses in the constitution, you cannot enquire into this in any court of law. It is purely political manipulation or manoeuvring. Our constitution needs immediate overhaul.
When SLPP MP's were singing in the well of parliament 
🎤
🎤Time done done oooh ohhh , nor to bin rudeness that ??… we APC bin order armed men for forcefully remove dem out of parliament??? Una lef janfar talk dem bo, we get records of everything.
For SLPP to copy thirty politics from APC is a betrayal of people who voted for change
Yayah A Kallon
SLPP didn't violate the constitution, SLPP is doing things by the book. They filed an injunction against some APC MP's through the supreme courts which was granted.