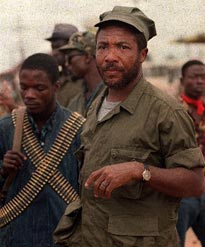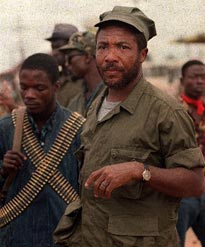 Saturday December 3, 2005
COCORIOKO  can now reliably inform readers that the Special Court in Sierra Leone may indeed  very likely catch its biggest fish after all. A personal  letter sent to this newspaper yesterday by the U.S Senate  Subcommittee on International Terrorism and Nonproliferation 's Committee on International Relations spelt out clearly the determination of the US. government to ensure that former Liberian warlord Charles Taylor faces justice in Freetown.
A Spokesman of the committee has written COCORIOKO  to emphasize that indeed U.S .President George W. Bush jr did make it clear to Liberia's President-Elect , Mrs. Ellen Johnson-Sirleaf, in his congratulatory message to her this week ,  the importance of bringing Charles Taylor to justice so that he would not continue to threaten the security of Liberia and the West African region again
Other newspapers did report on the Bush statement but people  have read so many such newspaper reports that  this recent flurry of reports did not strike a serious chord. Yesterday, all that ended.  The letter from the  U.S . Senate Subcommittee on International Terrorism  underlined the seriousness of the situation.
Infact , Mrs. Johnson-Sirleaf will be in Washington D.C .  the week of December 12 , 2005 and she is expected to hold talks with U.S. Secretary of State , Mrs. Condoleeza Rice .
If Taylor ever thought that he will beat the rap, he should start singing a different tune and begin brainstorming about his Legal Defence Team before the Special Court . He should know by now that President George Bush does not double-speak.
Read part of the letter that pertains to Taylor :
"As you may know, Julianne Smith has left U.S. Congressman Ed Royce's office.  My name is Edward Burrier, I will be helping to coordinate Mr. Royce foreign policy press until a new press secretary is hired."
"I wanted to bring your attention to the latest development on former Liberian President Charles Taylor below.  In his call to President-elect Johnson-Sirleaf, President Bush raised the importance of bringing Taylor to justice.  You may recall that Mr. Royce wrote Johnson-Sirleaf asking that she immediately call upon the Nigerian government to transfer Taylor to the custody of the Special Court for Sierra Leone. [Let me know if you would like another copy.]  Also, please note that Johnson-Sirleaf will be in Washington, D.C. the week of December 12th.  I will work to get you more details as they become available, but I believe that she will be meeting with Secretary Rice."
Mr. Burrier also sent us the press release that was published this week by other newspapers. The release reads :
BUSH CONGRATULATES LIBERIAN PRESIDENT-ELECT
President Bush telephoned Liberian President-elect Ellen Johnson-Sirleaf to congratulate her on her electoral victory, as well as "the historic significance of her election" as the first elected female African head of state.
Press secretary McClellan said Bush emphasized to Johnson-Sirleaf the U.S. "commitment and support to help build a democratic secure and prosperous Liberia."
McClellan also said the president conveyed his view of the importance of bringing former Liberian leader Charles Taylor to justice so that "he can no longer threaten the people of Liberia and the region of West Africa."
Johnson-Sirleaf is scheduled to assume the presidency January 16