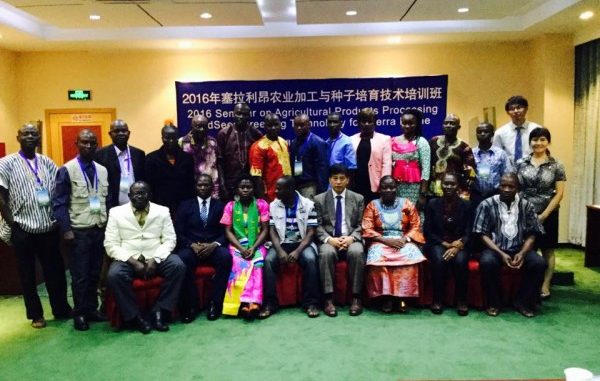 By John Baimba Sesay :
District Agriculture Officer for Koinadugu, has said, there is need for stronger partnership with China in a bid to help strengthen the agriculture sector in Sierra Leone in the form of grant, long term training, provision of farm machinery and seeds, and partnership investment through invitation of reputable Chinese companies to invest in Sierra Leone agriculture for rice, cassava, vegetable production and processing.
Madam Bridget Oyah Kamara made this recommendation at the closing ceremony of a seminar organized by the Chinese Government on Agricultural Products Processing and Seed Breeding Technology for Sierra Leone in Beijing, China on 27th July, 2016.
The team of 21 participants from various institutions/projects, under the Sierra Leone Ministry of Agriculture, Forestry and Food Security, was in China to participate in a three-week long seminar.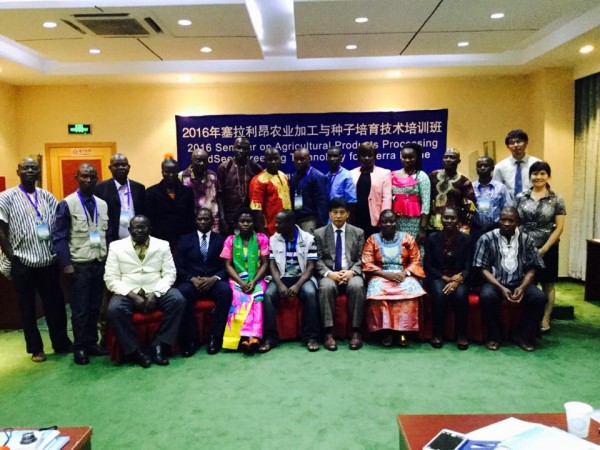 According to Madam Kamara, they were able to learn basic facts about China and her agriculture sector, coupled with the few challenges, including the Chinese being able to achieve 95% of food self-sufficiency.
Lessons learnt, she said, also included "the need for plant breeding and genetics and the achievements made so far; the involvement of the private sector in boosting agricultural production in China (COFCO, Haoyue Beef group, etc); increase in crop productivity due to intensification and use of hybrid seeds."
Given these successes and the long standing ties between the two republics, she called for China to provide international post-graduate training programmes to staff of the Ministry of Agriculture, Forestry and Food Security and its related institutions (SLARI, SleSCA and SMP) as well as "replicate Haoyue Beef groups' approach to demonstrate to participants how processing of certain products is done."
Madam Kamara also called for a team of experts from China to visit Sierra Leone and do feasibility studies on what is available and what can work well in improving agriculture in Sierra Leone.
Speaking on the relevance of the seminar, Madam Bridget Oyah Kamara referred to it as "an eye opener for participants as we could not implement technology involved in seed breeding and agricultural products processing done in China because Sierra Leone lacks the required equipment, materials and other resources."
Meanwhile, at a farewell reception hosted by the embassy in their honor, His Excellency Ambassador Alimamy Philip Koroma emphasized the need for them to go home and make use of all the available opportunities and multiply knowledge gained in a bid to replicate same towards the growth of their country.
"You have knowledge and message to take home", Ambassador Koroma said.
Ambassador Koroma congratulated them for having gone through the exercise successfully, also thanking the Chinese government for its continuous support to Sierra Leone's development efforts through training opportunities for various Ministries, Departments and Agencies.
With unending Chinese support to Sierra Leone in a range of sectors, Ambassador Koroma informed the delegation, that he is currently engaging Chinese authorities for more long term training opportunities, expressing optimism that such requests shall be listened to.
At the end of the seminar, the 21 Sierra Leonean participants were certified on Agricultural Products Processing and Seed Breeding Technology.
John Baimba Sesay
Information/Press Attaché
Sierra Leone Embassy
People's Republic of China