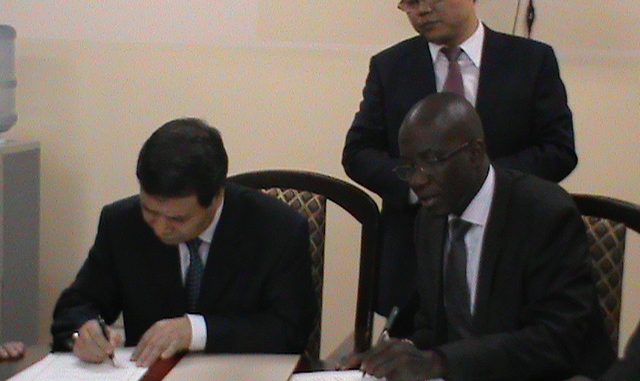 Freetown, Sept. 22, 014 (MOHS) – The Chinese Ambassador to Sierra Leone, Zhao Yanbo has reiterated his government's commitment to assist the government and people of Sierra Leone in forging ahead with the challenges surrounding the Ebola outbreak in the country.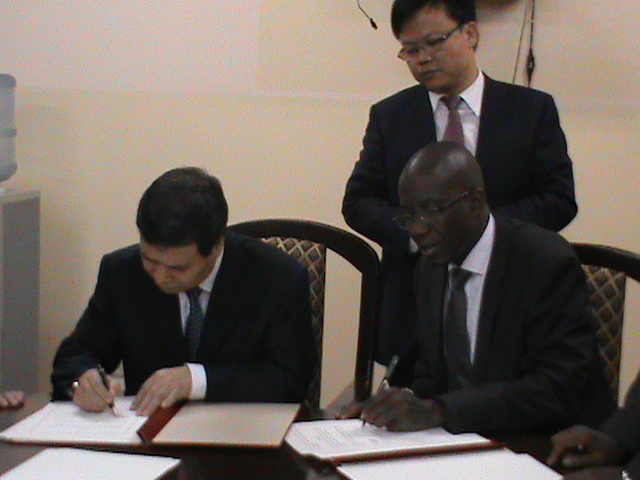 (L-R) Chinese Ambassador Zhao Yanbo and Health Minister, Dr Abu Bakarr Fofanah signing the protocols
Speaking during the signing of the formal protocols of the newly arrived Chinese Medical Team in Sierra Leone to help in the fight to contain the deadly Ebola virus disease in the country, Ambassador Zhao Yanbo recalled the history of the SAS epidemic in China and the concerns of the Sierra Leone government for which they cannot afford to leave out Sierra Leone fighting the Ebola outbreak alone.
He said they would help provide the necessary network to help handle some of the major challenges with a view to ending the Ebola war in the country.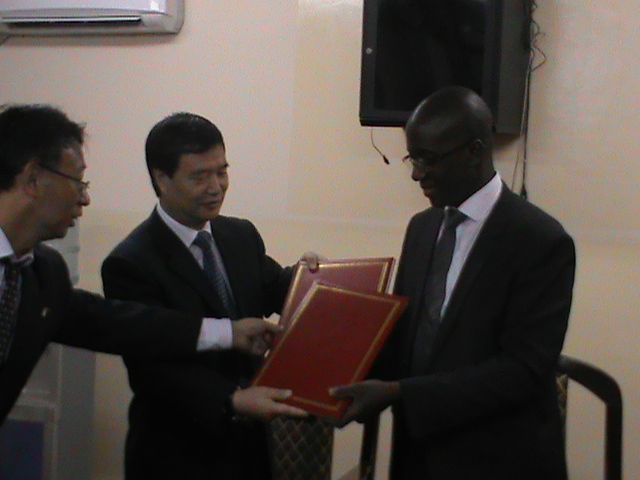 (L-R) Chinese Ambassador, Zhao Yanbo and Health Minister, Dr. Abu Bakarr Fofanah exchanging the protocols
The Envoy said they have provided in-country 29 Laboratory Experts and 30 Medical Aid Team from the Chinese Centre for Disease Control and Prevention ( CDC), and from major hospitals in China.
Deputy Director General, Research and Laboratory Management (CDC China) and Head of the Team, Dr. George Fu Gao, said the objective of their mission is in two fold: "to engage on infection prevention control to break the transmission chain of suspected cases and to provide effective service at Holding and Treatment Centres, and to support the laboratories.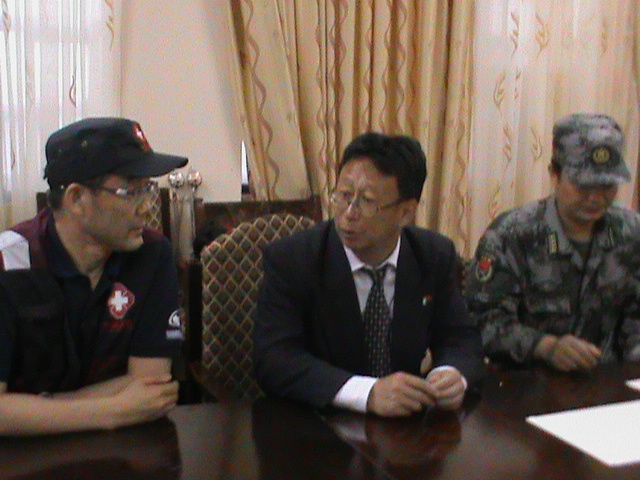 Chinese Economic Chancellor (centre) flank by heads of the Medical Team
Making his statement, the Minister of Health and Sanitation, Dr. Abu Bakarr Fofanah described the signing protocol as another landmark in the 40 years bilateral mutual relationship between the two countries.
He described the contingent as a specialized body that would help assist the government in its effort to end the epidemic, hoping that the continued bilateral relationship between China and Sierra Leone, that is characterized by love and mutual understanding will continue to grow from strength to strength.
JAK/KK/MOHS
World Vision to Boost the Ebola Virus Disease Response with Huge Consignment of PPEs and Medical Supplies
Freetown, Sept. 22, 014 (MOHS) – A consignment of medical supplies which included eight thousand (8,000) gallons of five (5) percent chlorine, four million (4,000,000) pairs of gloves and large quantity of Personal Protective Equipment is expected to arrive at the Lungi Airport on Tuesday September 23, 2014 by a special flight.
The consignment which is part of World Vision's contributions and commitment to support the fight against the Ebola, is geared towards the national call by President Koroma to compliment government's effort on the Ebola virus disease response.
JAK/KK/MOHS